Midwest Dairy CEO Addresses Princess Kay Candidates
Midwest Dairy CEO Lucas Lentsch recently talked with dairy leaders of all ages at the Princess Kay Selection Banquet held in St. Cloud, Minnesota. In his opening comments, he shared a story about waking up with a cup of coffee with his dad and being inspired by the fact that his father always stayed true to remembering why he does what he does as a dairy farmer.
Lentsch also highlighted the idea that everyone in the room can make a difference, but we have to work together. One example of successful checkoff collaboration he shared was the power of partnerships, particularly the Fuel Up to Play 60 Program, and his recent Dairy on the Air podcast discussion with Minnesota Viking, Adam Thielen, a longtime supporter of the program and of youth leadership development. He also shared his gratitude for so many of dairy farmers in the Midwest who are active dairy champions sharing their farm story. He pointed to the Princess Program as a strong example of how Midwest Dairy is focusing on developing up-and-coming dairy champions and leaders.
More than 250 dairy farm families, including approximately 60-65 county dairy princesses, along with members of the Minnesota Division board, attended the lunch.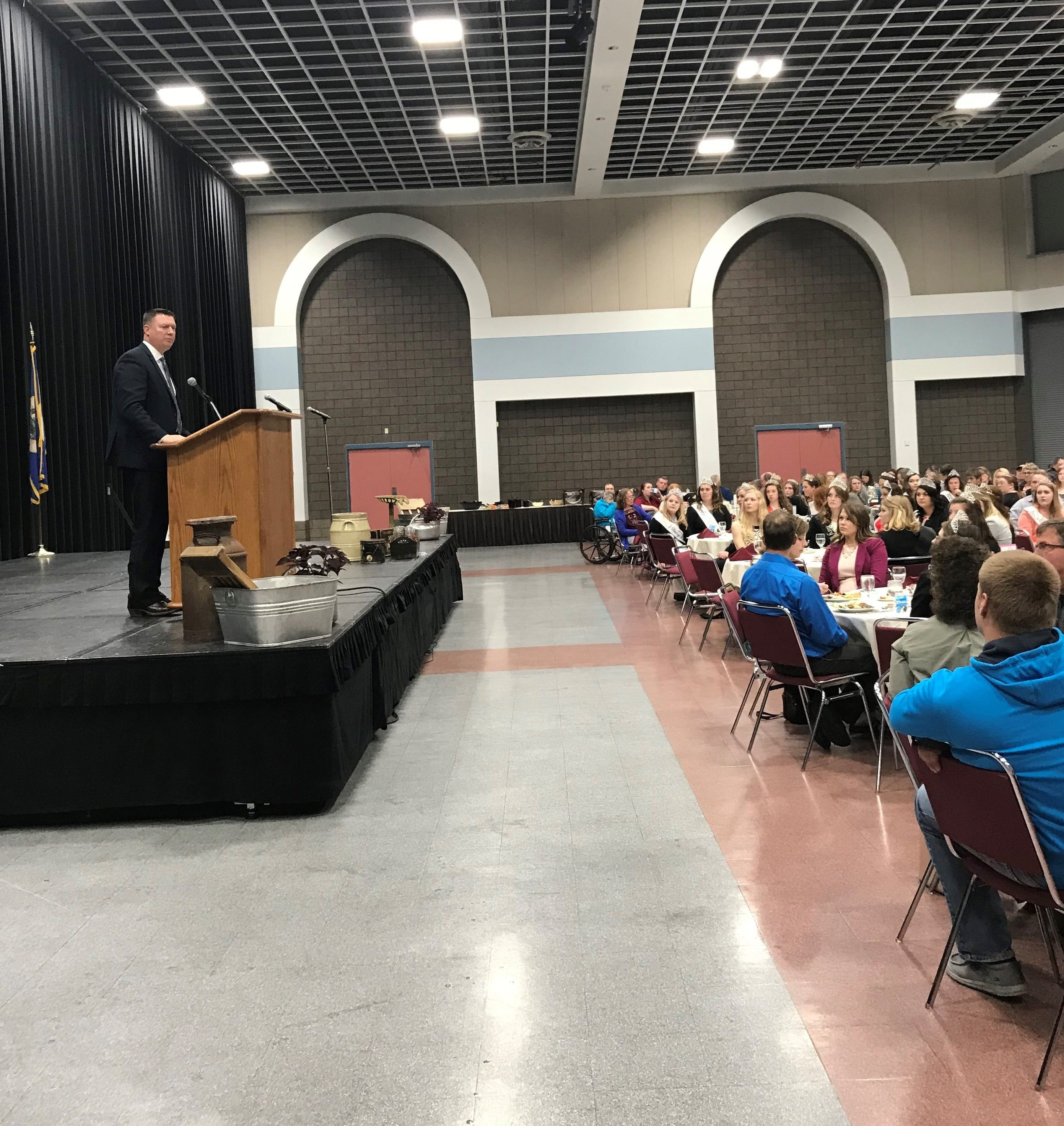 Midwest Dairy Participates in World Food Prize Iowa Youth Institute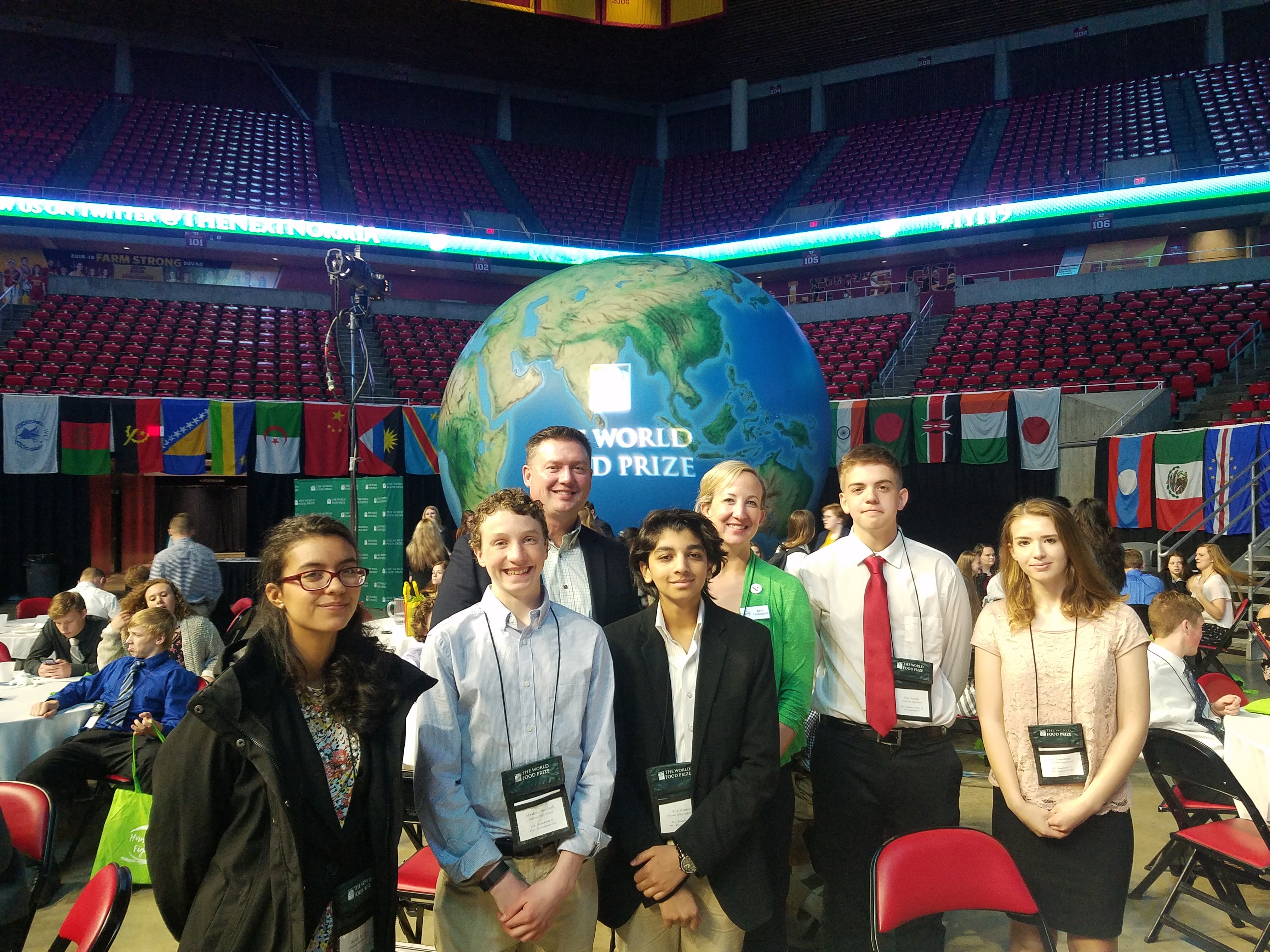 Midwest Dairy recently had the opportunity to engage with global leaders, ag industry experts, scientist, and youth leaders as part of the World Food Prize, Iowa Youth Institute at Iowa State University.
CEO Lucas Lentsch joined Midwest Dairy staff as they enjoyed conversations with top Iowa 8th-12th graders during both a luncheon and round table discussions. To participate, top high school students from across Iowa research and write a paper outlining their recommendations on a topic affecting food security in a developing country about how to better the lives of a typical family in the country. Students presented and discuss their findings with a round-table of peers and industry experts. The top students from this event are invited to participate in the Global Youth Institute held in conjunction with the presentation of the World Food Prize and the Borlaug Dialogue international symposium in October.
Lentsch Discusses Industry Challenges and Successes with Farm Broadcasters
During the 2018 National Association of Farm Broadcasters Trade Talk in Kansas City, Midwest Dairy CEO Lucas Lentsch conducted more than 20 interviews with farm broadcasters from across Midwest Dairy's 10-state region and beyond. Lentsch addressed numerous topics of interest to ag media audiences, including trade and the current challenges within the dairy industry.
As Lentsch spoke to broadcasters, he addressed facts around trade, expressed empathy for the difficult times which farmers are going through and talked about how checkoff is working to build demand and help the industry grow. Lentsch detailed Midwest Dairy's work with Midwest Dairy Foods Research Center, its focus on working with and through retail and school partners and how all of these efforts align with the organization's strategic plan to bring dairy to life and give consumers an excellent dairy experience. He also highlighted the success of national partnerships and growth in exports.
Midwest Dairy CEO Updates Nebraska Dairy Farmers at Annual Convention
Midwest Dairy CEO Lucas Lentsch recently gave an update to nearly 200 Nebraska Dairy Convention attendees at their annual meeting held in Columbus, Nebraska. Lentsch shared examples of a positive outlook in dairy supply and consumption as well as how domestic dairy consumption exceeds production, year after year. Topics such as the focus on retail markets and how Dairy Case Dynamics can play into improving fluid milk sales and store profitability were also discussed by Lentsch.
The Nebraska Dairy Convention had a record number of attendees and vendors who participated in educational breakout sessions, the Nebraska State Dairy Association annual meeting, and a Dairy Girl Network gathering. To cap off the evening, Nebraska dairy farmers listened to keynote speaker, Chris Galen, Senior Vice President of Membership Services & Strategic Initiatives at National Milk Producers Federation, who spoke about the Dairy Margin Coverage program as well as other pertinent dairy related topics. Nebraska farmers were also honored for their hard work with the annual production and quality awards ceremony and witnessed the crowning of Faith Junck as the 2019 Nebraska Dairy Princess.