Breakfast Matters
Serving school breakfast, especially through alternative options like Breakfast in the Classroom and Grab 'n' Go, is possibly the easiest, most cost-effective and most directly impactful step schools can take to improve school and student wellness. Breakfast can also help improve the quality of children's diets. Providing meals at school fuels students so they can focus on learning. By eating a balanced breakfast, academic performance, behavior and overall nutrition improve, supporting childhood growth and development for all children.
During the 2017–18 school year, nearly 12.5 million low-income children participated in the School Breakfast Program on a daily basis. For every 100 low-income children who participated in school lunch, only 57 of those children participated in school breakfast. Increasing participation in school breakfast programs is important. It's also possible when support from school administrators is combined with increased effort to enhance the programs available to make them more accessible to all students.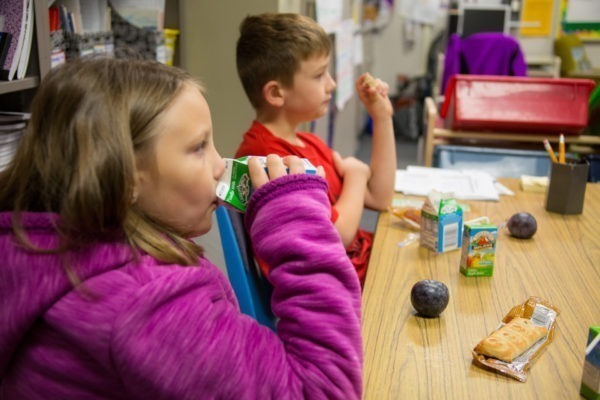 Dairy Makes the Grade
Milk is a required component in the School Breakfast and National School Lunch programs. Dairy foods like milk, cheese and yogurt provide three of the four nutrients missing in most people's diet. Childhood is a crucial time for dairy consumption, not only for important nutritional needs but to also establish healthy eating habits.
Under the guidance of the USDA and in accordance with the Dietary Guidelines of Americans, school lunch and school breakfast programs must meet specific criteria to ensure children are receiving wholesome, nutritious meals. Each meal must offer low-fat or fat-free white or flavored milk. School meals must also provide a specific number of meat/meat alternatives across the week's menu, and these alternatives can include milk, cheese and yogurt or dishes that include these foods as ingredients.
In addition to providing necessary nutrition to students, dairy foods add flavor and variety to school meals. For example, creative, kid-friendly dairy-inspired recipes like Blueberry Delight, Double Cheese Spiral, Mega-Cheese Muffin and Peaches-n-Cream Waffle Dunkers can all be included in the School Breakfast Program.