School Meals Support Health and Learning
Millions of schoolchildren receive free or reduced-cost meals each day, and the benefits of healthy nutrition are well-documented – better classroom performance and improved health outcomes. Studies by the Food Research & Action Center also show that school meals have helped lift 1.2 million people out of poverty, a figure that includes 722,000 children.
Milk is a required component in school breakfast and school lunch programs. Dairy foods like milk, cheese and yogurt provide three of the four nutrients missing in most people's diet. Childhood is a crucial time for dairy consumption, not only for important nutritional needs but to also establish healthy eating habits.
The expansion of school meal programs to include summer lunches and after-school dinners help build healthy eating habits and provide even more opportunities to ensure children receive the nutrition necessary for growth and achievement.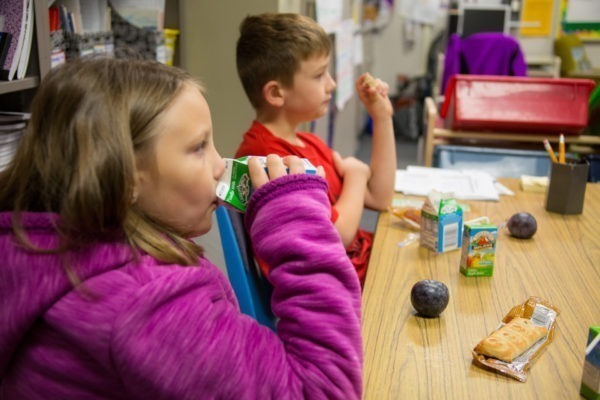 Dairy Makes the Grade
Under the guidance of the USDA and in accordance with the Dietary Guidelines of Americans, school lunch and school breakfast programs must meet specific criteria to ensure children are receiving wholesome, nutritious meals. Each meal must offer low-fat or fat-free white or flavored milk.
School meals must also provide a specific number of meat/meat alternatives across the week's menu, and these alternatives can include milk, cheese and yogurt or dishes that include these foods as ingredients.
In addition to providing necessary nutrition to students, dairy foods add flavor and variety to school meals. For example, creative, kid-friendly dairy-inspired recipes like Blueberry Delight, Double Cheese Spiral, Mega-Cheese Muffin and Peaches-n-Cream Waffle Dunkers can all be included in the school meal programs.