Community, family, and newborn Jersey calves are just a few of Iowa dairy farmer Aaron Titterington's favorite things.
Located in Spencer, Iowa, Jones Dairy has been deeply rooted within the Dickinson County community since the early 1900s. The dairy is owned by Patrick and Nancy Jones, who not only raised Jersey cows over the years but also eight children on the farmstead. Patrick and Nancy were married in 1977 and grew the farm to its current size of 1,300 milking cows. Today, two kids, Aaron and Nate, have returned and are actively involved in the farm. Aaron is responsible for the herd's care, and Nate leads the facility maintenance and fieldwork. Although not every family member returned to the farm, it is still a large family affair with all pitching in when they can. As a result, the home farm is often bustling when all 13 grandchildren gather for a visit.
Jones Dairy is passionate about the Jersey cow breed, known for its high butterfat and high protein content that is ideal for cheese making. Each cow produces roughly 7 gallons of milk daily, which is then sold to Agropur to make yummy cheese. Aaron is very proud of the dairy farms' growth and advances. A new addition to the farm includes a 64-cow rotary parlor. Jones Dairy strives to provide the best environment possible for its herd and takes every advantage of technology to keep everyone healthy and safe. Their cows are free to roam their pens 24/7 with access to feed and water, enjoy fans and a state-of-the-art ventilation system, and each animal is paired with an electronic ID that provides health data daily to the farmer. They also work closely with a nutritionist to create a balanced diet for the cows, ensuring they stay healthy and produce wholesome milk for the consumer.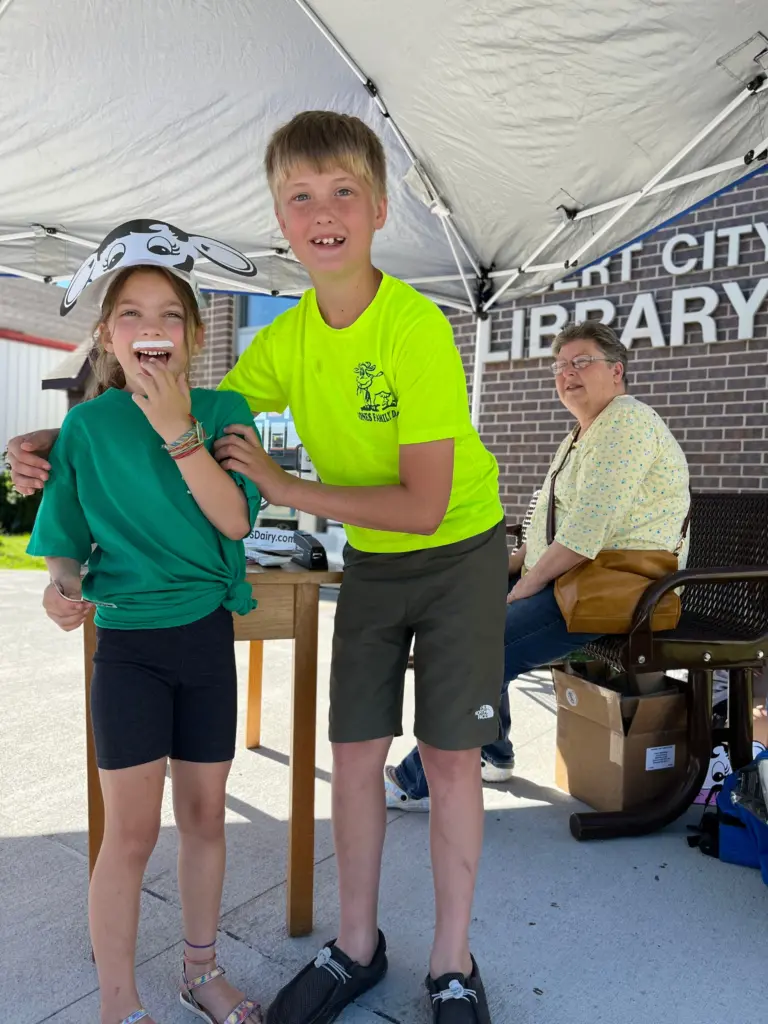 Environmental sustainability is also essential to Aaron and the rest of Jones Dairy. They raise their own crops to feed their cows and use many different strategies to protect the ground's natural resources, like cover crops and buffer strips. Practices like these not only improve soil quality but also prevent erosion. In addition, the manure cows produce is used to fertilize their crops naturally and is even recycled for bedding. Water is also reused in several places throughout the farm. 
"Our farm is comprised of a team of dedicated people whose goal is to keep moving forward as a sustainable and productive operation," said Aaron.
Community is also important to Jones Dairy, and there is no better time to celebrate those around you than during June Dairy Month. Whether it is the local community, the farming community, or the dairy community, they are blessed to be surrounded by many friends. "It is a special phenomenon that only those living in rural America can appreciate, and I am thankful every day to be a part of it," said Aaron. It has become a tradition at Jones Dairy to host a Breakfast on the Farm every June. They invite the surrounding community to the farm, where they give tours allowing visitors to experience a working dairy farm. They also serve breakfast burritos hot off the grill and join in on the conversation about the industry. The farm recognizes and is fortunate to have many local sponsors who help with the event each year. They are currently gearing up for the 2023 breakfast on Saturday, June 17.
As a 4th generation farmer herself, it is no surprise that Jones Dairy is already making way for the new generation, as Aaron has two kids who are always eager to help on the farm alongside their parents and grandparents. "Jones Dairy is proud to be part of the two percent of people who produce food for our nation," said Aaron.