The Dairy Checkoff Investment at Work
Midwest Dairy is focused on maximizing the dairy farmer investment by creating programs and resources to drive dairy demand and build consumer confidence to ensure a strong future for the industry.
Fueling Sales at Retail
Our team focuses its efforts on providing insights and expertise to retailers to drive dairy sales and encourage consumers to put more dairy products in their carts. By revitalizing the dairy case, retailers experience increased sales and consumers are more satisfied with their shopping experience.
Increasing Access to Dairy in Schools
Our team continues to work with school food nutrition partners to increase the selection of dairy foods offered to students at various points throughout the day. Whether it's grab-and-go-breakfasts, after school snacking programs or smoothie bars and coffee stations, students, who are tomorrow's dairy consumers, can enjoy a wider variety of their favorite dairy foods all day long.
Dairy Research
Understanding what's important to today's consumers is key to bringing insights that fuel innovative product development that keeps consumers coming back to the dairy aisle. We also fund a wide variety of research projects to provide solutions to challenges throughout the industry.
Building Consumer Confidence
Midwest Dairy is fully engaged in the industry-wide Undeniably Dairy campaign. We also work to bring dairy foods and experiences to unexpected places to continually remind consumers how enjoyable dairy foods are and how they are key to many of life's most memorable experiences.
Dairy Leadership Development
To help fuel a strong future for the industry, Midwest Dairy also focuses efforts on providing leadership development tools and resources to up-and-coming dairy leaders.
Get the Details

Checkoff at Work
Across the region, Midwest Dairy is working on behalf of dairy farmers in the Midwest to maximize investment in dairy promotion.
From inviting thought leaders to farm-to-table events to helping students understand the important role of dairy in a healthy diet to helping retail partners improve their customers' dairy experience, checkoff is moving the needle to build demand for, and trust in, dairy foods and dairy farmers.
See Checkoff in Action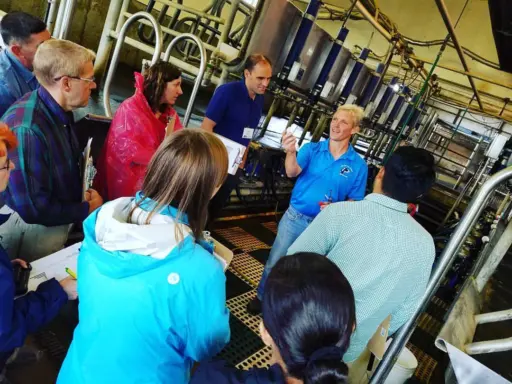 Undeniably Dairy Grants
Have an idea for an Undeniably Dairy experience in your community? Midwest Dairy can help turn that dream into reality with a Undeniably Dairy Grant.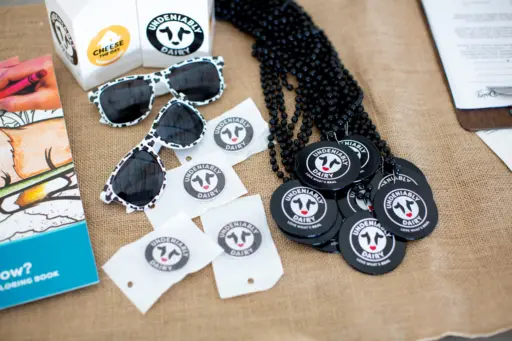 Promo Center
Hosting an event, visiting a classroom or looking for materials to connect with consumers? Midwest Dairy can help by offering a variety of items, from farmer calling cards to dairy cow hats to booties and more.
Farmer Resources
Find tools and resources like activity guides, recipes, dairy trivia and nutrition information in our Resource Center. Check out what's available!
Resources