Tim Crawley grew up on his family's dairy farm, Crawley's Valley View Farms, located in Gravette, Arkansas. He returned to the farm college in 1990 until his family left the dairy business and dispersed their herd. Tim then worked as a metering sales representative for the National Herd Information Association, allowing him to travel all over the United States, Canada, and even New Zealand.
Nikki, Tom's wife, grew up in the city with no agricultural background and traveled the country as a businesswoman. Unlike Tim, the idea of ending up on a dairy farm was not always in mind for Nikki. But while dating, Tim decided to return to the dairy industry and rebuild his herd back to 300 head. The couple would marry in 1995, allowing both to commit to the industry and develop a genuine love for it.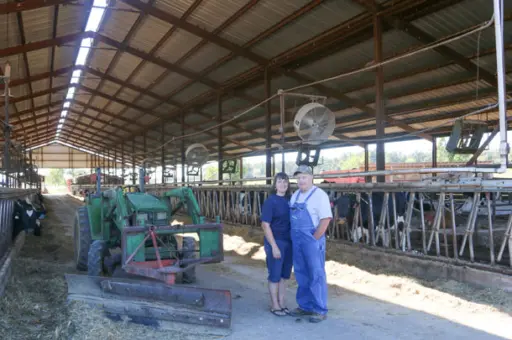 Tim and Nikki's daughters, Jessica and Brittany, grew up on the farm and, like their parents, have also loved to travel. They both developed a passion for showcasing the Milking Shorthorn breed across the country and have been active in the Milking Shorthorn Junior Society. Jessica has even had the opportunity to travel to Australia through an exchange program that allowed her to stay at 17 different farms during her two-month visit.
The Crawley family has two evident passions, traveling as well as the success of their dairy farm. The Crawleys focus on the efficiency of their dairy by utilizing technology across the farm. One of their most notable tools is the myDFA program, which they use to check reports, receive industry news, and pull up the information they need at almost any time to stay efficient. And their success does not go unnoticed. In 2022, the Crawley's were awarded DFA Southeast Areas Member of Distinction, admired for their calf care management, and are seen as a leader within the Arkansas dairy community.