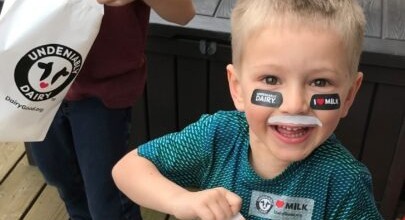 Promotional Items
Take advantage of a wide variety of promotional materials available to help bring dairy to life in your communities, on your farm or wherever dairy farmers connect with consumers.  
Order Here
Featured Items
Cheese Pairing & Cheese Board Guide
Learn the simple steps to wow guests with a perfect cheese pairing or brimming cheese board with tips and recipes from our new guide. Minimum order of 50.
Window Cling
Order Here
Affix this large (12" x 14") window cling to smooth, flat surfaces like refrigerators, windows or coolers.
Floor Cling
Order these cute dairy-themed social distancing floor clings for your school, church, or other public space. There are 3 different designs and you will receive 12 per pack.
Undeniably Dairy Items to Purchase
Dairy items are available for purchase through the DMI store, including bags, apparel, drinkware, magnets, journals, wristbands and more. Discovery Education.
Visit the Store
Order Other Dairy Items
Do you love the I ♥ MILK, CHEESE THE DAY and DAIRY IS IN THE AIR shirts? Or need an Undeniably Dairy table cloth for your event? You can order these items directly through Julie Irish Parrow with Spartan Promotional Group. Contact her at Julie@charlieirish.com or 651-731-7373.