This article was originally written for and published by Kansas Farm and Food Connection.
Hildebrand Farms has been a staple in Junction City since 1930, when Arnold Hildebrand got a permit to sell milk in the area. Today, Melissa Hildebrand Reed is the fourth generation to work the farm, which is owned by her father, her uncle and their wives.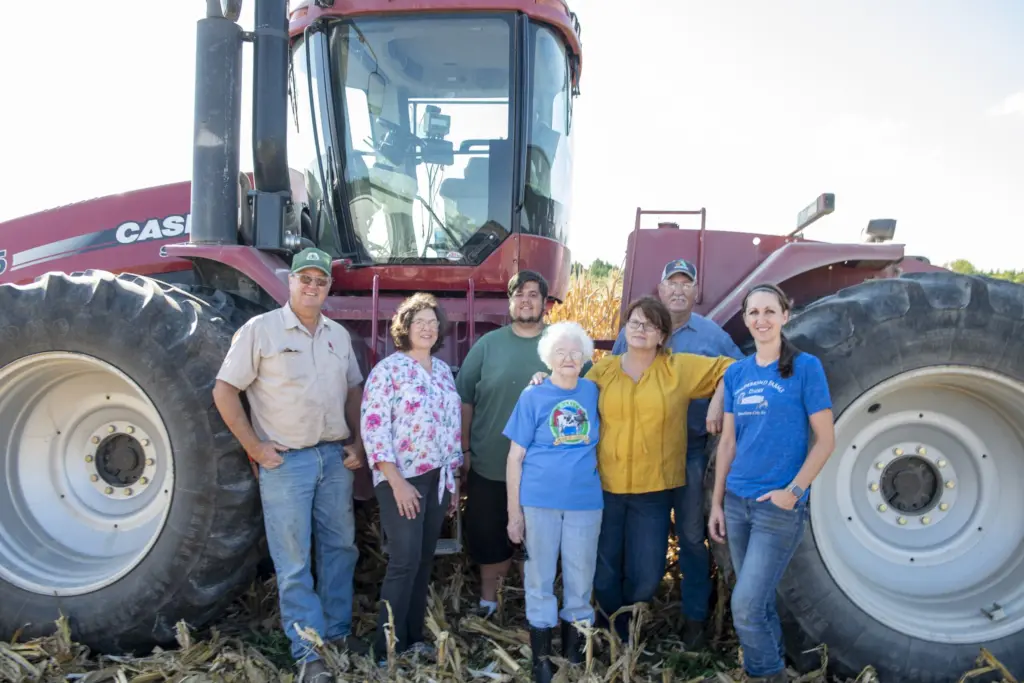 "We're a family run and operated dairy farm, through and through. I am the fourth generation and am raising three kids. They'll be the fifth generation, if they so choose," Melissa said.
Melissa works alongside her father, uncle, cousin and about 15 other employees. She was living in Austin, Texas, where she met her husband, when she realized she wanted to move back to Kansas and work on the family farm. It was a big change for the couple.
"I kind of bamboozled my husband, to be honest," she said. "I don't think he truly knew what he was getting into. He didn't understand the commitment, passion and love that goes into farming at first. But he's adapted over the years."
Not only has he adapted, their strong partnership has made juggling kids, the household and the dairy work.
Melissa is the operations manager for Hildebrand Farms. She works with the cows, bottle processing plant, milk haulers, grocery stores and even directly with the customers.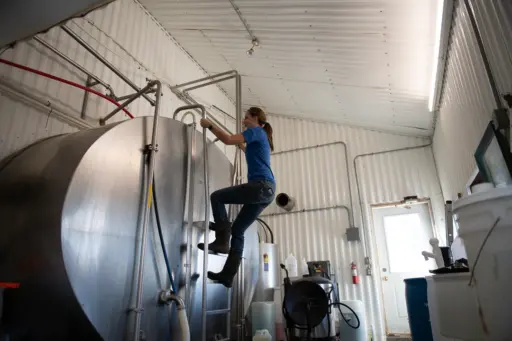 "I get the cool blessing of being able to work with the entire supply chain," she said.
And that's no small feat. The dairy has about 140 cows, 2,000 acres of cropland, an on-site bottling plant and a retail store. They grow about 95 percent of the cows' feed themselves and handle all the marketing and contracts. Although it's a comprehensive operation, the family doesn't want to grow too big.
"We've made the decision we want to stick with a herd of our current size. It's hard, but you sometimes have to turn down opportunities to grow into other states. We think of ourselves as a Kansas dairy farm and take a lot of pride in being a great option for Kansas consumers," she said. "We want to be a dairy farm that people can connect with, as well as get tasty, awesome dairy products from."
Their commitment to community and quality is closely linked to a legacy of innovation.
"I wish that everyone could have known my grandpa Carl Hildebrand," Melissa said. "He was an early adopter. He had step counters back in early 1990s."
Step counters are the cow equivalent of a pedometer, only they record a lot more than just steps — things like milk production, weight and more. Today, that technology is more commonplace, but it was a visionary move to incorporate them 30 years ago.
"My dad and uncle have definitely got that innovative gene as well," she said. "They've always had a mentality to give new things a try."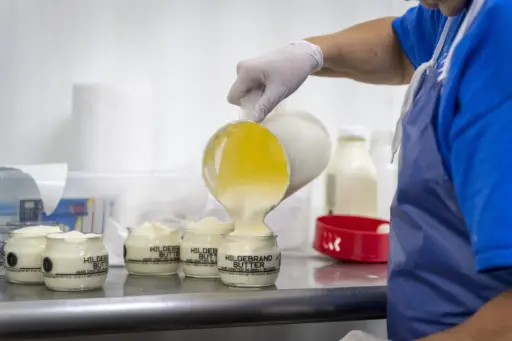 The brothers added the on-site processing facility to the farm in 2008, which gave the dairy the ability to pasteurize and bottle its own milk. (Fun fact: Each year they update the design of the bottle and the original designs are still in circulation!)
"That was a leap of faith and it's been a big game changer for our farm in a good way. The on-site processing facility has given us freedom to operate at a different level," Melissa said.
That leap has also helped them navigate the strange waters of the COVID-19 pandemic. Although a large sector of their business included restaurants and coffee shops, they've been able to pivot to focus more on direct-to-consumer sales.
"We were able to adapt and change our strategy. What's nice about the on-site processing ability is it gives us a feeling of some control. That's been a huge benefit for us," she said.
She's also seen a shift in their customers as more people become interested in buying food locally.
"The pandemic brought a lot of people back to the kitchen. We are seeing people taking an interest in spending family time in the kitchen and seeking out awesome ingredients to make their food shine," she said.
It's also provided an opportunity for people to connect more with farmers and Melissa loves being able to share dairy life with others.
"With Fort Riley (U.S. Army installation) so close, we get to know people from all over the world. We love being able to explain to them what dairy is all about," she said. "Food truly is a uniting factor among all of us. We all seek good food, although the definition of 'good' may vary from person to person."
The dairy hosts events throughout the year to encourage people to learn more about dairy life. They usually host an event during Dairy Month in June, as well as a Harvest Festival in October. Melissa recently gave a virtual tour of the dairy. Check it out and you can meet some of the animals and see different parts of their operation.
Watching Melissa interact with the cows, you get a sense there's a real connection between them.
"Our cows are our family. I consider them like high school classmates that I get to see every day," she said. "We put an exceptional level of care into them. We're doing things that are right by God, Mother Nature and our animals."