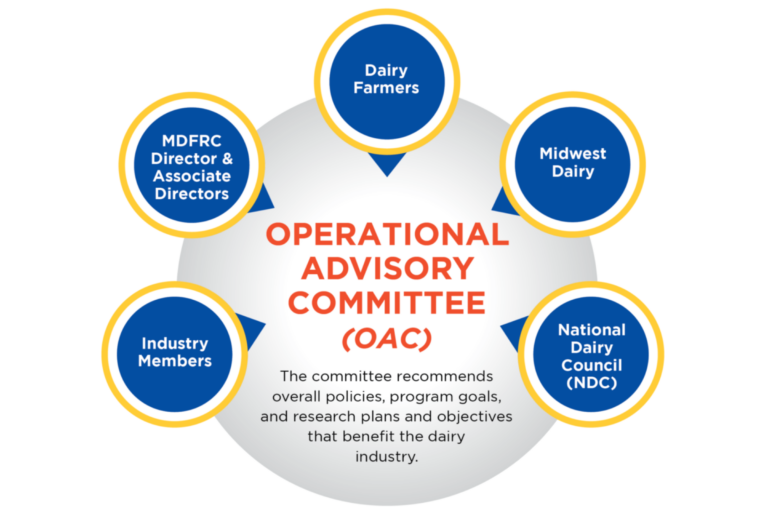 Funding Research and Insights to Fuel Dairy Innovation
Bringing together dairy researchers and industry partners, the Midwest Dairy Foods Research Center (MDFRC) helps identify and fund research that helps solve current challenges in dairy food processing through process improvement. A collaborative effort between dairy farmers and land grant universities focusing on dairy products research and innovation, MDFRC makes a difference by focusing on pre-competitive research, educating the next generation of dairy leaders and improving research priorities and return on investment by creating feedback loops among stakeholders.
Research priorities are established around five key areas that align with faculty expertise and university resources to address the technical challenges and fuel innovation. Those include:
Analytical tools and testing methods
Dairy-based ingredients
Manufacturing quality and functionality
Safety, flavor and nutritional profiles
Value-added products
Here's how the work of MDFRC is making a different to innovate and support the growth of dairy:
Solve technical problems brought to us by processors
Engage students in research to cultivate next generation of dairy leaders
Explore innovative ideas that create value for the dairy sector and consumers
Build feedback loops among farmers, industry members, universities and dairy promotion groups
The MDFRC delivers research and education that benefit consumers and fuel a strong market for Midwest Dairy.
Sharing consumer insights
In an increasingly complex and fast-moving world, Midwest Dairy helps our partners remain relevant to today's consumer by providing information about consumer trends and insights. With access to case studies and a cutting-edge food and beverage product database, Midwest Dairy can identify local and global trends and track consumer needs, behaviors and consumption motivators.
Our insights:  
Help partners and stakeholders understand what is driving today's consumer

,

Accelerate dairy innovation working with and through dairy processors

to develop products that resonate with today's consumer,

and

 

Uncover new opportunities to grow dairy sales.
Sharing this research with partners has led to projects with impact including:  
Helping Minnesota-based 

Coborn's

identify the grocery shopping preferences and trends among Somalis, a growing population for one of its stores. 

Helping more than 200 school nutrition professionals better understand the desires 

of Generation Z. Midwest Dairy created a presentation outlining examples of successful Gen Z engagements in school meal programs.