Thirty percent of farmers today are women, representing an impressive group of hard-working females. Amongst them includes dairy farmer Rita Vander Kooi who calls home to the southwest corner of Minnesota near Worthington.
Rita is proud to be a part of Ocheda Dairy. Together with her family, husband Joe, and children Vince, Liv, Ava, Violet, and Vic they currently milk 2,500 cattle. The dairy farm has a unique beginning. It was set in motion when Rita's father-in-law, Dave, bought a small group of cattle for an FFA project in high school. Since then, the farm has grown over the years, a little at a time. But Rita has been a part of the dairy industry all her life, growing up learning how to care for livestock and milking alongside her parents and siblings.
Rita wears many hats, including farmer, wife, and mother, but also an influencer as she has grown a significant social media presence showcasing daily life on the farm and raising a family in agriculture. Online she goes by the handle So She Married a Farmer and has over 17,000 followers on Facebook and Instagram combined.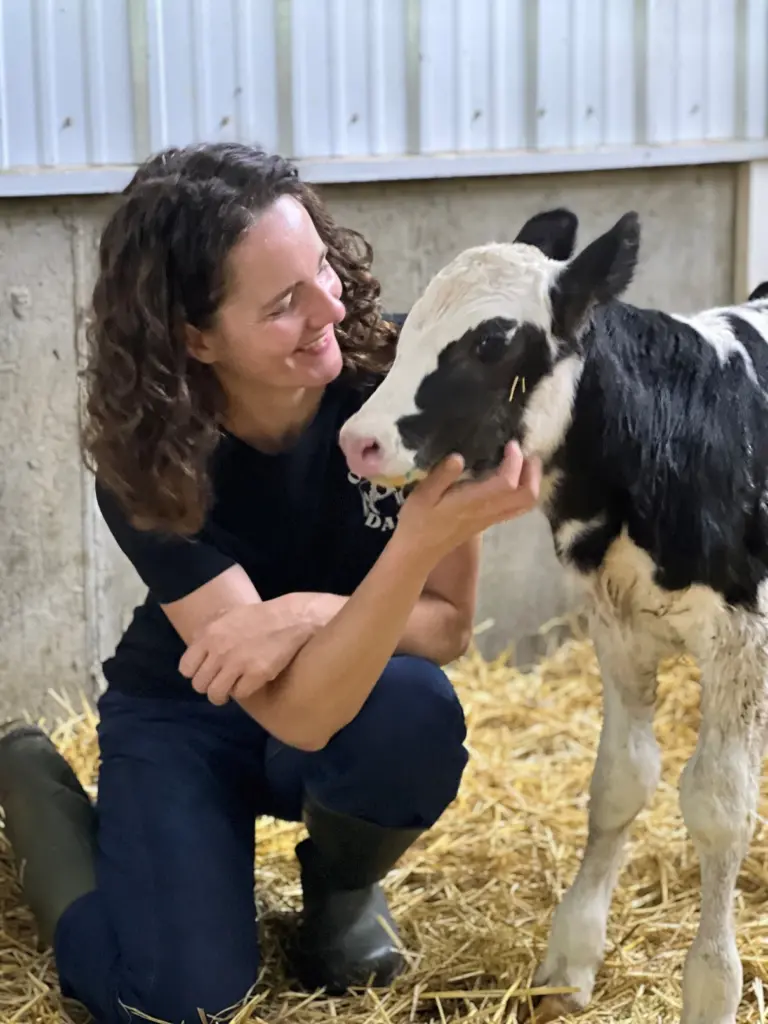 She was first inspired to start a blog when her oldest children were in preschool. Building on her love for writing and looking for a creative outlet, she sought out to connect with others online using Facebook to direct traffic to her weekly blog posts. Over the years, social preferences changed, and her followers started to prefer to watch videos on social media rather than read a blog. So, in time, her focus shifted, and today she posts to Facebook regularly and often on Instagram providing video and photo updates from the farm. Her best advice to those wanting to share their farm and dairy story online includes posting regularly. "It is hard to predict what will gain traction, so don't overthink it," says Rita.
Sharing her farm life online has also helped her see the farm through a different lens. "While not everything interests us farmers, some mundane things are fascinating to others. Anything that highlights cow care or jogs the memory of someone who once lived and loved the farm life – those are popular topics," she said.
On Rita's social platform, you will get an inside look at a dairy farm but also truly get to know her. She enjoys sharing her faith, as she feels God has called her to be a good caretaker of the land and animals. She also always tries to portray honesty and, in the same vein, transparency. Through connecting with her followers, she has learned that people are eager to see the real day-to-day farm activities and do not appreciate the sugar-coated version. Lastly, Rita wants to make people smile. "I aim to be a mood brightener. We need more positivity and light in this world," said Rita.
Ocheda Dairy and Rita pride themselves on providing their local community with safe, nutritious, and affordable products. But she provides more than just dairy products. When you follow Rita, you receive a dairy experience as she shines a positive spotlight on dairy farming, ultimately building trust and promoting the industry to all.