Erin and Travis Michels own and operate Weiler Enterprises Inc. in Claremont, Illinois, where they currently milk 125 cows and utilize two Lely A4 Robot Milkers. They have four children: August (sixteen), Gentry (thirteen), Willis (nine), and Becket (four), who also help out around the farm.
In addition to the herd, Erin Michels operates a successful Facebook page where she shares both her farm and its story with consumers. The Michels farm story and entrance to the dairy industry are unconventional, as neither Travis nor Erin had a dairy background.
"We had a lot of people tell us we were crazy,"
Erin Michels said. "But it lends to our story that we started from scratch."
Erin has deep roots in the industry as her grandfather, father, and uncle owned a Jersey cow herd but left the dairy industry before she was born. Travis's love of the dairy industry came from his time managing the dairy herd at the University of Illinois. Because of their backgrounds, the two had always envisioned themselves owning beef cattle until Travis's passion for dairy took root.
They began their journey with 50 cows and two tractors, renting a property for four years. After a year and a half of designing their own farm, the Michels broke ground in July 2015 and officially moved in February 2016. This new property would encourage them to expand quickly because the barn could fit 150 cows.
The Michels did not anticipate the quick expansion of the herd or the growth of Erin's farm Facebook page, 'This Dairy Life.' With over 1,000 followers, Erin was surprised when the page grew in popularity. Erin enjoys connecting with consumers online and feels people appreciate knowing what goes into their food and the time it takes to produce it.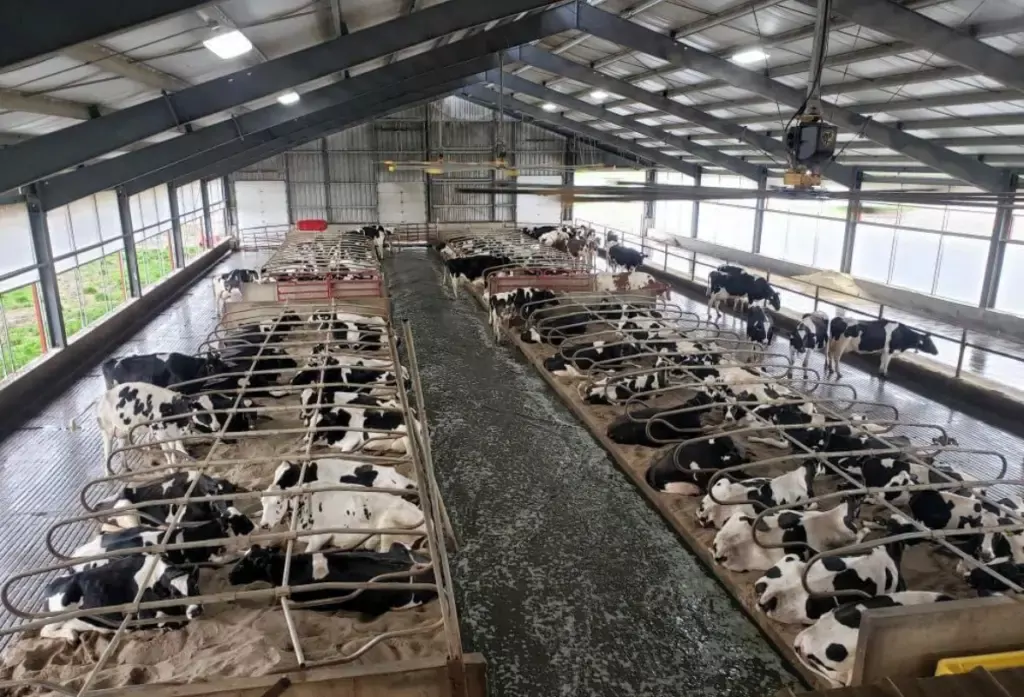 Erin started the Facebook page a few years into dairying. It began as a platform to post about the farm without annoying friends who may not be as interested, but it has grown into so much more. The largest post, with over 200 shares, features a Prairie Farms milk jug with her farm in the background, showcasing that farmers buy the milk they sell.
Naturally an educator, Erin teaches agriculture at Red Hill Junior/Senior High School in Bridgeport, Illinois. Her Facebook page allows her to educate beyond the classroom. She has found that people within her own community don't know what happens behind the scenes of a dairy farm, but they are eager to learn. To help educate, during National Dairy Month, Erin makes one educational post per day to spread awareness about the industry.
Creating engaging content that reaches a large audience takes time and planning. Erin has also found that a larger audience means that people may have negative viewpoints. However, she tries to use negative comments as an even greater opportunity to educate others.
After one particular post, Erin noticed someone shared her content through a negative lens. But instead of becoming defensive, she took the time to have a conversation.
"In a situation like that…
I try to approach the person on the other end of the screen in a less defensive way. I don't want to talk them out of their lifestyle. I just want to explain my lifestyle to them," said Erin.
But the comments on 'This Dairy Life' are not normally negative. Erin notes she mostly receives positive and eager feedback.
August Michels, the oldest of the four children, manages the calf care on the farm. People often comment on how lucky she is to work with baby cows all the time but are unaware of the hard work and dedication that goes into keeping calves healthy. August has made different appearances on the 'This Dairy Life' Facebook page in hopes of educating all about her large responsibility on the farm.
Although Erin never saw her Facebook page blossoming, it has certainly taken off. Erin and her family recognize how incredible their platform is in educating and creating excitement about the inner working of the dairy industry.
Through education and enthusiasm, the Michels have made a space that highlights a farm with an unconventional start.
"I just want to share my side of the story," Erin said.