Midwest Dairy is committed to providing educational resources and opportunities to connect youth with the dairy industry. We continue to work with farmers and partners to connect youth with where their food comes from through opportunities like Discover Dairy's Adopt A Cow program. The Adopt A Cow program provides educators with a free, year-long agricultural experience for their classrooms, where students learn about the cow (calf) and her life cycle—including photos, stories, and daily information. Many farm hosts from across our 10-state region participated and helped create trust in dairy through this program during the 2022-2023 school year.
2022-2023 Results
As a result, over 118,000 students from across Midwest Dairy's region connected with dairy farmers through this program.
Many farmers who participated as Adopt A Cow hosts are wrapping up the 2022-2023 school year. Learn more about their success below.
Minnesota
Minnesota dairy farmer, Andrew Miron of Hugo, Minnesota, connected with hundreds of classrooms around the state this past year, reaching 16,885 Minnesota students. Miron identified two calves, Bella and Daisy, who quickly became stars among the students. Photos and updates about their daily lives were shared with teachers, and they were also given dairy-focused lesson plans that are aligned with common core standards.
This past spring, classrooms who adopted Bella and Daisy joined Miron in a live chat to see how much the calves had grown. Live chats are a fun and informative way to connect with future dairy consumers. During the live chat, students asked a wide variety of questions, including, "What are the tags on their ears?", "Have any of the cows ever gotten out of their pens?" and more. The live chat was recorded and is available on YouTube.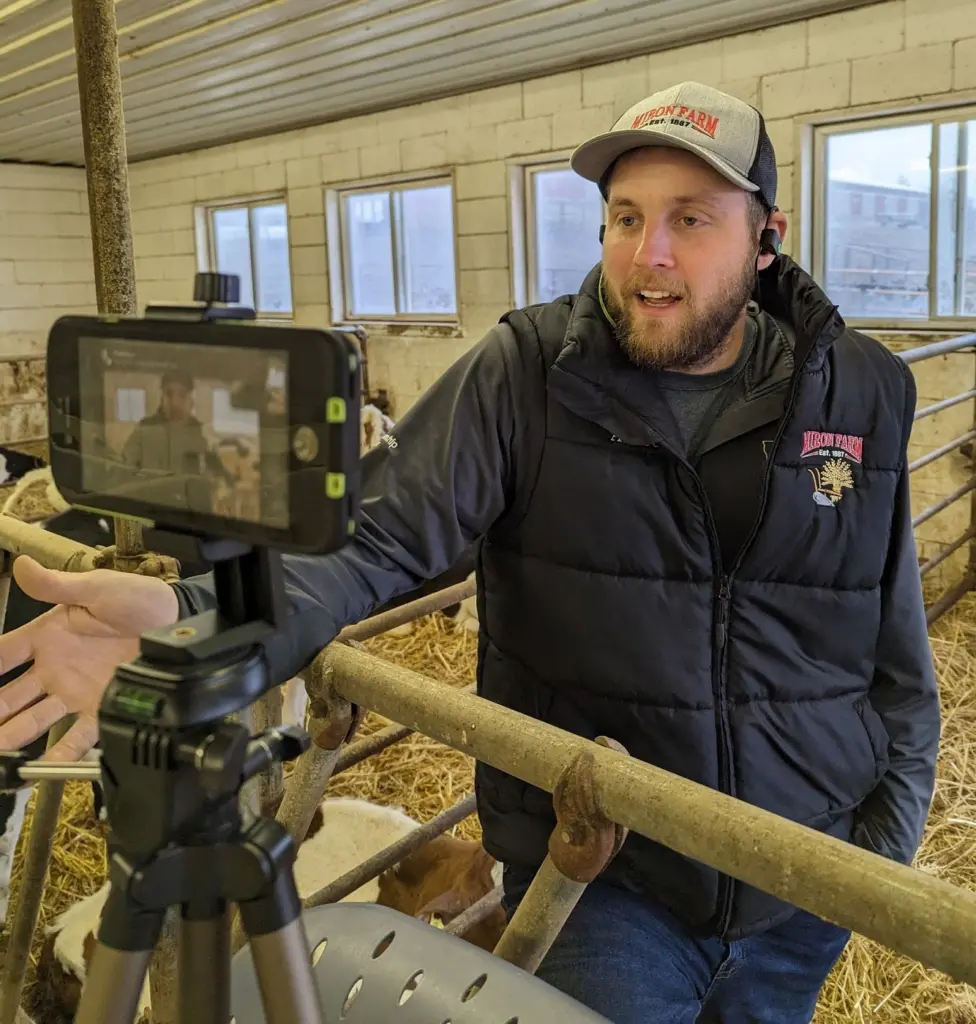 Kansas
Stacy Rethman of Rottinghaus Holsteins, located near Seneca, Kansas, connected with 16,647 students in Kansas as part of the Midwest Dairy-sponsored Adopt-A-Cow program. On Rethman's farm, there is never a shortage of fall calves, with around 500 to pick from. Ultimately the calves Jassmine, Bessie, and Diamond were chosen to be the main focus for students. This allowed for many regular updates on the calves' growth to be provided to classrooms and virtual video tours of other aspects of the dairy farm, including the robotic milkers. Rethman ended the year with a 30-minute live chat with the students providing the latest farm update and answering questions. Classroom calves Jassmine, Bessie, and Diamond also all appear on camera. Rethman reached more than just the Midwest as she had students from Texas and Oklahoma assigned to her.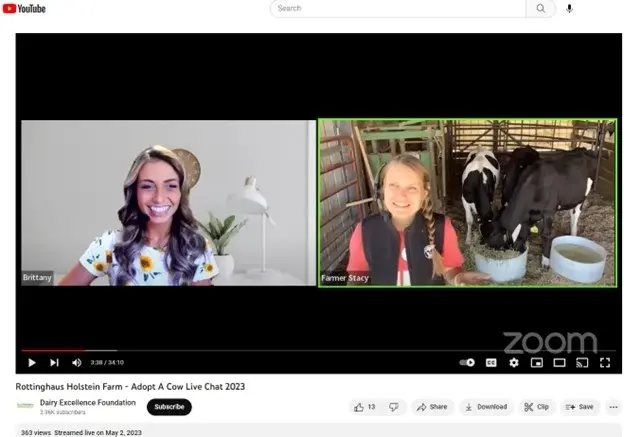 Stacy Rethman, Seneca, KS
Nebraska
Jodi Cast and her family engaged with 8,263 Nebraska students in the Adopt-A-Cow program. Cast, of JJC Jersey near Beaver Crossing, Nebraska, has hosted the Adopt-A-Cow program for the past three years.
During the last connection of the year with students, Cast and the three calves, Cookie, Lark, and Poppy, did a live chat with students during a 30-minute conversation in early May. The live chat was recorded and will be used as an ongoing experience.
Register Today!
Registration for the 2023-24 Adopt a Cow Program is now open for the 10-state region. You can encourage educators to register here. Are you interested in serving as a farm host? Connect with your respective Farmer Relations manager. Discover Dairy is an initiative of the Center for Dairy Excellence and Undeniably Dairy and is partly funded by the Dairy Excellence Foundation. More information can be found here.