Summer in the Midwest is always busy, allowing Midwest Dairy to reach consumers as they are out and about. From pop-up cereal and milk bars at festivals to friendly grill cheese pull contests utilizing Tik Tok recipes, we are finding unique ways to bring dairy to unexpected places!
80/35 Music Festival
Midwest Dairy was eager to bring a Generation Z (Gen Z) approved pop-up cereal and milk bar to the 80/35 Music Festival this July. In its 10th year, the festival presented a diverse lineup of musicians from all genres across four free stages and one paid stage in downtown Des Moines. This festival celebrated music and culture presented by the nonprofit Des Moines Music Coalition. Over 20,000 consumers attended the event during the two-day festival.
Midwest Dairy engaged with festival-goers through the pop-up milk and cereal bar, thanks to a generous donation from local processors, allowing us to hand out over 1,000 Undeniably Dairy branded cups filled with nostalgic cereal and milk. We worked with our partner Rip Roar Media to design an Undeniably Dairy-themed tent showcasing dairy's role in sustainable nutrition where their Gen Z staff shared dairy's story and provided an Undeniably Dairy experience. We reached over 100,000 consumers during this event through social marketing, online presence, and in-person engagement.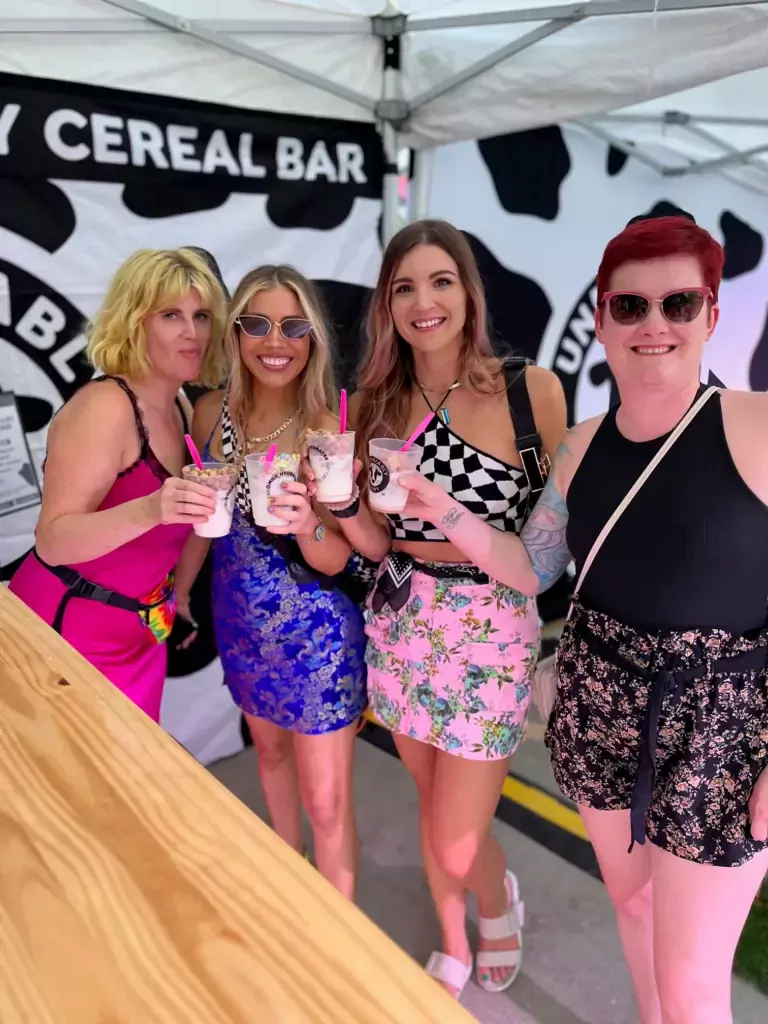 Grill Cheese Pull Cooking Contest
Another unique event that took place this summer includes a Grill Cheese Pull Cooking Contest. Elmwood Park High School, who won the Grill Cheese Pull TikTok Challenge, recently got an opportunity to cook their winning grill cheese recipe with Chicago Bear Khalil Herbert. The event was streamed live on Illinois High School Association's (IHSA) Facebook Page and was recorded to be used for future events for the IHSA partnership. Click here to see the recording that over 600 people have already viewed.
The event was hosted by Midwest Dairy's Dietetic Interns, who talked about dairy sustainability messages, how dairy plays a role in performance nutrition, and gave information about lactose intolerance. Khalil and Seth, the coach of the Elmwood team, also shared their favorite dairy snack and other tips about performance and consuming dairy.
Grant's Farm
Grant's Farm, located in Missouri, also showcased dairy in unique ways this summer. Celebrating 120 years of operation, Grant's Farm offers extended hours on Friday and Saturday evenings to host 'Summer Nights at Grant's Farm' as a part of their partnership with Midwest Dairy. These two summer evening events provided an opportunity to interact with guests at the Undeniably Dairy exhibit and highlight dairy in a featured menu.
During the June 16 event, guests had several opportunities for an authentic dairy experience. Two dairy cows roamed a grass pasture at the exhibit, and children enjoyed the hands-on fiberglass milking dairy cow simulator. Grant's Farm employees also facilitated a milking demonstration.
Dairy farmers Mark, Johna, and Hudson Fellwock interacted with more than 9,800 people and passed out cow hats and Cow Pots, which were popular among all age groups. The experience included a photo booth with dairy-inspired props, and guests got to look through the lens of a dairy farmer using a virtual reality headset.
Grant's Farm's social media platforms provide another way to reach consumers. A Facebook post made on their platform gave a glimpse into what the guest experience looked like and Instagram highlighted the dairy products used in each menu item.