Checkoff dollars have been hard at work throughout the 10-state region, including Arkansas, as Midwest Dairy focuses on reaching Generation Z and youth consumers. Keep reading to learn more about these summer efforts.
Say Cheese!
Midwest Dairy partnered with Apple Seeds and Sweet Freedom Cheese to immerse students in the art of cheese making. Twenty teens from Northwest Arkansas proudly wore cow print aprons and transformed milk into delectable ricotta and mozzarella cheese during this event. At its conclusion, students shared their creations with friends and family and were given cheese molds, a curd scoop, and a small bottle of rennet to take home, encouraging the cheesemaking adventures to continue.
Baptist Health Back-to-School Clinics
Midwest Dairy recently worked to support Baptist Health's efforts to ensure Arkansas children were ready to head back to school confidently. Baptist Health Community Outreach offered several back-to-school clinics across central Arkansas where parents were able to get free immunizations and a backpack filled with school supplies and educational materials. Midwest Dairy supported the program by providing nutrition education highlighting dairy's important role in a healthy diet. In addition, checkoff provided a dairy farming coloring book and crayons that were included in the 500 backpacks distributed to kids throughout the program.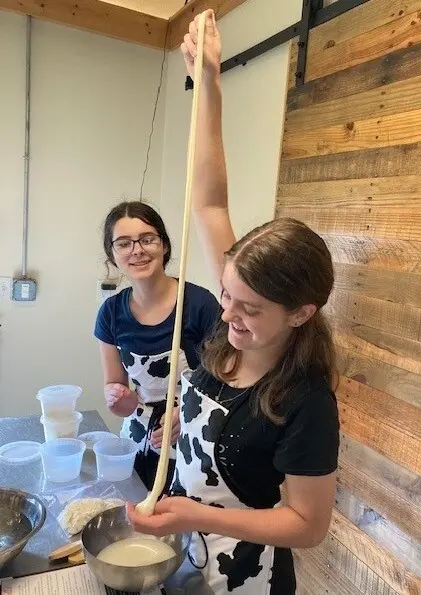 Arkansas Children's Nutrition Center- Fall Fest 2023
Midwest Dairy was proud to support Arkansas Children's Nutrition Center's 2023 Fall Fest by providing nutrition education showcasing the important role of dairy in a healthy diet. Over 500 children and families attended the fun event featuring delicious dairy snacks, kids' programs, games, and fun educational opportunities.