Midwest Dairy partners with thought leaders who can positively showcase dairy in their professions and community. Through thought leaders, checkoff builds trust and credibility for dairy by consistently providing an already tuned-in audience with valuable, accurate information. For example, Midwest Dairy has successfully partnered with influential athletic thought leaders to become their resource for all things dairy as they share dairy's story with their followers. See some of these successful partnerships below, from high school coaches to professional sports teams.
St. Paul Saints Host Dairy Day and Farmer BBQ
Midwest Dairy has partnered with the St. Paul Saints, recently celebrating Dairy Day at CHS Field. Sports fans enjoyed seeing dairy in unexpected places as Princess Kay of the Milky Way threw the first pitch. Other dairy activities included a live chocolate milk chugging contest, pre-recorded videos on the big screen, sustainability messaging, and fun dairy trivia between innings. The first 1,000 attendees also received a free Undeniably Dairy Cowbell and chocolate milk lip balm.
This in-game promotion is just a part of a campaign targeting Generation Z in the stands and online, as we also utilized the Saints' inventive and on-trend social media accounts. Additionally, the Saints created unique content with Midwest Dairy and will continue to post throughout the season.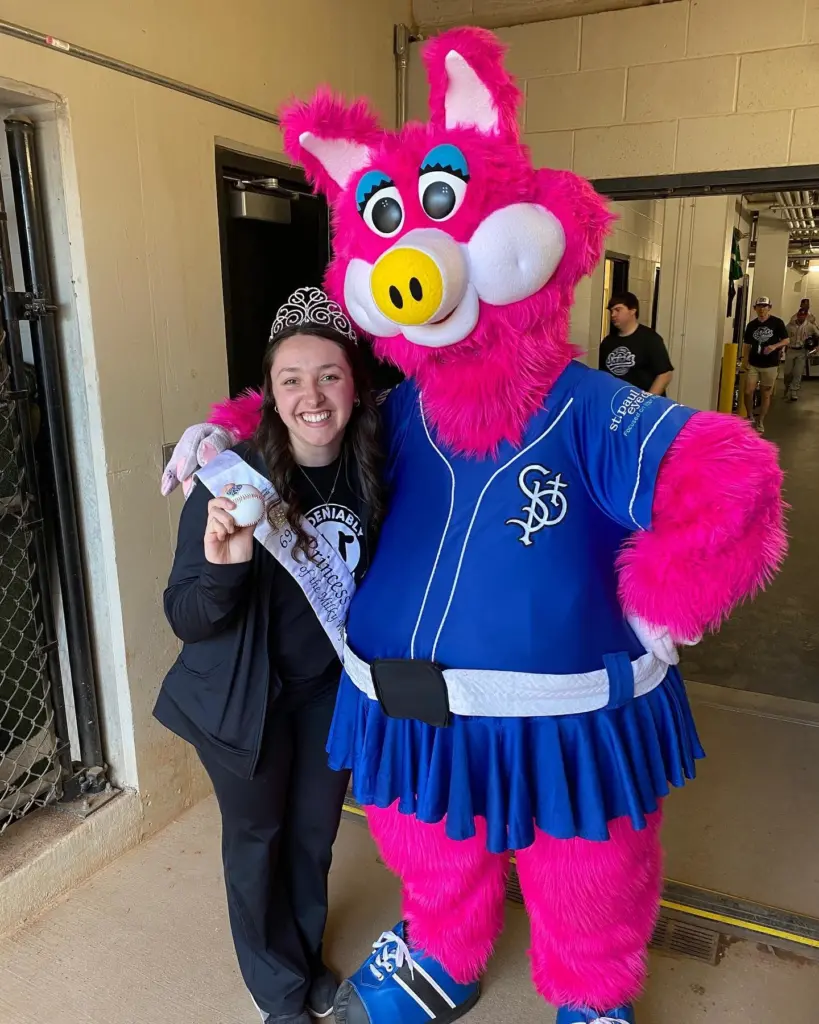 ​​​​​​Reaching Youth Through Nebraska eSports
Midwest Dairy partnered with the Nebraska School eSports Association (NSeSA) to bring dairy to life at their Spring State Tournament. Three hundred fifty players, coaches, and a large audience gathered at the in-person sessions, and over 1,250 high school students from across the state also streamed online over the two-day championship.
Dairy messaging and products were included in multiple areas of the event, including chocolate milk, cheese sticks, and Undeniably Dairy swag provided to players. Dairy messaging commercials were played, and Fuel Your Fun dairy messaging was woven into announcements throughout each day. In addition, champions were interviewed at the Undeniably Dairy desk, which concluded with a chocolate milk chug and cheers. This is the first tournament that Undeniably Dairy has helped sponsor, and the NSeSA staff appreciated that we pushed the boundaries of their average sponsorships to help bring a more engaging, interactive, and healthy experience to athletes.
Vikings Fuel Up to Play 60 Field Day Reaches 1,800 Gen Z students
More than 25 schools with over 1,800 fourth, fifth, and sixth graders participated in the Vikings Field Day hosted by the Minnesota Vikings and Fuel Up to Play 60. This three-day event was hosted at the Twin Cities Orthopedics Performance Center in Eagan and brought dairy to life in a fun and interactive way.
​​​​​Midwest Dairy sponsored four activities, including the My Plate Food Tray relay, a puzzle station, a #FuelYourFun Photo station, and a dairy trivia wheel hosted by Princess Kay. A dairy coloring book was also included in the coloring station. These activities allowed many interactions with Princess Kay of the Milky Way, dairy ambassadors, and Midwest staff who shared dairy's sustainability and nutrition story. The trivia wheel was especially popular. Most students went through the station multiple times to get a T-shirt and had all seventeen dairy trivia questions memorized. All the participants also received a chocolate milk lip balm as they exited the field.
Kansas City Chiefs Hometown Grant reaches coaches and athletes
This year the Kansas City Chiefs Hometown Grant was multi-layer, reaching youth football coaches, college-level and high school girls flag football players, and 10 to 12-year-old girls flag players.
​In late April, Midwest Dairy, USA Football, and the Kansas City Chiefs collaborated to provide a nutrition session for youth football coaches presented by Leslie Bonci, sports dietitian for the Kansas City Chiefs and National Dairy Council ambassador. In addition, coaches were welcomed by Harrison Butker, Kansas City Chiefs kicker and Fuel Up to Play 60 player ambassador, who shared how he uses dairy to fuel his performance. The day was full of activity on the GEHA field, starting with the youth national flag football regional championship games, followed by an area National Association of Intercollegiate Athletics women's flag football conference championship game, and ending with a high school girls flag football combine. Messaging about the benefits of dairy for athletes was shared on the in-stadium Arrowvision jumbo-screen during the game.
All high school girls in attendance received a Chiefs/Fuel Up to Play 60 logo drawstring bag, including sports nutrition resources and two fun dairy decal stickers. Additional bags and resources were shared with the ten and 12-year-old girls' flag teams from the Girls Play Flag Football program.
Husker Performance Podcast Reaches Consumers
In 2021, Midwest Dairy partnered with Husker Athletics to launch the inaugural Sports Nutrition Podcast. After a successful first four podcasts, the Sports Nutrition Podcast was continued for a second year and rebranded as the Husker Performance Podcast to expand the topic focus beyond nutrition. The five-part series shared how dairy supports athletes beyond nutrition by sharing insights on how mental health, sports psychology, life skills, and sports performance tie into the athlete experience. In addition, messaging reinforced dairy's role in immunity, calming, energy, digestion, and as an environmental solution.
It also featured the twelve-part Healthy Habits Weekly Feature educating consumers on how dairy nourishes and energizes. These features aired on 24 radio stations and were streamed statewide, reaching over 400,000 consumers.