Midwest Dairy helps fuel dairy demand and build consumer trust by bringing dairy to life through activations that target different consumers with dairy messaging. Dairy Checkoff aims to keep messaging fresh and the partnerships new to reach a large audience. Keep reading to see how investment in dairy promotion works through the different states in our 10-state region.
Merging dairy sustainability and country music in Illinois
Audacy Chicago and Midwest Dairy partnered to reach the Generation Z (Gen Z) audience by leveraging popular radio​ influencers and a foodie social influencer through an on-air, social media, and on-site campaign.​ On-air radio hosts Melissa, Austin and Scotty from WUSN 99.5 created social media videos pairing Lenkaitis Holstein Dairy Farm and local​ influencer Samantha from Chicago Food Authority to showcase how much she enjoys the local dairy scene.​  This campaign also included the Dairy Important Person (D.I.P) event and featured a private concert by Jackson Dean for 50 winners of a social media contest. While at the event, participants also learned how to build their own rainbow cones. Andy and Sarah Lenkaitis were on site to share their farm's sustainability story with the Gen Z audience. A website landing page was also created on WUSN 99, which included a video series, dairy recipes, and information on Midwest Dairy farms. The complete campaign reached about 2.6 million adults.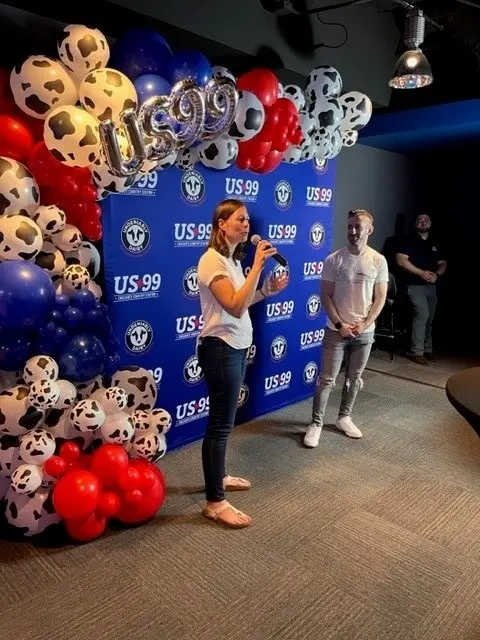 Dairy scavenger hunt returns to Riverfest in Downtown Sioux Falls
Midwest Dairy continues to build a relationship with Downtown Sioux Falls (DTSF) to grow trust with its unique audience and bring dairy to unexpected places, such as its annual Riverfest event in August. Through this partnership, DTSF brought back the popular dairy-themed scavenger hunt using the "what you do, dairy does too" tagline sponsored by Midwest Dairy. Participants used new clues, which included dairy sustainability and cow comfort messages, to gather letters on signage placed throughout the event and unscrambled those letters for a complimentary ice cream treat at the South Dakota State University ice cream truck. Again, this year, one of the stops of the hunt was another partner of Midwest Dairy's, Friends of the Big Sioux River (FBSR), who displayed signage, handed out Undeniably Dairy items at their booth, and shared about the hunt on social media to their 1,900 sustainability-focused followers. Over 250 people participated in the hunt, keeping the ice cream line steady throughout the evening. Overall, this event saw a successful crowd of an estimated 20,000 attendees.  
Gateway to Science is continuing to help gain trust in North Dakota
Midwest Dairy's partnership with North Dakota's Gateway to Science has been invaluable in positively impacting consumer trust in dairy. In addition to the dairy display featuring a cow health monitor at North Dakota's Gateway to Science facility in Bismarck, Midwest Dairy and Gateway to Science have teamed up on several occasions to engage visitors about dairy farming and foods over the past few months.   
The cow health monitor computer game went "on the road" to the USDA Ag Research Services' Friends and Neighbors Day in Mandan, where over 800 people attended the agriculture education event. Attendees had the opportunity to stop by the Gateway to Science booth to play dairy games and learn more about how dairy farmers monitor herd health. Gateway to Science was also present at the North Dakota State Fair, where fairgoers could test their understanding of how dairy farmers take great care of their animals. 
Dairy was also the topic of the day at a Gateway to Science Summer Camp, where 40 first through fifth graders participated in a fun experiment involving milk. Through this activity, they learned about the nutritional value of dairy and heard from a local dairy farmer about cow care and comfort. Over 50 preschoolers and caregivers participated in the Undeniably Dairy Preschool Discovery Hour at another event featuring dairy-related activities and stories. 
Food science camp makes a connection at Nebraska dairy farm
Midwest Dairy partnered with the University of Nebraska-Lincoln (UNL) Food Science and Technology Department to connect high school students with a Nebraska dairy farm. Brooke Engelman from Classic Dairy hosted the students attending the "Exploring Dairy Products, The Milky Way" summer camp. In addition to the dairy farm tour, students received several resources on dairy's environmental sustainability and why it matters.
The food science camp allowed students to learn about food science while experiencing authentic, hands-on learning activities where they followed dairy products' production and processing from farm to table. This led to many learnings about how science, technology, engineering, and math (STEM) are intertwined to transform raw agricultural commodities into food products consumed daily.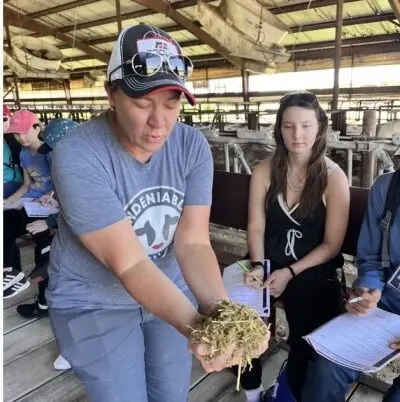 This camp aims to attract Nebraska students to participate in STEM enrichment activities, including agriculture-related educational experiences, and choose a career path in agricultural-related fields. The students participating in the summer camp left with new excitement for science and STEM career fields. Student testimonials about their favorite part of the camp included, "I enjoyed visiting a family-owned farm. It was the first time I visited a farm in my life," and "I would recommend this camp to other students because I think it is cool that we get to learn more about something that a lot of people will drink every day." UNL Food Science and Technology Department also shared this post-camp video of "Exploring Dairy Products, The Milky Way."
Culinary Institute creatively shares the sustainable story of dairy with Nebraska students
Midwest Dairy partnered with Southeast Community College's Great Plains Culinary Institute to share the sustainable story of dairy in a fun and interactive way. This parentship allowed checkoff to connect culinary students and faculty directly to dairy and focus on where their food comes from.
The institute's Facebook page also created and shared a Reels video. The video included a question-and-answer session where students and an executive chef at the Great Plains Culinary Institute answered dairy questions, followed by a response from fourth-generation dairy farmer expert Amie Hackler of Classic Dairy. A few questions asked included: As part of their ration, what are three things that a dairy cow eats, how long does it take for milk to get from the farm to the grocery store, and what does sustainability mean to you? Click here to view the video.