Midwest Dairy is bringing dairy to unexpected places all spring and summer as we connect with consumers to build trust. From the ballpark to concerts and even the college classroom, dairy shows its versatility and connects with consumers. Continue reading to see how dairy finds its way into events across the 10-state region.
Dairy Night brings Missouri Farmers Care to Busch Stadium
Agriculture was front and center at a recent St. Louis Cardinals game at Busch Stadium, thanks to Missouri Farmers Care (MFC). In partnership with Midwest Dairy, the agricultural coalition celebrated Dairy Night on Friday, June 9, as 43,238 baseball fans filled the stadium.
In bright "Farm Team" shirts, a group of 30 volunteers, including 15 dairy farmers, encouraged conversations at the expanded Missouri Farmers Care booth experience at Ford Plaza. Dairy Night featured free digital photo souvenirs and tic-tac-toe trivia with prizes, a photo opp with Sweet Bessie, who is the cow mascot of the "Race to the Plate" team, farm visits with virtual reality goggles, and a Total Mixed Ration display explaining what cows eat.
Before the game, the Cardinals debuted a farm video with dairy farmer Afred Brandt and Cardinals mascot Fredbird. Friday games also featured "Race to the Plate", where "Farm Team" mascots, like Sweet Bessie, race the bases. Missouri Farmers Care and Cardinals partnership also reached consumers through 30-second radio spots, a GameDay Magazine print ad, a Cardinals scoresheet ad, and a growth poster giveaway. According to Cardinals fan demographics, 69 percent of baseball fans are 18-55 years old, aligning with dairy's target audience of adult Gen Z and parents of Gen Z.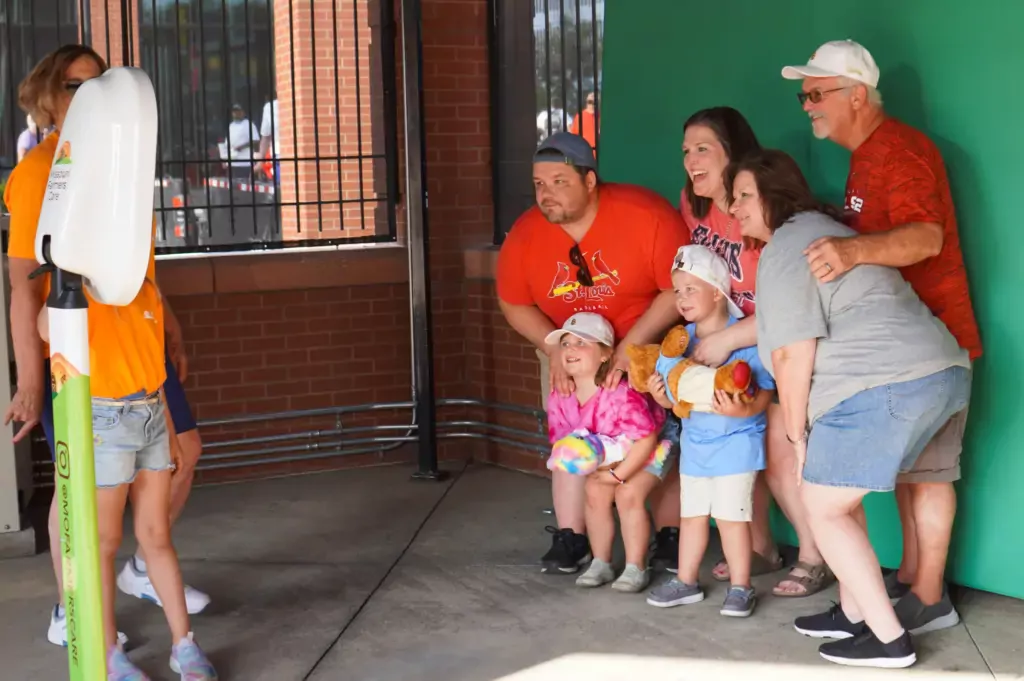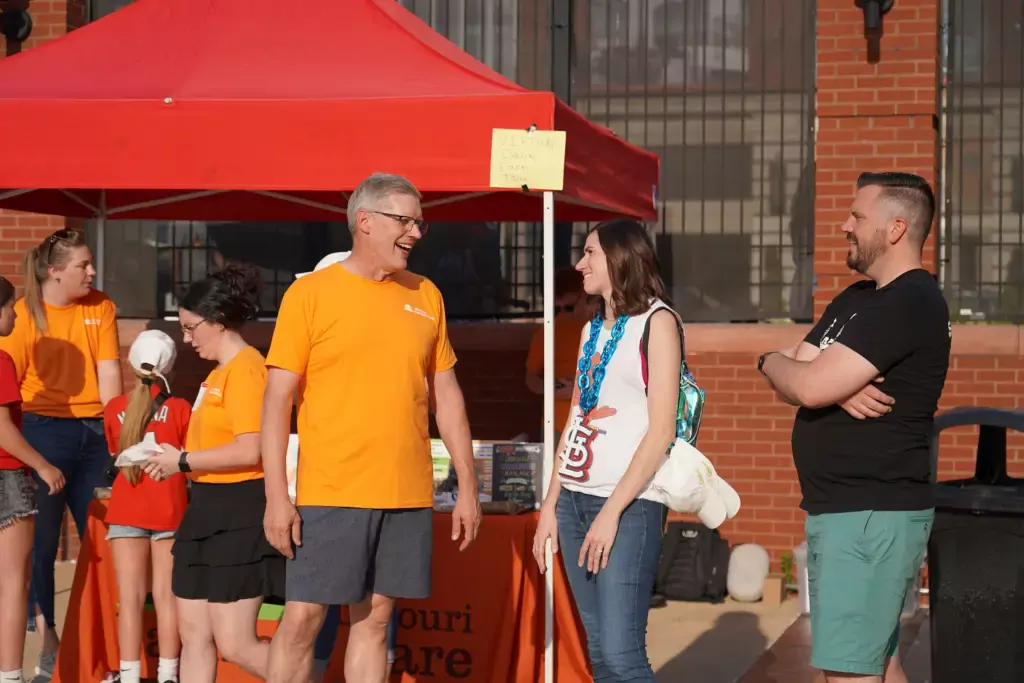 Levitt at the Falls concert features dairy, reaches Gen Z
New in 2023, Midwest Dairy partnered with Levitt at the Falls for a summer concert featuring Minneapolis-based band Yam Haus, chosen because of their appeal to Midwest Dairy's target audience, Gen Z. The Levitt Shell Sioux Falls is an outdoor music venue located in the heart of downtown Sioux Falls, South Dakota, offering 50 free concerts each summer and serving as a gathering place for the diverse community.
Local dairy farmer Doug Ode welcomed the 1,600 guests and invited them to enjoy ice cream as well as games and prizes. Dairy sustainability messaging was shared via video, static ad, and pull-up banner at the concert. Social media posts also reached the partner's over 20,000 followers. This partnership presented a unique opportunity to reach a diverse audience, including Gen Z.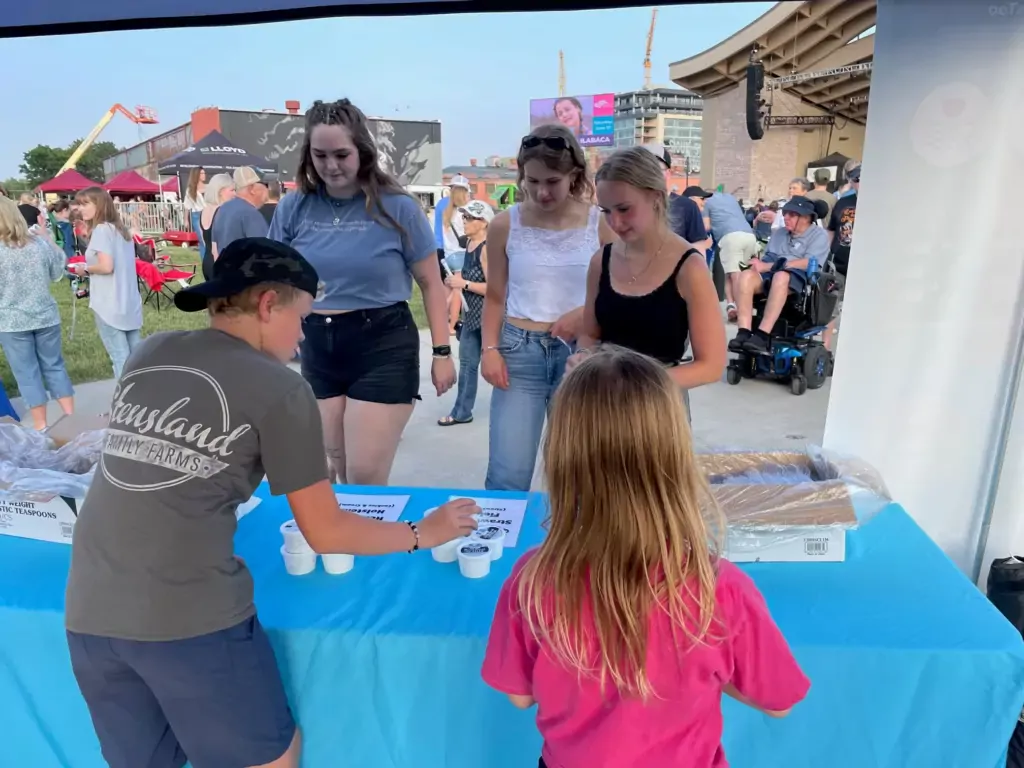 Kansas State University capstone course engages Gen Z, college students
This spring, Midwest Dairy served as the "client" for the advertising and public relations degree capstone course at Kansas State University (K-State). This degree is obtained by students in advertising and public relations, digital media, and brand communications. As a designated capstone course, students must complete the class to graduate. In collaboration with instructor Jana Thomas, students were challenged to develop a multi-channel campaign to reach Gen Z college students with environmental sustainability and wellness messages to increase consumer perception of dairy.
The class formed mock student agencies to conduct research, develop a campaign and ultimately pitch their ideas to "win" Midwest Dairy's business at the culmination of the semester-long course. A "meet the client" session and mid-semester check-in to hear student research presentations were two opportunities to share dairy insights with students.
The student agency team, Rendez-voo, was named the winner with their "Too Good to Forget" campaign. The team leaned into working with student ambassadors and partnerships with local student and business organizations to celebrate dairy – the nostalgia of afterschool snacks. Students shared feedback that working on this campaign was a worthwhile and meaningful opportunity. Midwest Dairy Business Unit South is exploring how to implement tactics from the students with an on-campus activation at K-State and a second campus this fall.