This summer, Midwest Dairy partnered with Coborn's, Marketplace Foods and Cash Wise Foods to celebrate dairy, developing an innovative, integrated campaign that leveraged the grocers' print materials, online presence and even had an in-store element for store reward program members.
The goals of the program were to:
Increase consumer confidence in dairy by sharing more about where their food comes from
Drive dairy sales by inspiring customers to try new recipes
Connect with children to create life-long dairy enthusiasts
Coborn's, Inc., which is based in St. Cloud, Minnesota, is a 99-year-old employee-owned grocery retailer with more 58 grocery stores across Minnesota, North Dakota, South Dakota and Wisconsin under the Coborn's, Cash Wise Foods, Marketplace Foods and Hornbacher's banners.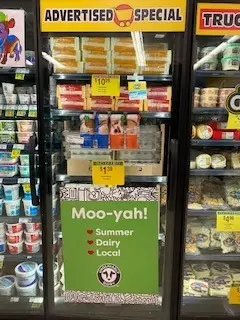 To help consumers learn more about where their food comes from, a dairy farm was featured in their circular ads, reaching approximately 715,000 households, highlighting how fresh, local and sustainably produced dairy products are. In store, members of their rewards programs were offered a free gallon of milk with the purchase of complementary baking items.
This partnership also included several web-based elements, including featuring dairy recipes on Coborn's new online program, Kids Cook at Home. From Perfect Pair Pops, which uses milk as the key ingredient, to quesadillas, to smoothies, to overnight oats, this program shows kids how fun and easy cooking can be – while featuring a variety of tasty, nutritious dairy products. To date, this program has reached more than 4,000 consumers.
Coborn's created a series of Instagram stories to support this partnership, and they shared two Facebook posts, which reached nearly 20,000 people. In addition, they did an on-farm Facebook Live at Blue Diamond Dairy, located near Melrose, Minnesota, which reached more than 17,000 people. Overall, the campaign has garnered 1,027,000 impressions on social media. In addition, it has helped generate 400,000 pounds of incremental milk sold.
Partnerships like these play an instrumental role in connecting with consumers and helping tell the on-farm story, while driving demand and inspiring enjoyment by sharing fun, dairy-forward recipes.