The beginning of a new year is always an exciting time for the dairy industry as consumers start the year committed to a healthier version of themselves, resulting in high demand for dairy products. Midwest Dairy has kicked off the new year by capitalizing on this opportunity, working alongside different partners, helping them deliver dairy messages to encourage customers to use dairy products to meet these new year's goals. Learn more about these campaigns and how your checkoff dollars are sharing dairy's story, its unique wellness benefits, and sustainability mission.
Price Chopper Enterprises
Kansas City-based Price Chopper Enterprises is a locally owned grocery retailer with over 50 locations. This past January, Midwest Dairy along with Ariel Johnston, RD of the Tasty Balance, partnered to create three delicious dairy-focused recipes to be featured on Price Chopper's website. Recipes include a blueberry cottage cheese smoothie bowl, chocolate cherry smoothie, and peaches and cream smoothie. These recipes feature yogurt, milk or cottage cheese in their ingredients.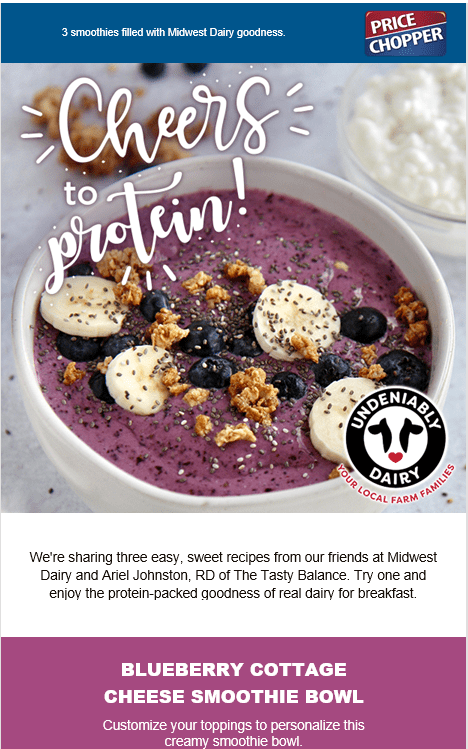 As part of the campaign, Price Chopper will include the Blueberry Cottage Cheese Smoothie bowl image in their digital and print circular ad beginning early January. The ad will also include a QR code taking customers to Price Chopper's website to view the recipe which is also featured in a full-page ad in Price Chopper's Gatherings magazine. Customers that are signed up for Price Chopper's emails received the three recipes directly to their inbox and can even add items from the recipe directly to their online shopping cart with ease. 
Coborn's Inc.
Coborn's Inc. kicks off the new year in January 2022 with "fuel your goals with a fresh start with dairy", a campaign helping consumers see how dairy can be a big part of a healthy new year's resolution. The campaign calls out dairy's benefits to help consumers be their best through both social media messaging and the dietitians digest e-mail that reaches 250,000 shoppers.
'Gas Station TV' at Little Duke's stores also featured a video at the pump highlighting yogurt focusing on its protein and other essential nutrients.  A QR code will easily allow shoppers to make dairy purchases with promotions coordinated by the dairy category manager with branded dairy vendors. It will also provide special offers in-store and online to boost dairy sales.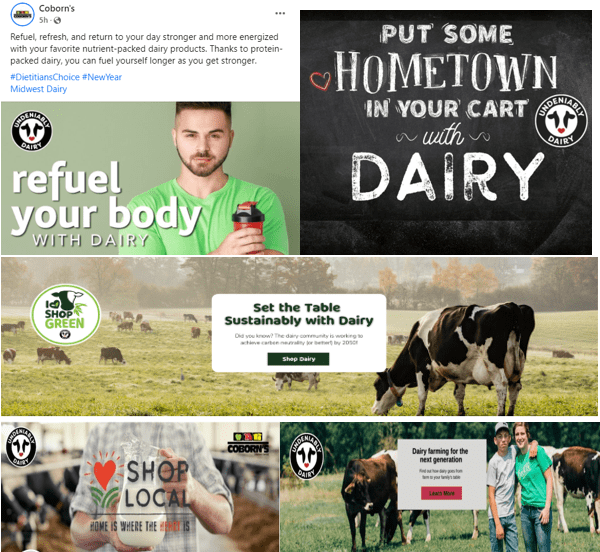 Schnucks Markets
This past January, Midwest Dairy partnered with Schnucks Markets, a St. Louis, MO, based retailer with over 100 locations in four states (MO, IL, IN, WI), to deliver content for their "Good For You" campaign. This campaign focuses on building a happier, healthier community by helping shoppers take a step forward on their health journey. As part of the campaign, Midwest Dairy is including dairy messaging on in-store shelf blades stating, "Fuel your wellness with dairy – nutritious, affordable & sustainable". Schnucks also developed a dairy-focused Lightened Up Bananas Foster recipe in their Simply Schnucks publication which prints 105,250 copies and is distributed to 102 stores. Also included in the Simply Schnucks publication is a half-page ad talking about the goodness of yogurt. The Bananas Foster recipe will also be promoted in an email blast along with social posts.