Ramping up e-commerce efforts was a priority during the pandemic for many retailers. Because consumers could not readily shop when convenient and wanted to avoid big crowds, they turned to new ways of shopping. In 2020, we saw 20 percent or fewer shoppers buying groceries online, but as the world changed, those numbers skyrocketed to 70 percent of consumers utilizing e-commerce grocery shopping. In 2022 we saw shoppers continue this trend, with more than 60 percent of consumers still using online grocery shopping. Because of this shift to online grocery shopping, there are new opportunities for dairy farmers and dairy products to be placed front and center for consumers.
The Demand team at Midwest Dairy is immersed in making dairy products stand out online and are working on getting a variety of dairy products well-represented in this online space. Dairy is the second largest category of grocery purchases online, making online grocery shopping something the dairy industry and retailers are equally excited about. Because consumers are creatures of habit, we must position the dairy case as a critical, top-of-mind purchase. We have seen that once dairy is in the shopper's cart, it usually becomes a permanent part of their list, and often, they will purchase that same product again in the future. User data indicates that milk is the number one searched term for e-commerce. This is exciting because it allows Midwest Dairy to promote product information and even product reviews to a wide range of shoppers. This is also an opportunity for shoppers to see new products they may overlook in the physical store as they scroll online.
Getting the product in the shopper's cart is also an art Midwest Dairy works hard to perfect. We are exploring and utilizing new tactics, such as banner ads to promote dairy products and recipes containing dairy. By showcasing dairy's nutritional value and versatility in the kitchen, we hope to make the consumers' experience easy when purchasing by providing direct links to products and easy-to-access "add to cart" buttons right from the recipe.
Instacart, a form of e-commerce, is a grocery shopping and delivery service that allows customers to order groceries online from participating retailers—a service used by many retailers within the Midwest Dairy region. Research shows cheese sells very well during the holiday season, so through November and December of 2022, Midwest Dairy launched a campaign utilizing an Instacart banner ad to drive awareness and traffic by targeting consumers using purchase behavior and keywords. The banner ad featured cheese as a key ingredient for a hearty meal or general entertaining during the holiday season. We were also able to suggest a cheese purchase through our ad showing up on adjacent online "aisles" like snacking (deli, granola bars), milk, and bananas. To execute a campaign that covered a large geography within the 10-state region, we targeted Jewel-Osco, Schnucks, Hy-Vee, Cub Foods, and Price Chopper with banner ads that included the "shop cheese" feature. Once the customer clicked the "shop cheese" button, they were taken to the cheese category page to "add to cart" and purchased right from that page.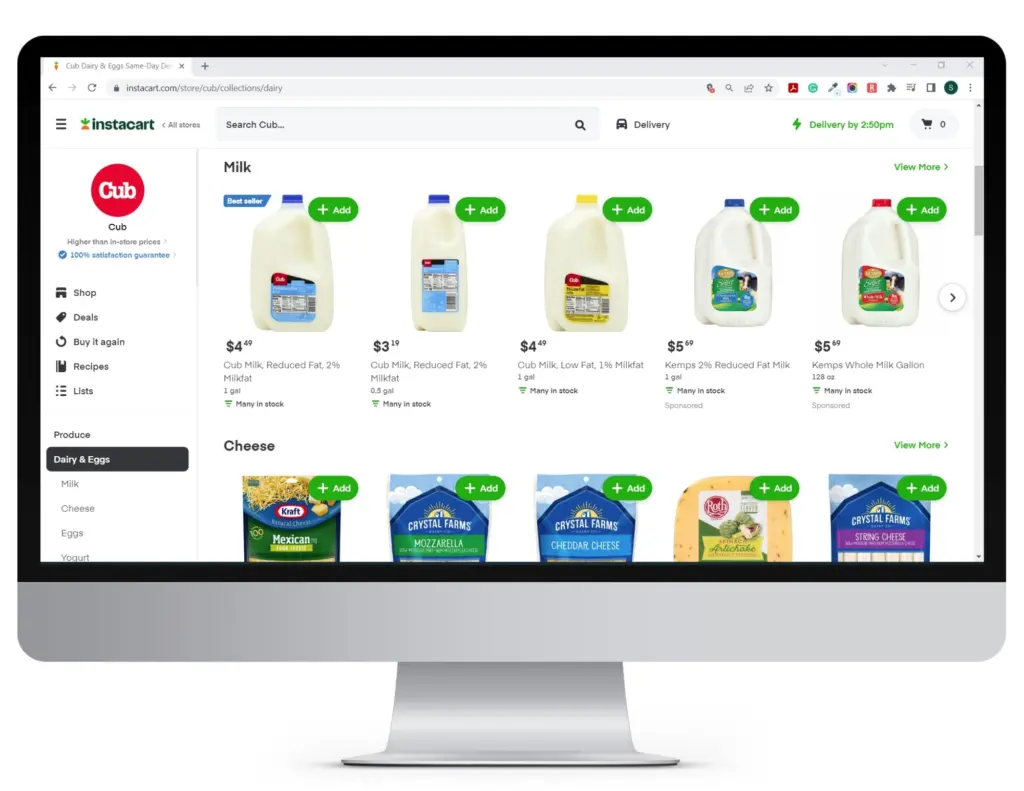 Midwest Dairy was pleased with the results. The campaign drove over two million impressions, almost 60,000 clicks, and $611,000 in cheese sales. These numbers prove that consumers saw the ad and reacted, generating sales. Cheese items included in the campaign also saw increased units sold during the campaign weeks versus the four months previous. The average Return on Ad Spend (ROAS) was over $12. This means that for every $1 invested in this campaign, we drove $12 in cheese sales.
These efforts go further than shoppers. Retailers are also conscious of what dairy purchases are doing for them and see how important a dairy purchase is to the overall dollars generated by that shopper. Grocery baskets are 75 percent greater in value when dairy is in the cart and contain 83 percent more units compared to purchases without dairy. Ultimately, we want shoppers to purchase dairy products and feel confident using them, so they return for more. We work closely with retailers and encourage them to work with their dairy vendor community to provide promotions and coupons for these dairy products.
Recipes are also an excellent way to inspire shoppers to add dairy to their meals. This strategy is especially useful with the high household penetration many dairy items have. Getting current users to use more dairy or more frequently keeps it on their shipping list. Our retail partnerships allow Midwest Dairy to bring ideas for activations forward for their consideration. These ideas can revolve around the nutritional benefits of dairy, a sustainability message, promoting the local farmer, and much more. The dairy checkoff has brought value to those stakeholders by reminding and educating them how important it is for dairy to have a presence in the online space.
By staying educated about relevant shopper marketing tactics like this, Midwest Dairy can help more dairy products find their way into consumers' carts – especially online. Online grocery shopping is projected to continue to grow, and Midwest Dairy remains dedicated to making dairy products more visible in the digital space, which will encourage more dairy consumption – a win for farmers, retailers, and shoppers.