Midwest Dairy is working hard to further our work in innovation spaces. In June of 2022, we partnered with The Hatchery Chicago to launch a pitch contest for newer businesses to win exclusive access to a commercial kitchen for six months. To be eligible for the contest, we agreed that entrants must have a business model that either has launched sales or established proof of concept, uses at least 25 percent dairy in the ingredient base, and does not contain any alternative dairy products.
From a large pool of applicants, five quickly rose to the top. Those businesses included Twisted Eggroll, Bartleby's Ice Cream Cakes, Zimt Cookies, Classic Cobbler, and Milky Milky Ice Cream. Those finalists then went on to pitch their product to a panel of judges made up of farmers, processor partners, and Midwest Dairy staff this past September.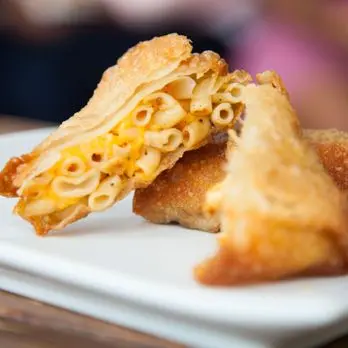 Photos courtesy of Twisted Eggroll.
These finalists were chosen for a variety of reasons. Still, one was a standout winner for their innovative product idea, which brought dairy to a food that is not typically known for having any: the egg roll. The judges selected Twisted Eggroll for its impressive dairy-inclusive menu. Dairy is a component of these eggrolls and is often the number one ingredient, making up anywhere from 46-50 percent of all ingredients used! The varieties of twisted eggrolls include southwestern veggie, Philly cheesesteak, buffalo chicken, and their new apple cheesecake.
Congratulations to the Twisted Egg Roll, who won the sole rights to operate out of a Midwest Dairy-sponsored kitchen on The Hatchery's campus, which is located in Garfield Park in Chicago. Throughout the six months that followed, the Twisted Eggroll had wrap-around support services from The Hatchery team and quarterly check-ins with the Midwest Dairy team to connect over progress.
Twisted Eggroll can be found in several grocery stores around Chicago, and owner Nikkita Randle is currently working on opening her first Twisted Eggroll storefront in 2023.
Midwest Dairy focused on this project because of its innovation and the many strategic elements included. For example, the Chicago location was key. By doing a pitch contest in one of the most populated cities in our 10-state region, we exposed a large group of consumers to innovative dairy products and are paving the way to bring this contest to other metropolitan areas. Including our processor partners was also a huge goal for Midwest Dairy in hopes we would create checkoff advocates by inviting them to become judges.
Projects like these encourage dairy innovation and shine a spotlight on how truly versatile dairy can be. Thank you to all the food entities who participated in this successful project in 2022!