Capturing the attention of Gen Z (ages 10-25) is a significant focus for dairy checkoff because this next generation of consumers makes up 20% of the current U.S. population, has $100 billion in spending power, and can determine the growth of dairy in the next decade. It's essential that we understand Gen Z in order to reach them with the right messages in the right places.
TikTok is one of the fastest-growing social media apps and one of the most loved platforms of Gen Z. That's why Midwest Dairy partnered with DMI to boost the "Reset Yourself with Dairy" campaign on TikTok during this past holiday season (November – December 2021). The results are in, and during that time, over 16.8 million TikTok users in the Midwest engaged with our content – 4.8 million more than our targeted goal. Through this pilot, we learned more about what works best to improve dairy's perception and relevancy with Gen Z and, ultimately, increase purchase intent of dairy. This will also help us continue connecting with this audience on the TikTok platform throughout 2022.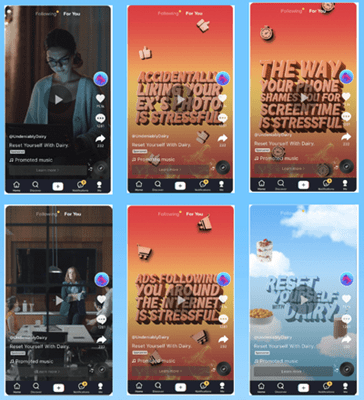 This TikTok campaign is not the only success Midwest Dairy has seen online. Throughout 2021, Midwest Dairy grew trust with consumers through 145 projects. We made a total of 130,889,369 consumer impressions, reached 29,014,268 accounts, and received 2,880,250 engagements. But what exactly do these terms mean?
Impressions are when advertisements, posts, or other forms of digital media display on a user's screen.
Reach is the total number of people who see that content. Reach differs from impressions in that 'reach' is the number of unique people who see the content, and impressions are the number of times that content was seen. One person (one 'reach') could see a specific ad multiple times, thus counting as multiple impressions.
Engagements measure the number of shares, likes, and comments an advertisement or post receives and, ultimately, is the real goal of our content.
The world of social media is extensive and ever-evolving. It's more than just Facebook – new apps and platforms are created every day. Utilizing popular platforms like TikTok allows your checkoff dollars to reach new generations of buyers. In-store and event activations will always be an important part of checkoff work. However, utilizing social media platforms allows us to reach consumers 24/7, presenting a huge opportunity to build demand and trust in dairy foods and dairy farmers.