While focusing on driving demand in dairy, Midwest Dairy seeks positive collaborations with retail and foodservice partners to bring dairy to life. Checkoff can bring valuable consumer research and insights to these partners working and work with them to create campaigns aimed at getting consumers to the dairy case. We are all working together to stay ahead of what consumers of all ages are looking for in their dairy options, whether that be innovation in dairy products or fun ways to bring dairy into new recipes.
Kwik Trip/Kwik Star
Midwest Dairy recently co-sponsor a Limited Time Offer (LTO) with Kwik Trip/Kwik Star to promote new Dreamsicle milk pints. Checkoff was eager to partner on this campaign because it promoted innovation in the dairy industry and the opportunity to drive incremental sales through a consumer awareness campaign. Research shows that consumers are looking for innovation in the dairy category, and this exciting flavor, plus others from Kwik Trip/Kwik Star, really hit that bullseye.
This programming included 15-second in-store television advertising, cooler clings, and online advertising of the Dreamsicle flavored milk pints that attracted customers to try this new flavor. The campaign ran through April, May, and June of 2023. Kwik Trip/Kwik Star continues to be a valuable partner to dairy farmers. Year-to-date LTO promotions at Kwik Trip/Kwik Star have resulted in almost 400,000 incremental pounds of milk sold.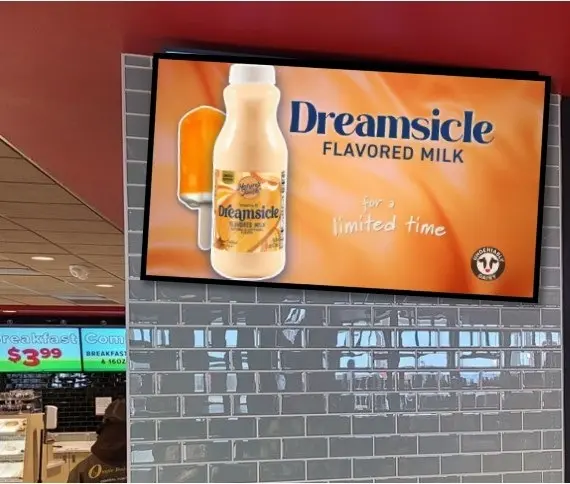 You can look for additional LTO flavors and support from Midwest Dairy at the end of 2023, a Root Beer flavor – currently available in your local Kwik Trip/Kwik Star stores. Kwik Trip/Kwik Star has over 800 stores in Illinois, Iowa (called Kwik Star in this state), Michigan, Minnesota, Wisconsin, and South Dakota.
Price Chopper Enterprises
In June, Midwest Dairy and Price Chopper Enterprises also partnered to bring innovation to the cheese category. This recipe-driven campaign focused on unique uses for cheese in different recipes. Price Chopper Enterprises, a Kansas City-based retailer with over 50 locations, specifically picked this campaign because research showed an opportunity to drive growth in the cheese category.
Midwest Dairy worked with a Kansas City local thought leader, Bethany Frazier, to develop three cheese-based recipes for inclusion in the campaign. Campaign images and artwork focused on the message of "Cheese the Day". The recipes included Strawberry Burrata Salad, Fig and Brussels Sprouts Pizza, and Pesto with Sweet Potato Crostini. Price Chopper promoted the recipes on Facebook, Instagram, Pinterest, and through email. The overall most clicked-on recipe was the Strawberry Burrata Salad.
Midwest Dairy also worked with the Kansas City Mom Collective, a group of influencers in the Kansas City area, to further promote the recipes. They shared through an email blast, posts on Instagram, and a leaderboard on their website. The tactics mentioned above linked consumers to the recipes on the mypricechopper.com website.