Andy and Sarah Lenkaitis couldn't be more aware of the great social and environmental responsibilities that come with being dairy farmers.
They have a one-year-old son, Lucas, whom they hope will be the third generation to run Lenkaitis Holsteins, the family's farm originally started by Andy's parents, Albert Sr. and Mary Etta in 1983. To ensure little Lucas has that opportunity, they know they must protect and preserve their land and its precious resources.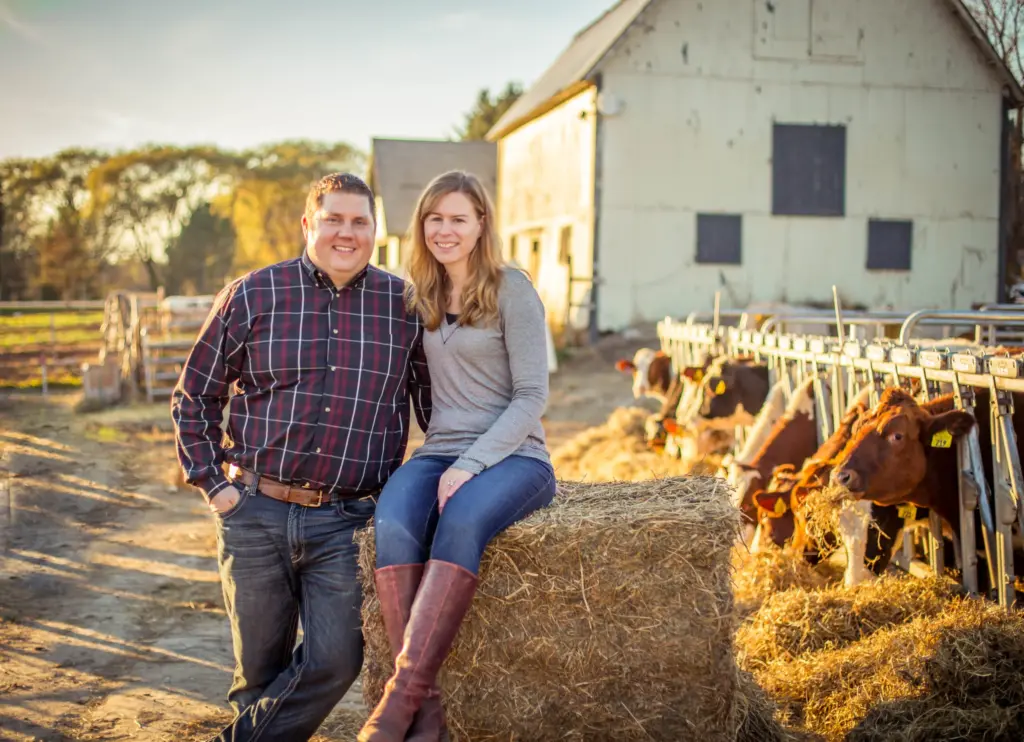 But their calling to be good stewards extends beyond their own family.
Located in the incorporated village of Campton Hills, just 40 miles from Chicago, Lenkaitis Holsteins is now just one of three dairy farms remaining in what was once home to more than 140 dairy farms and creameries. The farm is now surrounded by three subdivisions, and the Lenkaitis family feels a distinct obligation to be good neighbors.
"We wanted to grow and improve our dairy farm," says Sarah, who took over day-to-day operations of the family farm with Andy in November 2014. "So, when we were ready to begin making updates, we knew we needed to make it sustainable for the environment and take measures to make sure what we were doing was suitable for our neighbors."
Andy and Sarah recognized it would take a substantial investment to update their facilities. The investment would allow the family to be more efficient, sustainable and grow and diversify the business. Plans needed to address the farm's unique location. There is a limited dairy infrastructure (everything from veterinarians to feed mills can be hard to find), limited land for agricultural use and a limited labor pool.
The plans for the new facility were multi-faceted and assessed how to utilize and protect natural resources including the land, water and air while also creating an optimal environment for the people and animals. They broke ground in April 2017 on a new facility outfitted with two robotic milkers, automated manure system, temperature-controlled barn environment, feed pusher, cow brushes and cow activity collars.
In January 2018, Lenkaitis Holsteins began milking with robotic milkers in the new 110-stall free stall barn. Every element of the barn is designed for cow comfort and for employees to work safely and efficiently.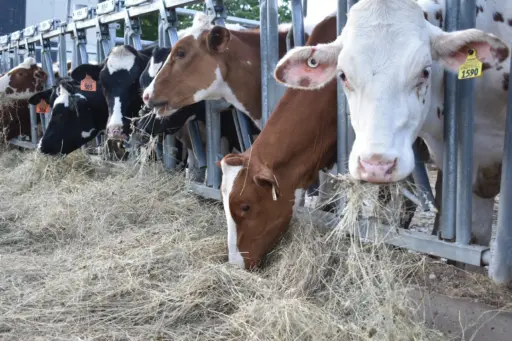 The barn design is neighbor- and environmentally friendly. To minimize odors, manure is separated and the liquid is collected in a 600,000-gallon pit underneath the barn, which is used to inject onto fields to help grow next year's crop. To minimize noise for houses across the street, the always-on robotic milking units are run with a variable speed motor and located on the east end of the barn. To minimize traffic around the farmstead, feed pushing and alley scraping are completed by automated technology with energy-efficient electric motors.
Other features and savings include:
Covered design of the liquid storage tank to minimize odor and maintain fertilizer quality by preventing exposure to sunlight, wind or dilution with rainwater
Automated technology transitioned daily tasks (pushing up feed, scraping manure) from an employee in a skid loader to energy-efficient variable speed electric motor
Plate cooler uses well water to cool milk before it goes to the bulk tank
Time-controlled, energy efficient LED lighting, with an estimated energy savings of around 50%
A VFD (variable frequency drive) on their vacuum and manure pump to optimize energy use; studies have found that with these pumps, energy use during milking can typically be reduced by 60%
A storm water plan to collect and transfer rainwater to designated waterways, minimizing soil erosion and preventing runoff
Insulated barn ceilings to moderate extremes and provide surface for more efficient air flow
A hybrid power ventilation system with energy efficient fans
Temperature sensors and automated side curtains to provide consistent environment for cows
The barn also includes a 600-square-foot observation room for tours.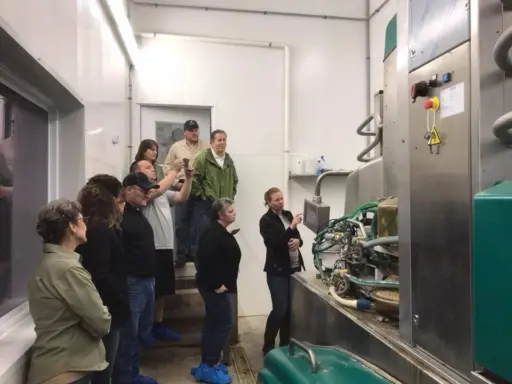 "Our family would receive requests from community members asking about visiting to see the cows milking or meet a baby calf," says Sarah. "Our location uniquely positioned us to showcase dairy farming in a part of our state that was becoming increasingly disconnected from farming and yet had a lot of questions about where their food came from."
"When we reviewed our barn design, we took into consideration how we would host a tour group. The observation room is a gathering area where people can watch cows being milked and view the twelve cameras installed throughout the barn. It created the perfect starting point for tours, to cover the fundamentals and host Q&A sessions before groups venture into the barn."
The family welcomed more than 1,000 people to the farm for their public open house in June 2019. Since then, the Lenkaitis family hosts about two tours a week including local school groups, community members, politicians, college students, international groups, registered dietitians and other dairy partners, such as Pizza Hut who want to understand more about how food is produced.
Andy and Sarah also have an open-door policy for anyone in the industry. "Just as we toured numerous dairy farms before building our robotic milking facility, we hope to provide the same perspective for other dairy farmers looking to incorporate new technology," says Sarah.
Now in their third full year of operation in the new facility, the Lenkaitis family farm, which began with just five cows in 1983, now has 80 milking cows. Nominated for a 2019 U.S. Dairy Sustainability Award for Outstanding Dairy Farm Sustainability, the Lenkaitis family says they are already seeing the positive impact of their investment with increased milk production, improved overall cow health and increased labor and energy efficiencies.
"One of our top priorities was to make the farm sustainable for not only our family and its future generations, but also for the community," Sarah says. "It's pretty special knowing that our neighbors support us, and that Lucas is going to be able to continue to farm on the same land where he's being raised and where his dad was raised."
Learn about more of our dairy farmers who are committed to sustainability below.
*Photos featured in this article were taken prior to March 2020 before mandatory mask/social distancing mandates were implemented.