Midwest Dairy works with thought leaders who can positively showcase dairy in their own professions and community. It's important that we reach these specific individuals like health professionals and social media influencers at the right place, right time, and with the right message. To do so, we partner with these thought leaders to become their resource for all things dairy as they share dairy's story with their audience.
In partnership with the Nebraska Beef Council, Midwest Dairy provided a hands-on farm experience for sixteen dietetic interns. On their way to becoming a trusted source of nutrition education in the community, dietetic interns are a key audience to share dairy's message with.
Interns learned specifics on dairy processing and food safety at the Food Processing Center at the University of Nebraska at Lincoln (UNL) Innovation Campus and got to speak to experts about different phases of the dairy industry. Erin Marotz, research manager for Dairy Cattle Research at UNL, provided a tour of the dairy cattle center and educated on animal care, environmental sustainability, and dairy nutrition. Kassidy Buse, a graduate student in Ruminant Nutrition, shared about her current dairy cattle research, and Kelly Heath, DVM, attending veterinarian at UNL, educated interns on antibiotic and hormone usage.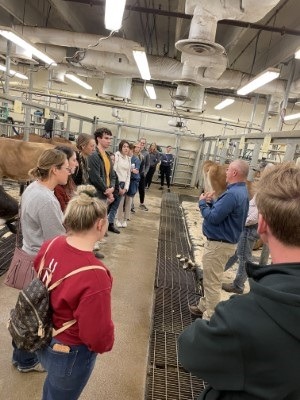 Experiences provided by this tour met required environmental sustainability and sustainable nutrition dietetic internship competencies, and interns will participate in a media training session later in the year to help them apply their learnings in a media setting.
Another group of individuals who also got an up-close look at the dairy industry includes a group of food influencers who saw where their milk comes from. A group of 15 food influencers from the St. Louis area toured Riegel Dairy in Washington, Missouri.
Brian Riegel took guests on a tour of his dairy operation, including the maternity barn and milking parlor, and attendees were able to see a barn flush and a twin birth in real-time. Throughout it all, attendees witnessed a dairy farmers' commitment to animal care and sustainable practices. The group also conversed about various topics from feed, antibiotics, manure management, and crop production.
Each guest shared their experience through their personal social media channels, allowing them to share and connect with a larger audience. Influencer Janice from Grounded Communications wrote about her experience in a blog post titled, "How a Sustainable Dairy Farm Upcycles Things to Produce Great Milk.".
To share dairy's story and build trust with consumers is a top priority for Midwest Dairy. By inviting the average person to experience a working dairy farm allows for an authentic and real experience they can share with others.