Eighty-nine farmer leaders from across the 10-state Midwest region attended Midwest Dairy's 2023 Annual meeting in Des Moines, Iowa, in early April. This meeting is especially unique because it is the only time each year that all division board members can gather in the same location and discuss dairy promotion and research efforts led by the checkoff. In addition to the division and corporate board meetings hosted during this event, Midwest Dairy staff were also able to highlight checkoff work in three hands-on breakout sessions.
These different breakout sessions were designed to allow dairy farmers to learn more about and experience the work done with their checkoff investment. In addition, they had the opportunity to ask questions and to see firsthand how the expertise of Midwest Dairy staff is used to reach consumers working with and through partners.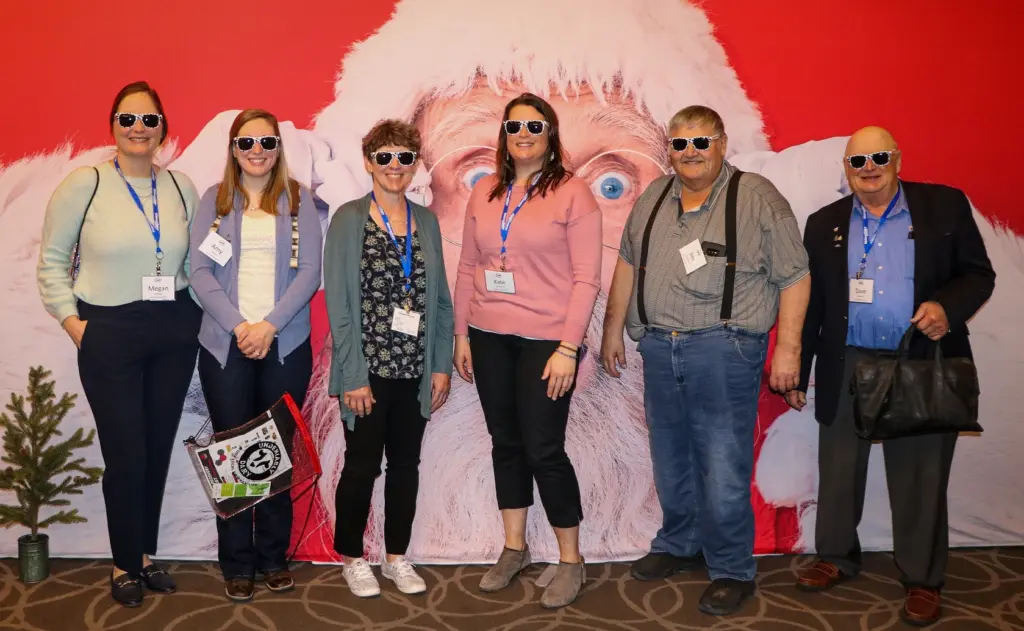 One breakout session allowed farmers to experience a "day in the life of a college student" by showcasing checkoff trust work with adult Gen Z on college campuses. This round-robin style breakout allowed farmers to rotate around the room to different stations. One station showcased our partnership with Version1 allowing farmers to try their hand at playing the popular video game Rocket League and also ask questions about the esports video gaming platform. Another station highlighted the University of Nebraska-Lincoln (UNL) training table, showcasing checkoff's work with Husker Performance Nutrition staff. Midwest Dairy staff also encouraged farmers to enjoy a Greek yogurt snack served on campus and feel like a true athlete when taking a photo with the UNL training table backdrop. The final two stations included a classroom sustainability experience where farmers learned more about the Gen Z demographic's opinions and actions and a Winterfest De-Stress activity. Farmers were encouraged to have fun and "de-stress" with a Santa photo op and peppermint hot chocolate milk that was also served at the Winterfest event in 2022 at Iowa State University.
Another breakout session got farmers in the competitive spirit by playing a Family Feud-style game to learn more about building demand for dairy with retail and food service partners. Farmers enjoyed playing Dairy Famer Feud, revealing specific retail and food service activations in 2022. Farmers walked away with a deeper understanding of checkoff demand work by showcasing sales activations and by seeing how and why we work with partners. In addition, innovative dairy products were available for tasting, allowing farmers to experience different dairy pairings that consumers are enjoying in the marketplace today. These samples included Casey's breakfast burritos, a flavored milk limited-time offer from KwikTrip/Kwik Star, and a smoothie from a recipe that won a Fareway Dairy Recipe Contest.
Lastly, farmers returned to high school to learn how checkoff creates trust for dairy by using the STEM curriculum through high school science classes and curriculum thought leaders. This STEM session gave a first look at the structure of lessons that are in development aimed at bringing sustainability and dairy to life in the classroom. Farmers participated in a hands-on science experiment to showcase these efforts and experienced a lesson plan teachers might have kids participate in. These lessons will meet the new science standards badge requirements and be free to any school district.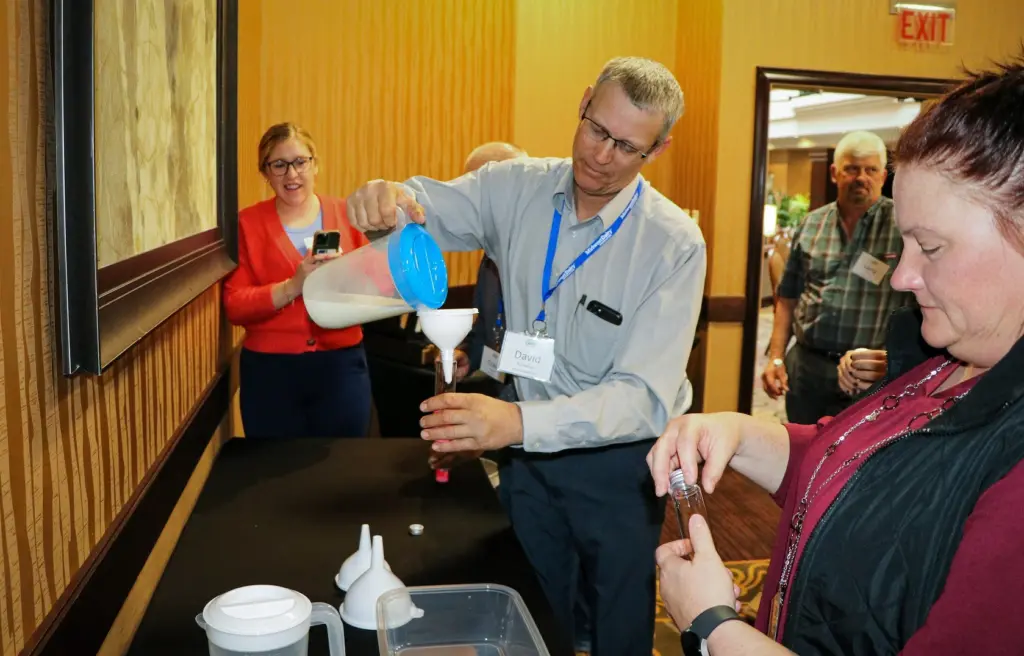 The dairy experience didn't stop there. Monday evening, a reception featured Midwest Dairy's work to inspire innovation in dairy. Product samples were available showcasing partners DARI, LLC, and Twisted Egg Roll. Farmers got to experience two of DARI, LLC's Moov's milk flavors, strawberry and vanilla, and learn how this high-protein, low-sugar drink helps kids fill up with uniquely flavored and naturally sweetened whole milk. Twisted Egg Roll also provided apple cheesecake, buffalo chicken, mushroom veggie melt, and cheesesteak eggrolls, allowing farmers to experience a variety of menu options. After partnering with The Hatchery Chicago, Midwest Dairy launched a pitch contest for newer businesses to win exclusive access to a commercial kitchen for six months in 2022, which Twisted Egg Roll won. Dairy is a main component of these eggrolls and is often the number one ingredient, making up anywhere from 46-50 percent of all ingredients used.
During the 2023 Midwest Dairy Annual Meeting, farmers got to learn, experience, and taste how their checkoff dollars are reaching consumers in the marketplace today to build demand and trust in dairy. Midwest Dairy is proud to be a farmer lead organization and encourages all dairy farmers to connect with board members from their own states and communities to learn more about their experience with checkoff initiatives during the 2023 Annual Meeting.