One of the ways in which Midwest Dairy uses dairy checkoff funds to build trust and drive dairy demand is in funding relevant research that can positively impact the industry. While food safety is always top of mind for processors, there is always room to learn more about how we continue to keep our products safe for consumers. That is why Midwest Dairy funded a recent study by the University of Nebraska-Lincoln (UNL) to assess the transfer of Listeria in dairy manufacturing plants to provide insights on how dairy manufacturers prevent post-processing contamination.
Listeria is a foodborne pathogen found in a variety of places including moist environments, areas with condensation, standing water and/or food residues. Listeria's presence in processed dairy products can occur due to post-pasteurization contamination from the manufacturing plant environment. This foodborne pathogen easily attaches to equipment and other plant surfaces and is carried by personnel and their Personal Protective Equipment (PPE), and accidental transfer may occur. Additionally, because Listeria is associated with soiled and moist conditions, it may be present on drains and floors, which personnel may contribute to further spread by moving from one product area to another by contaminated footwear.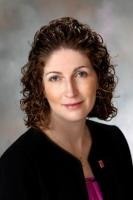 As part of the UNL research study, Andreia Bianchini, Ph.D. and her team looked at the transfer of Listeria from contaminated PPE such as gloves, aprons, and boots, to various food-contact and non-food-contact surfaces after consecutive touches to measure spread. In their research, they found that Listeria can be transmitted from PPE to surfaces and dairy products after as many as 50 consecutive touches on different surfaces—highlighting the importance of an extensive cleaning protocol that includes scrubbing to reduce contamination.
This research is important for the dairy industry because even though the FDA advocates for appropriate PPE usage to prevent cross-contamination during processing, lack of appropriate PPE use was among inspectors' main observations in recent Listeria outbreaks. Furthermore, it was determined that an extensive cleaning protocol used by the researchers in the study following contamination showed encouraging results, emphasizing the need for scrubbing and cleaning protocols for effective Listeria control and reduction. These findings can now be used by the industry to revisit the implementation of effective sanitation protocols and to inform the dairy industry on how to improve training materials to minimize the risk of Listeria contaminations in the future.
The results of this research study were shared with members of the Midwest Dairy Foods Research Center during a webinar this past April and is available to watch on-demand on the Midwest Dairy Foods Research Center (MDFRC) website https://midwestdairy.umn.edu/resources). The research will also be shared with the American Dairy Science Association at their annual meeting in July.
To review the full thesis: "Evaluation of Listeria innocua transfer from Personal Protective Equipment (PPE) to the plant environment and effective sanitation procedures to control it in dairy processing facilities" visit:  https://digitalcommons.unl.edu/foodscidiss/114/
To learn more about the work of the Midwest Dairy Foods Research Center, check out this article in Hoard's Dairyman.