The Dairy Experience and Agricultural Leadership (DEAL) program is an 18-month, three-phase program created by Midwest Dairy that provides young dairy farmers in the Midwest region with a better understanding of the dairy checkoff and other learning opportunities. In 2022 we welcomed the program's second class and continued to give these emerging dairy leaders the skills and opportunities to share their dairy farming stories with others, build trust, and drive demand in dairy. The 2022-2023 class was selected from applications across the Midwest Dairy region and includes participants from Illinois, Iowa, Kansas, Minnesota, Nebraska, and South Dakota.
The DEAL Program includes three phases with in-person meetings and local assignments like meeting local leaders and being a part of consumer events. In 2022 the first phase focused on diving into dairy checkoff as well as discovering each participant's personality strengths and how to use them in and outside the industry successfully. Phase 2 focused on engaging with consumers. During Phase 3 in July, DEAL members will learn more about Midwest Dairy leadership and how to conduct media interviews.
DEAL kicked off 2022 with 13 members meeting in the Dairy Block of downtown Denver, Colorado, where they had the opportunity to learn more about each other, network with peers, and take a deeper dive into the dairy checkoff. 
The group began by learning about their personality strengths through a four-color leadership training taught by a professional trainer, Tracy Bowe. The next day, attendees took a deeper dive into the dairy checkoff by interacting with Bob Lefebvre, former Vice President of Ag Affairs for Midwest Dairy, who led a discussion about Midwest Dairy's history, mission, and strategic plan. They also heard from Bill Keating, Senior Director of Industry Image, and Relations for Dairy MAX, who shared more about dairying in Colorado and Dairy MAX. Later, Angela Tuxhorn, Senior Manager of Food Safety and Supply Assurance with Leprino Foods, provided a presentation about Leprino Foods, which is headquartered in Denver. The group then ventured to Top Golf during the afternoon and had a lot of fun getting to know their new peers.  
On the final day, Kristiana Alexander, Director of Knowledge and Insights for Dairy Management Inc. (DMI), dove into consumer insights. The group also heard from Stan Erwine, Senior Vice President of Farmer Relations for DMI, as he spoke to the history and purpose of both dairy promotion and checkoff.
The group reconvened in Chicago, Illinois, for Phase 2 of the program in August, which offered training on connecting with consumers, both in-person and online. Farmers participated in an ENGAGE training provided by the Center for Food Integrity, which taught them how to communicate with consumers about shared values. Participants heard from industry leaders, including Don Schindler, Senior Vice President of Digital Innovations at DMI, who provided interactive workshops focused on branding, video editing, and answering tough questions online. Serena Schaffner, Senior Vice President of Communications at DMI, shared more about the environmental messages dairy farmers can leverage to connect with Gen Z.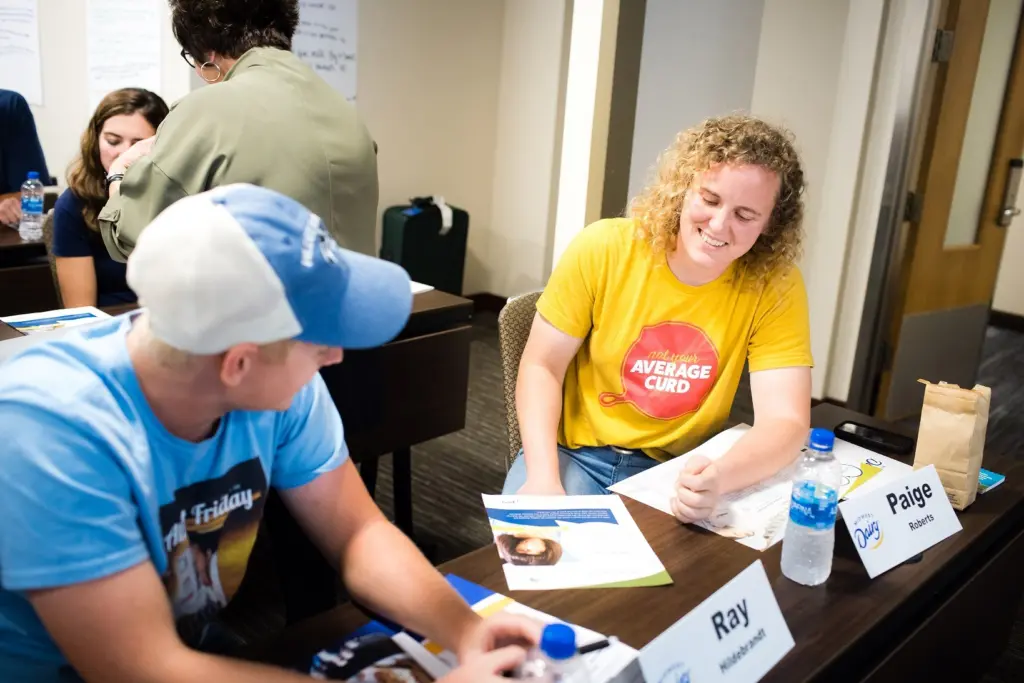 While in Chicago, DEAL members got the opportunity to tour Bel Brands' USA headquarters and learn more about Bel Brands, including their corporate social responsibility and consumer insights, and integrated marketing communications areas of work. They also connected with GoodSport's Founder and CEO, Michelle McBride, and learned more about the history of her product. The meeting was then rounded out by Midwest Dairy staff, who shared projects where checkoff resources are used to help build trust in and sales for dairy.
DEAL members had the chance to explore Chicago and connect with other farmer peers in between presentations. Five farmers presented to the group sharing more about their farms, families, and hobbies leading to great industry connections. Many participants also spoke to locals about why they were visiting their big city during other fun activities planned for the group putting their newfound skills to the test.
Once home, the DEAL members' homework began, where they were challenged to participate in a consumer-facing event that Midwest Dairy was involved in on a local level. At one such occasion, Midwest Dairy partnered with Jennifer Schmitt, Ph.D. and Senior Research Scientist in Sustainability at the Institute of the Environment, University of Minnesota, as well as three DEAL participants, including Paige Roberts, herd manager at Jer-Lindy Farms, and Kevin and Lindsey Borst DVM from Borst Farms joined the presentation remotely. The three stood in as industry specialists during a virtual dairy farm tour with 40 graduate students from sustainability, public health, and dietetic intern programs at the University of Minnesota and the VA Hospital.
The DEAL Class 2 program officially wraps up in July 2023, when Phase 3 will commence. Group participants will be invited to attend part of the Midwest Dairy Corporate Board meeting to learn more about the regional governance structure and join for lunch and dinner to allow for networking opportunities. They will also hear from a speaker about animal activists and how to better handle them in a crisis situation and undergo final media training.
Midwest Dairy would like to thank those participants from both Class One and Class Two, your commitment to the industry is inspiring, and we commend you for sharing your story. The application for DEAL Class 3 will open this fall. Check out MidwestDairy.com/DEAL for more information.