During the COVID-19 pandemic, the dairy checkoff has focused on delivering dairy products into the hands of those who need it most. Midwest Dairy partnered with Iowa-based convenience store chain Kum & Go to launch the Children's Healthy Snack promotion. With schools closed, Kum & Go recognized that many children experienced difficulty accessing school meals, so this effort aimed to provide hungry children with a nutritious dairy snack To accomplish this goal, any child who enters a Kum & Go store in Midwest Dairy's region receives a free string cheese stick.
Kum & Go is headquartered in Des Moines, Iowa, and currently operates more than 400 stores throughout the Midwest Dairy region. As of May 19, more than 12,000 string cheese sticks have been provided to children in their local communities. The campaign was so successful in its first iteration, that a second promotion has since been launched. Midwest Dairy provided marketing support to spread the word about this community effort. To further highlight this success, Kum & Go is recognizing Midwest Dairy farmers on their Facebook and Instagram pages.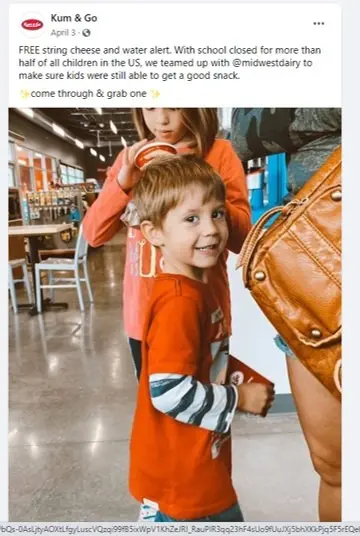 *Photos featured in this article were taken prior to March 2020 before mandatory mask/social distancing mandates were implemented.