National Dairy Month this past June proved successful as many partners helped Midwest Dairy promote dairy products at the cooler case. Between special promotions, local farm highlights, and strategic dairy-focused campaigns, partners across our 10-state region celebrated what dairy farmers do best, producing great products while also promoting how farmers care about their livestock and the environment.
Jewel-Osco: National Dairy Month is a success
The largest grocery retailer in Illinois, Jewel-Osco, had a robust National Dairy Month campaign. Throughout their 192 stores, 13.6 million people saw content in print, online, and in-store featuring dairy's story. Weekly ads included dairy messages with Undeniably Dairy logos on ads, on billboards around Chicago, plus shelf signage in stores. Radio ads also promoted dairy, and there were offers of $5 off for every $25 dairy purchase, which could be redeemed with no limit throughout the month.
Special to this partner, different store locations competed in selling dairy products. Display contests were impressive as they added more dairy space, creating standout departments and increasing dairy sales. The winning store from Elburn, Illinois, which had an increase of 81 percent in sales. Jewel had support for promotional dairy deals from 55 vendors.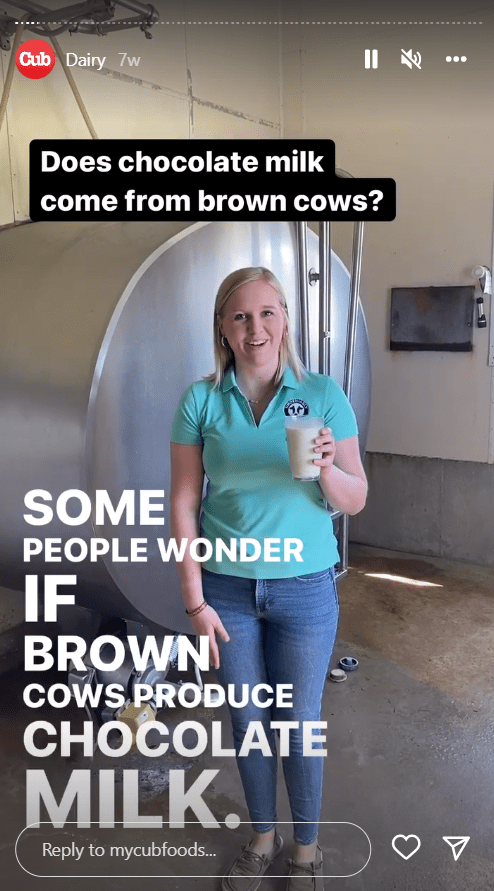 Cub Foods: Bringing dairy to life through authentic dairy farm videos
Midwest Dairy also collaborated with Cub Foods during National Dairy Month to deliver authentic dairy farm content. During the second and third weeks of June, Cub Foods's Instagram account hosted two video series centering around dairy farming in Minnesota.
The first series was an "Ask Me Anything" stream of videos created by Midwest Dairy Ambassadors Brenna Connelly and Luke Borst. These videos spoke about animal care, sustainability, nutrition, and life on a dairy farm. The second series included "A Day in the Life," featuring sisters Kate and Megan Meyer. Over two days, the sisters created 62 videos showing their typical day on a dairy farm. 
Cub Foods gathered all the videos from these campaigns, as well as dairy-related polls and recipes, into a dedicated highlight link at the top of their Instagram profile. This link keeps the videos accessible beyond the typical 24-hour shelf life. Visit Cub Foods' Instagram profile, @mycubfoods, to watch all the content.