This National Dairy Month, Midwest Dairy prioritized partnerships with different companies to increase sales within the 10-state region. These partners had to opportunity to celebrate dairy farmers and the industry by offering special deals, launching campaigns celebrating local families, and promoting dairy's sustainable nutrition benefits.
Midwest Dairy, Dairy Farmers of Wisconsin, and Kwik Trip partnered by asking consumers to support dairy farmers in their local area. This event includes 4 Kwik Trip app promotions and an in-store signage program to encourage consumers to buy featured dairy products and receive different rewards.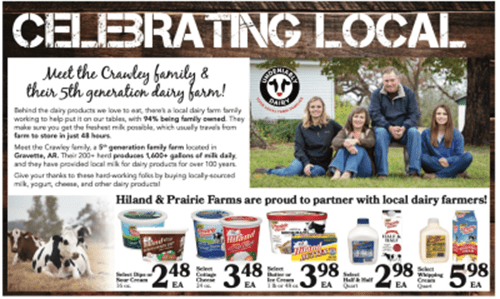 Another partnership included working with Fareway Foods for a National Dairy Month Dairy Palooza event. This event includes dairy messages, promotions, and visuals showcased in all stores, the Fareway website, customer emails, and social media, and offer prizes for dairy-based recipes.
Hen House Markets, a grocery retailer in Kansas, partnered with Midwest Dairy to visit Lin-Crest Farms in Linwood, Kansas, where Hen House's agency recorded "A Day in the Life of a Farmer" series that was widely distributed across their platforms, including other social posts featuring different facts about dairy. Midwest Dairy also sponsored a recipe video with local chef Jasper Mirabile titled "Milk and Honey Chicken," which connects with a promotion on butter.
Lastly, Midwest Dairy partnered with Harps Food Stores out of Springdale, Arkansas, to highlight June Dairy Month. Harps has 116 total store locations, all within the Midwest Dairy region. Harps' weekly circular ad featured messaging about the local Crawley Family Farm. The dairy category manager at Harps worked with his vendor network to support our trust work to drive additional sales. This same messaging was then distributed in an email blast out to Harps' customer base and posted to their Facebook page.