Midwest Dairy is furthering our work in the innovation space by partnering with The Hatchery Chicago to launch a pitch contest for newer businesses to win exclusive access to a commercial kitchen for six months. This contest opened on June 1 and will close on June 30.
To be eligible, entrants must have a business that either has launched sales or established proof of concept and must use at least 25 percent dairy in the ingredient base and not contain any alternative dairy products. Once the contest closes on June 30, the top five to six applicants will have the opportunity to pitch their product to a panel of judges on September 15. The judges will be made up of farmers, processor partners, and Midwest Dairy staff.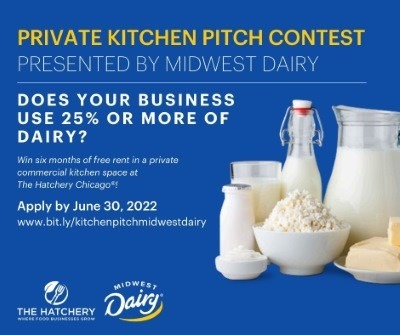 After the winner is chosen, they will get the sole rights to operate out of a Midwest Dairy-sponsored kitchen on The Hatchery's campus in Garfield Park in Chicago. Throughout the six months, the winner will have wrap-around support services from The Hatchery team and quarterly check-ins with the Midwest Dairy team.
By doing a pitch contest in our most populated city, we expose consumers to innovative dairy products and create checkoff advocates by inviting our processor partners to become judges. The opportunity to judge has been shared with all our MDFRC industry members. There has already been great interest from them in being a part of the pitch contest.