In 2022 Midwest Dairy focused on bringing research-based resources, information, and intelligence to healthcare systems, specifically organizations with prenatal and pediatric professionals. Research tells us that Generation Z (Gen Z) and parents of Gen Z view their family doctors as their most trusted source for health and nutrition information, making healthcare professionals the perfect thought leaders for Midwest Dairy to partner with when sharing dairy's unique nutritional benefits. For the first time, the Dietary Guidelines for Americans (DGA) provides recommendations for healthy eating at every life stage, with dairy recognized as nutritionally important across the lifespan – from pregnancy and birth through early and late adulthood. While dairy is a foundational food for all ages in the nutrition guidance, about 90 percent of the U.S. population does not meet dairy recommendations – missing out on key nutrients for health and wellness.
Health professionals are essential when turning scientific evidence and dietary guidance recommendations into practice for their patients and clients. Knowing this, Midwest Dairy worked with healthcare provider thought leaders and educated them on the importance of adopting and providing dairy nutrition, sustainability messages, and patient education materials across the 10-state region.
For example, we worked with the Nebraska Women, Infants, and Children (WIC) program. WIC serves more than 6 million people each month, including 43 percent of the country's infants. Dairy foods are a central component of WIC and are redeemed by participants at higher rates than most other WIC foods. Specifically, WIC serves over 35,000 lower-income, at-risk pregnant mothers and children up to age five. While dairy is a key component of the WIC food packages, WIC registered dietitians shared concerns that participants don't always know how to use food items provided to them. After hearing these challenges, Midwest Dairy created three new resources to educate mothers on the importance of iodine during pregnancy and how dairy supplies this essential nutrient, how dairy serves as an important first food for their child, and the best tips for transitioning their child from whole milk to 1% or skim milk. These resources, plus seven others, were uploaded to the Nebraska WIC site that all clinics across the state can access for use with patients. Educating patients on how to use the dairy foods they receive in their packages can make them more confident about feeding themselves and their children a healthy and nutritious meal. In addition, reaching children at this young age lays the foundation for them to enjoy dairy throughout their life. Activating pediatric healthcare providers specifically allowed us to share dairy's positive message and the important role it plays in the growth and development of children with parents. Midwest Dairy Wellness staff continue to share patient resources with pediatric healthcare partners for adoption in their local pediatric outpatient clinics and WIC agencies.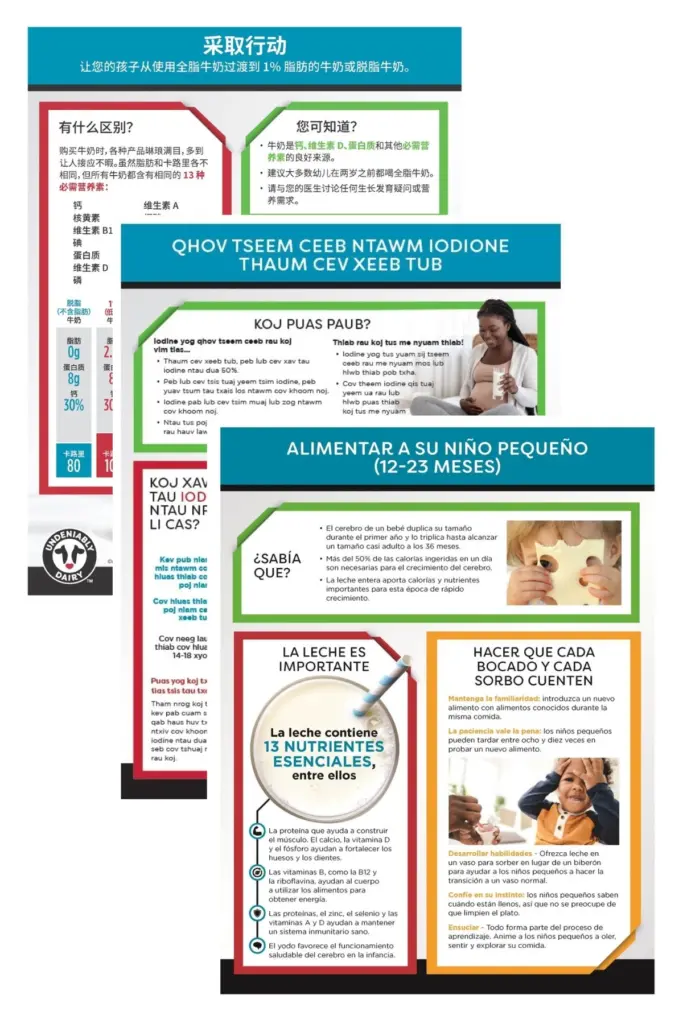 Midwest Dairy was also eager to partner with Dr. Mumtaj Chand located in Chicago, Illinois, who reached out for MyPlate information to share with patients and their families. Dr. Chand is a pediatrician at the Ascension Healthcare Center, whose practice serves over 3,000 patients and is part of a medical system serving over 100,000 patients. We connected Dr. Chand with Maria Persky, a registered dietitian, to create the requested materials. These materials reflected Dr. Chand's diverse audience, which consists of overweight and obese young children. Two handouts and one healthy lifestyle booklet were created to be used virtually and in person. Dr. Chand also received more MyPlate materials which recommend 3 servings of dairy foods each day, such as plates and posters, to give and discuss with her patients. But the partnership didn't stop in 2022; we are currently helping Dr. Chand use technology to help her share information in real-time through the MyChart app.
After further conversations and assessing the 10-state region-wide for partner obstacles, Midwest Dairy also established the need to update and translate multiple commonly used nutritional resources. We created consumer-friendly educational handouts based on National Dairy Council educational content, with most of the resources translated into additional languages, including Spanish, Hmong, Somali, Arabic, French, Polish, Russian, and Chinese, for the goal of universal use.
Environmental Thought Leaders
In 2022 we also saw the opportunity to provide more experiences to thought leaders. We appreciated their desire to learn more about the dairy industry and invited them on elevated farm tours that educated and showcased dairy's commitment to taking care of the earth.
Midwest Dairy took the opportunity to educate environmental sustainability thought leaders about dairy as part of the solution to improving our planet and nourishing people while increasing awareness of dairy farming advancements and commitments. We did this by activating influential environmental sustainability-focused organizations whose thought leader members presented the opportunity to use their personal channels and voice to proactively share dairy's sustainable nutrition story with consumer-facing audiences. Environmental organizations included those who focused on the environment, sustainability, food waste reduction, and collegiate academic programs or clubs.
A 2022 partnership used Midwest Dairy's continued relationship with the University of South Dakota's (USD) Sustainability Program to build trust in dairy's role as an environmental solution. Several faculty members from the department attended a Dairy Sustainability VIP Tour in the summer of 2022, which included a tour of a farm with a new methane digester and featured a panel of experts speaking on soil health, water quality, and feed additives to reduce methane emissions. After attending the event, Jenny Fierro, a professor who teaches a Sustainable Environment course to undergraduates at USD, added dairy sustainability to her topic list that students could select for their podcast project at the end of the semester. One group chose the topic and worked with Midwest Dairy to find relevant resources and interview a local dairy farmer. Dairy farmer Cole Hoyer participated in the interview by answering questions about his operation and what sustainability looks like on his farm. Once completed, the podcast was shared online with other students and faculty at USD.
Rush University's dietetic internship program, located in Chicago, Illinois, reached out to Midwest Dairy in the spring of 2022 and asked us to partner with them by being responsible for three groups of interns. To expose these young professionals to as much of the dairy community as possible, the interns participated in various activities. They partnered with No Kid Hungry and Prairie Farms to offer summer camp nutrition lessons in south suburban Cook County for Hispanic and African American 4-6 graders, presenting live non-cooking demonstrations, which reached thousands of students. They also supported activities at Bear Fest by creating and hosting a nutritional trivia contest at Soldier's Field, which reached over 8,000 attendees. Midwest Dairy also made time to get these students on a farm. The group visited Hilderbrandt Farms of South Beloit, Illinois, where they got a first-hand look at cow care and asked questions about sustainability practices. Finally, these interns ended their time with Midwest Dairy at the Illinois State Fair by doing the daily non-cooking demos and nutritional activities, reaching thousands of attendees.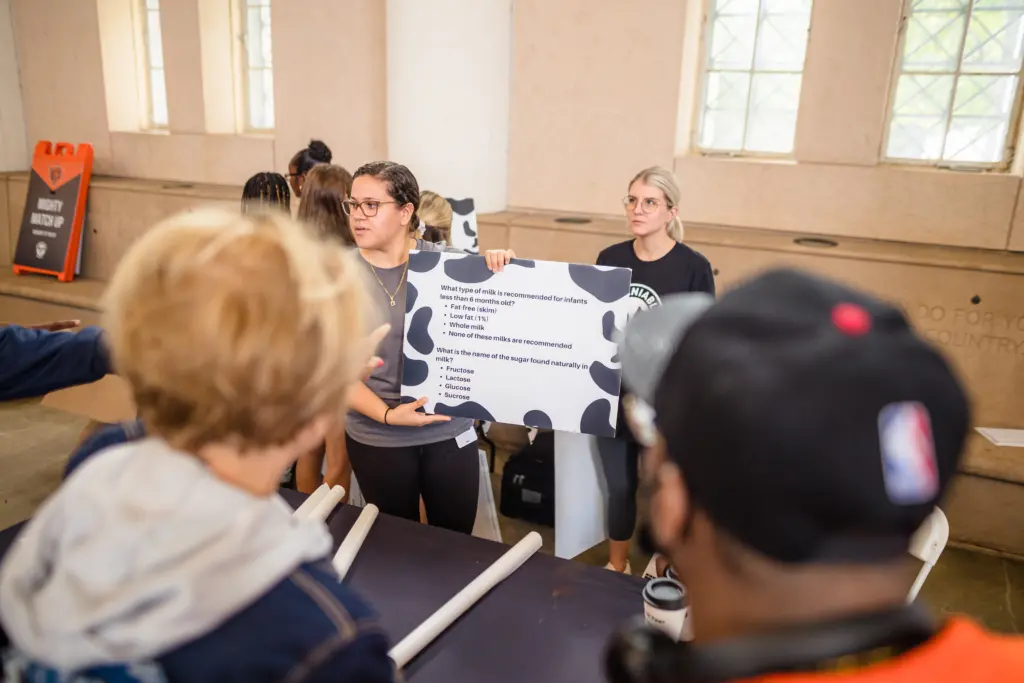 Later in the year, Midwest Dairy partnered with Wichita State University's College of Innovation and Design on a project for the Applied Sustainability in Innovation course, providing a real-world challenge for students to research and create possible solutions for stakeholders. The challenge presented: "How might we reduce or reuse single-use plastic waste from dairy farm operations to reduce environmental pollution from the waste?" The semester-long project began with an introduction to the challenge and a conversation with a dairy farmer, Dave Lane, of Goddard, Kansas, whose farm they would later tour. The tour was a valuable learning opportunity to help students understand how plastic is used on the farm and learn more about the industry's commitment to sustainability. Students worked an entire semester investigating several aspects of the challenge and presented their proposals and recommendations in early December to stakeholders, including dairy farmers Dave Lane and Steve Strickler of Kansas.
As you can see, sharing dairy's story to build consumer trust is a top priority for Midwest Dairy. Providing thought leaders with an abundance of materials and inviting them to experience a working dairy farm for themselves allows for an authentic conversation and real experiences they can share with others. Midwest Dairy's goal is always to listen to our partner's needs and help them come up with a solution that works to reach their audience most effectively with an abundance of helpful information, experiences, and resources.