Educating about and creating trust in dairy products with community leaders is important to Midwest Dairy. We can establish local and state influential leaders as teachers, business owners, health professionals and more. Our goal is to provide these individuals with facts about dairy products and the farmers who produce them. We do this by hosting events, working with media, participating in podcasts and conventions, plus many other creative avenues. Below are a few examples of these connections and how Midwest Dairy reaches community leaders across our 10-state region.
Grounded by the Farm podcast convenes environmental, dairy enjoyment conversations
Midwest Dairy continues to work with partners in the environmental sector to help elevate dairy's sustainability story and share messages. With three decades of agricultural communications experience, thought leader Janice Person connects the dots between the farm to plate for her audience. She convenes farm leaders and different food experts on her podcast platform and sets them up as a trusted source of information.

Midwest Dairy partnered with Janice on three podcast episodes and supplemental blog posts that reside on her website, Grounded by the Farm, and are optimized for consumers searching for information online. The podcasts can be found on your favorite sites to stream podcasts. Since Grounded by the Farm was introduced in 2019, it has hit the top 100 food podcasts on Apple podcast numerous times. As of March 2022, the podcast averages 300 downloads within 30 days of a new episode's release date.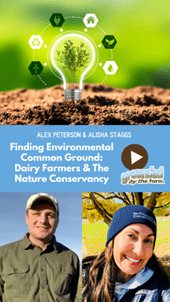 Apple Seeds Kitchen Table Dinner
Midwest Dairy partnered with Apple Seeds to bring Undeniably Dairy to a Kitchen Table Dinner. The dinner was a delectable collaboration between Chef Sam Diez, owner of ill BERRETTO at Scotch and Soda, Sweet Freedom Cheese, and Undeniably Dairy. Featuring produce harvested at Apple Seeds, the five-course dinner infused cheese into every dish. The dinner was attended by over 40 guests, including chefs, health professionals, business owners, influencers, and foodies. Guests learned about dairy farming from Mark and Johna Fellwock of Fellwock Dairy and about cheese from Jessica Keahey of Sweet Freedom Cheese.

Apple Seeds is a teaching farm located in Fayetteville, Arkansas, at Gulley Park, aimed to inspire healthy living through garden-based education. Reaching over 10,000 students each year, Apple Seeds works to create programs that educate and excite young students about healthy food.
Northern Illinois University Builds Trust in Dairy in an Innovation Conversation about Dairy Sustainability
In early September, the Northern Illinois University (NIU) and the Northern Illinois Center for Community Sustainability kicked off the fourth semester of "Innovation Conversations," highlighting women in innovation and entrepreneurship in the food systems realm. Midwest Dairy partnered with NIU to feature Dr. Erin Cortus in the first virtual "Innovation Conversation" of 2022, who discussed sustainability for livestock farms.
The presentation was open to the public and attended by students as well as other members of the campus community. Sustainability thought leader Bryan Flower, the Assistant Director of Food Systems Innovation for NIU, hosted the conversation where he and Dr. Cortus discussed the challenges and solutions around sustainability practices on dairy farms. Those in attendance learned about water conservation methods, how digesters work, how dairy farmers are committed to the U.S. Dairy Net Zero Initiative, and more.
A recording of the presentation is posted on the NIU website along with three free downloadable resources that go into further detail about dairy farmers' commitment to sustainability.