Midwest Dairy has an array of programs and partnerships in efforts to reach the Gen Z consumer. These efforts include online and in-person activations, both proving to be successful. Let's explore two recent efforts that have two very different approaches but, in the end, connect with the Gen Z consumer.
Midwest Dairy has been collaborating with Ground Works/South Dakota Ag in the Classroom (SDAITC) to meet Gen Z while in the classroom. Ground Works/SDAITC has reached elementary and middle school classrooms in 141 of 145 public schools in South Dakota, as well as 23 private schools, 7 tribal schools and home schools. Through this partnership, three dairy lessons are being developed specifically for South Dakota and aimed at engaging 4th graders. To create this new curriculum, an education working group was formed to provide content and source expertise. In addition to Midwest Dairy staff, the group consists of subject matter experts in the dairy community such as farmers, processors, and industry representatives. The lessons developed will share dairy's journey from farm to table as well as fulfill the requirements of the classroom teacher.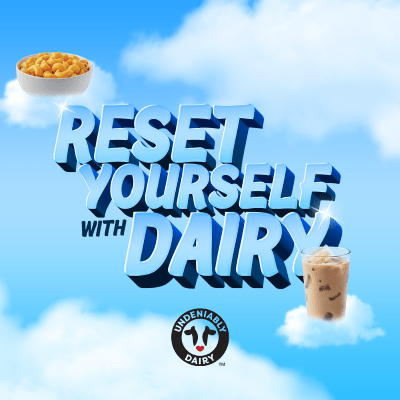 Throughout the state of Nebraska efforts to reach the same Gen Z audience are in play, but online, by utilizing the newly released Reset Yourself with Dairy campaign that has been tailored to middle and high school-age students. Reset Yourself with Dairy is a new DMI campaign focused on Gen Z that leans into calm/comfort messaging around dairy. DMI research has shown that Gen Z is our most stressed generation, accelerated by the COVID pandemic. 
As part of a pilot program, Gretna Public Schools will adopt four pop-up banners and various social media assets to promote dairy items including smoothies, parfaits, and overnight oats being sold at the high school breakfast cart.  
To determine impact, breakfast cart smoothie sales will be tracked and compared over the next two years. Using results from this pilot, Midwest Dairy will work to bring this campaign to more schools in Nebraska, further expanding Gen Z reach and increasing dairy sales in schools.
This same campaign is being utilized in the Dinsdale Family Learning Commons located in the University of Nebraska-Lincoln CY Thompson Library. As a result of Midwest Dairy Nebraska Division providing support for this newly remodeled space, the opportunity of providing computer screensavers has been presented helping us remind Gen Z students to "Reset Yourself with Dairy". In 2021, there were nearly 60,000 visitors at the CY Thompson Library.