Advancing dairy research is a key strategy of the dairy checkoff. Midwest Dairy funds research by focusing efforts on solving industry challenges and partnering with those who take advantage of opportunities in the marketplace to drive demand for dairy. This includes a recent partnership, now in its second year, aimed at building a contest supporting innovative food and beverage entrepreneurs.
The Hatchery
In June 2022, Midwest Dairy partnered with The Hatchery Chicago to launch a pitch contest for businesses to win exclusive access to a commercial kitchen for six months in Garfield Park, Chicago. This contest was aimed at local entrepreneurs looking to build and grow successful food businesses, cultivate local job opportunities for people from all backgrounds, and accelerate inclusive economic growth on Chicago's west side. To be eligible for the contest, entrants had to have a business model that had either launched sales or established proof of concept, used at least 30 percent dairy in the ingredient base, and did not contain any alternative dairy products. This contest was created to encourage dairy innovation and spotlight how versatile dairy can be.
Once the contest opened, a large pool of applicants was soon compiled, but five quickly rose to the top. Those businesses included Twisted Eggroll, Bartleby's Ice Cream Cakes, Zimt Cookies, Classic Cobbler, and Milky Milky Ice Cream. Those finalists then pitched their products to a panel of judges of farmers, processor partners, and Midwest Dairy staff.
These finalists were chosen for various reasons, but one was a standout winner for their innovative product idea, which brought dairy to a food that is not typically known for having any: the egg roll. The judges selected Twisted Eggroll for its impressive dairy-inclusive menu, in which dairy was often the number one ingredient used, making up anywhere from 46-50 percent of all ingredients. The varieties of twisted eggrolls include southwestern veggie, Philly cheesesteak, buffalo chicken, and apple cheesecake.
Nikkita Randle, a Chicago native, owns Twisted Egg Roll. Nikkita is a graduate of both the University of Illinois at Urbana-Champaign and the Keller Graduate School of Management. She spent ten years in the insurance and transportation industry. She was accomplished in her field, but her passion was growing elsewhere. Nikkita began to desire entrepreneurship, cooking, and leaving an incredible legacy. The vision for Twisted Eggroll then came to Nikkita after successfully fulfilling a request to make cheesesteak and cheesecake egg roll, Nikkita then created a catering service that approached the thought of a traditional egg roll but with an infused spin.
Nikkita was curious about The Hatchery competition after receiving an email encouraging her to apply because of her robust use of dairy products in her egg rolls made the contest perfect sense because she was scaling her business to grow, and moving into a commercial kitchen was the next step. Nikkita was also eager to partner with Midwest Dairy as she saw the financial and networking benefits that came with it.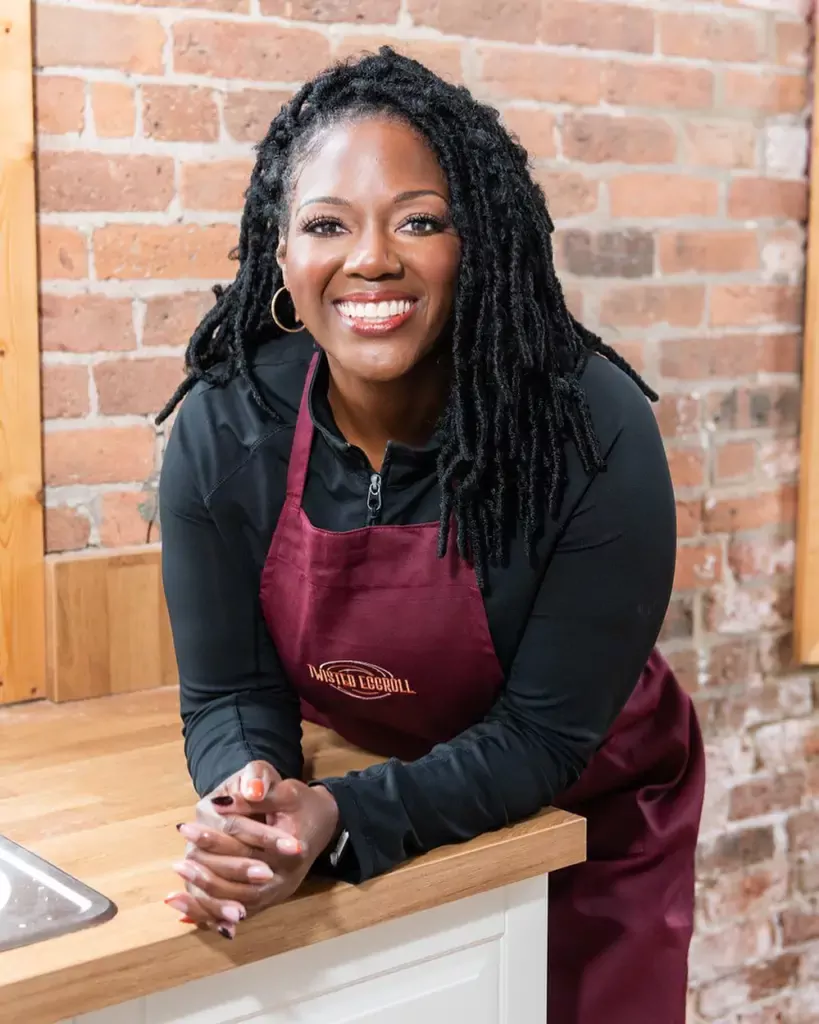 "Dairy is essential to our menu," said Nikkita.
"I am a fan of dairy because the taste and texture always enhance the flavor of our dishes.  The quality of the dairy product also makes a difference, and I appreciate the farmers that bring dairy products to the marketplace."
Twisted Eggroll is grateful to have won this opportunity and truly saw the benefits during their time in the kitchen. Nikkita admits the business was experiencing some growing pains, but Midwest Dairy's financial support gave Twisted Eggroll the time to hire a consultant and allocate other funds to ensure their Consumer-Packaged Goods (CGP) line was successful. They were also able to network and obtain more catering businesses.
Six months later, and after a successful time in The Hatchery kitchen, Twisted Eggroll is excited to make its way to a new home on the Southside of Chicago. As the 2022 fall recipients of the Neighborhood Opportunity Funds from the City of Chicago, they now own a facility in the Chatham, Chicago, area. Nikkita is excited to build her facility to service customers more efficiently and mass-produced egg rolls as they grow into a nationwide store brand with a CGP line.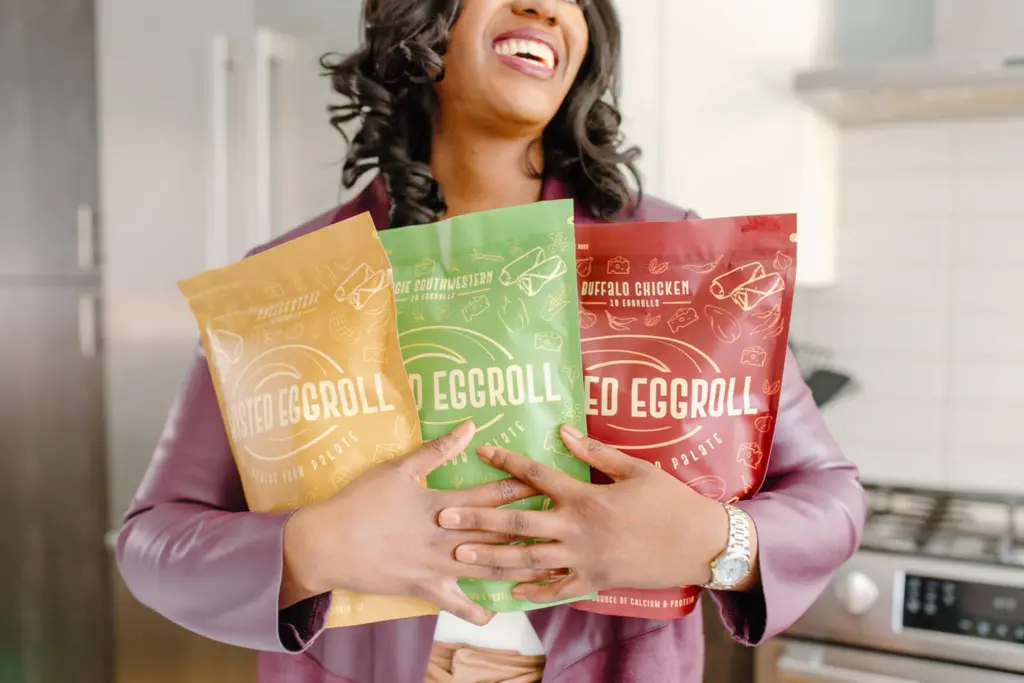 "After losing my father to ALS in 2010, establishing Twisted Eggroll in January 2015 gave me the opportunity to achieve my goals. I am committed to Twisted Eggroll becoming a household name one freezer at a time," said Nikkita.
Midwest Dairy focused on this project because of its innovation and the many strategic elements included. For example, the Chicago location was key. By doing a pitch contest in one of the most populated cities in our 10-state region, we exposed many consumers to dairy products and are paving the way to bring this contest to other metropolitan areas. Including our processor partners was also a huge goal for Midwest Dairy in hopes we would create checkoff advocates by inviting them to become judges.
Because of its success, Midwest Dairy is proud to partner with The Hatchery again to relaunch this contest in 2023.
From The Hatchery…
"We are proud to partner with Midwest Dairy for another exciting pitch contest to support the startup community," notes Natalie Shmulik, Chief Strategy & Incubation Officer for ICNC/The Hatchery. "Midwest Dairy's commitment to advancing innovation and creating more diverse and inclusive opportunities for startups greatly aligns with our mission. These sponsored kitchens allow entrepreneurs to push past barriers, launch unique concepts to market, and drive innovation in dairy and the industry as a whole."
The new contest will officially launch this fall and includes some exciting enhancements. Contestants will still pitch a business model that has either launched sales or established proof of concept, uses at least 30 percent dairy in the ingredient base, and does not contain any alternative dairy products. But this time, there will be two winners! Our first-place winner will get exclusive access to a commercial kitchen for a whole year, and the second-place winner will also have access to a commercial kitchen for six months.
"Having two winners encourages even more dairy innovation and sales. Our ultimate goal is to allow these food vendors to create a long-standing business that can garnish the funds to move out of The Hatchery kitchen once their time is complete and into their own space to continue selling and promoting dairy products," said Mitch Schulte, President of Agriculture Affairs at Midwest Dairy.
Midwest Dairy and The Hatchery are eager to open this contest and see the impressive businesses that apply. We know this opportunity encourages dairy innovation and opens many doors for local entrepreneurs in the food service industry.
Midwest Dairy Foods Research Center
Midwest Dairy's commitment and focus on research does not stop there. We are also gearing up for the Midwest Dairy Food Research Center (MDFRC) Annual Meeting that takes place once every year in July. This in-person meeting at the University of Minnesota is an open invitation to Operational Advisory Committee (OAC) members, faculty, and students who will hear about potential research opportunities that either advance dairy in the marketplace or solve a problem within the dairy industry. The OAC is made up of industry members who are past MDFRC members. This group will evaluate and score each research proposal for potential funding. Selected researchers will also give a 20-minute presentation on their proposed project and will then receive feedback on critical needs, objectives, research plan, budget, duration, and recommendations for funding. A previously approved research project that received funding includes an engineered lactococcus lactis that would produce a peptide-based antimycotic fermentate. Because mold growth on cheese surfaces is the most common spoilage problem, the proposed research will develop and evaluate a potent antimycotic peptide that can be used for cheeses as a clean-label alternative and meet consumer demand. Another research project includes the evaluation of educational messages to increase consumer confidence in milk safety, quality, and sustainability. This research will look into better ways to improve consumer knowledge and confidence related to milk quality, safety, and sustainability.
To learn more about Midwest Dairy's research strategy and updates about the research initiatives mentioned above, visit MidwestDairy.com.