Midwest Dairy is always eager to partner with health professionals, so when Rush University's dietetic internship program reached out in the Spring of 2022, it was an immediate yes. Midwest Dairy agreed to be responsible for three groups of interns doing 3-to-5-week internships.
Our goal was to expose these young professionals to as much of the dairy community as possible. The interns did summer camp nutrition lessons with the Cook County Farmers Bureau and the Cook County Sheriff's Department in south suburban Cook County for Hispanic and African American 4-6 graders. They also participated in Back to School Bashes with Chicago Public Schools, where they partnered with No Kid Hungry and Prairie Farms to present live non-cooking demonstrations, reaching thousands of students. They also created recipes used at this event and translated them into Spanish.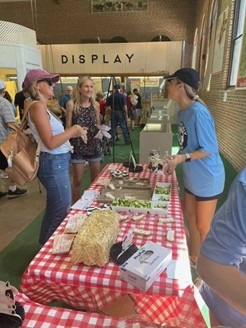 For the Bears Fest, the interns created and hosted the nutritional trivia contest at Soldier's Field, reaching over 8,000 attendees. They also worked with Family and Friends Health Center to create recipes and grocery store lists for their patients that live in food deserts. To better understand the community, they went to a Family Dollar by the Health Center to get a sense of what was sold there to create these materials. They also participated in the Taste of Randolph for Illinois Farm Families by taking over social media with tips and creating materials that were given out at the event. Lastly, the interns participated in the Illinois State Fair by doing the daily non-cooking demos and nutritional activities, reaching thousands of attendees.
This partnership was beneficial for both Midwest Dairy and the intern group. Having Gen-Z interns allowed Midwest Dairy to look at things differently and to tell the dairy story in a way that would reach their fellow generational consumers. The internship program recently went on a farm tour at the Hildebrandt Dairy Farm to expose all the students to dairy and prepare the interns for next year's rotation.