Midwest Dairy continues to build relationships with universities and educational programs, registered dietitians, and health professionals across the Midwest to share dairy's sustainability story. Keep reading to explore these relationships, specifically in South Dakota and Kansas.
University of South Dakota professor highlights dairy in an environmental sustainability course
Midwest Dairy was invited to be a part of Professor Jenny Fierro's environmental sustainability course, which included over 90 freshman and sophomores working towards their science credit at the University of South Dakota.
Dairy farmer Doug Stensland and his daughter-in-law Chelsea Stensland shared their farm story, focusing on the sustainability efforts of their operation and that of the dairy community. Professor Fierro introduced the class and shared a short video that highlights the Net Zero Initiative and the FARM Program. The Stenslands emphasized the importance of cow comfort, advancements in technology, crop rotation and cover crops, and manure management. Each student was able to sample Stensland's ice cream and cheese while listening and engaging with the presentation.
Kansas dietitians learn about dairy's sustainability story
Midwest Dairy continues to share dairy's sustainability story with registered dietitians across Kansas through a strategic partnership with the Kansas Academy of Nutrition and Dietetics (KSAND).
On April 2, 2022, dairy farmer Steve Strickler and Stan Slaughter, Kansas and Missouri Organic Recycling's Director of Outreach and Education, attended a KSAND Foundation event, sharing how "Sustainability Starts with All of Us." This story fit in well with the theme for the event: Putting Kansas on Your Plate. The session focused on real examples of environmental progress being made on dairy farms and communities positively impacting a healthy future. Attendees were very interested to learn how dairy cows can turn waste into taste by upcycling byproducts into nutritious milk.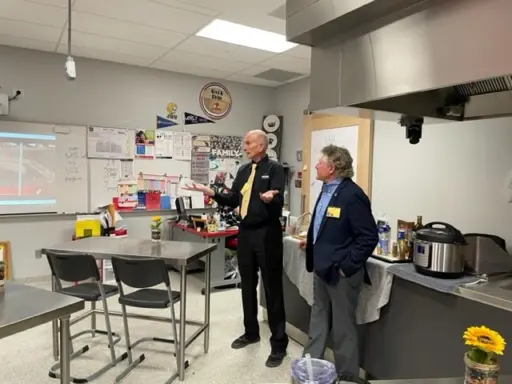 On Earth Day, Midwest Dairy also showcased dairy's sustainable nutrition story at the virtual KSAND Annual Conference through our resources exhibit, which was available to registered dietitians attending the event.