Studies show that the nutrients found in dairy, fruit, and vegetables are often missing in kids' diets – and getting kids excited about consuming those nutritious foods can be challenging. But, over 2022, Midwest Dairy found a way to get kids experiencing these nutritious foods and, even more importantly, get the next generation excited about dairy products.
Smoothies' popularity continues to rise in the marketplace. They are trendy and an extremely appealing solution that is both kid-friendly and registered dietitian-approved. Midwest Dairy has been working diligently to get smoothie cart programs added to school menus by offering toolkits, equipment, and other resources schools may need to get started. Besides the nutritional value these beverages bring, schools also love their versatility by incorporating them during breakfast, lunch, or as an evening supper service option. Schools are also utilizing them as a part of a reimbursable meal or as an a la carte option. As a result, 104 different schools participated in Midwest Dairy's smoothie program in 2022, resulting in nearly 90,000 incremental pounds of dairy sold.
St. Louis Public Schools (SLPS) was the largest smoothie cart program in 2022, with 61 schools participating. First, SLPS's Director of Food and Nutrition Services, Althea Albert-Santiago, showed interest in bringing the smoothie cart program to the district's 18 middle and high schools, so Midwest Dairy stepped up to support her mission by sharing smoothie toolkits and consulting the school when necessary. By October 2021, SLPS had agreed to implement the smoothie program and offer smoothies five times per week for breakfast, each containing eight ounces of milk. In addition, to meet student demand, each SLPS school participating received one immersion blender, multiple 5-gallon buckets and bucket lids to make smoothies on-site. The smoothie cart program became popular amongst students, and because of its success and the benefits it brought, SLPS decided to add smoothies to all 43 of their elementary schools in October of 2022. As a result, the district utilized 54,546 incremental pounds of milk during the 2021–2022 school year.
Other schools saw similar success with the Midwest Dairy smoothie cart programs across the Midwest region, including schools in Springfield, Missouri, and Sioux Falls, South Dakota.
Midwest Dairy also had the privilege of participating in a national pilot with Chartwells, a foodservice management company. This pilot was led by Dairy Management Inc. (DMI). Chartwells K12 introduced a new concept called the "Smoothie Station," which featured healthy drinkable breakfast, lunch, and snack options packed with fruits and dairy in more than a dozen flavor combinations. Midwest Dairy was proud to oversee The Smoothie Station launch in 33 Midwest schools in states including Arkansas, Iowa, Missouri, and Oklahoma. Schools participating in the pilot program received a Smoothie Station kit, a food service equipment manufacturer that includes a commercial immersion blender, insulated cooler bags to hold prepared smoothies, a transport cart, and more to make the adoption of this program as easy as possible for participating schools.
Keeping on-trend with smoothie restaurants across the country, Chartwells' new Smoothie Station offers a variety of flavor combinations for traditional smoothies as well as new smoothie bowls that students can customize with different fruit and grain toppings. Each smoothie contains at least one serving of dairy, providing students with a healthy beverage as part of their breakfast or lunch. Smoothie Stations also offer an excellent opportunity for kids to consume more yogurt, milk, and fruits by having the freedom to try new combinations they may not have tried before. Recipes range from the popular Strawberry Banana Smoothie to more unique, adventurous combinations such as creamy Avocado Kale Mango or Mango Chili Lime smoothies, with additional options including mixed berries, strawberry, oats, and more.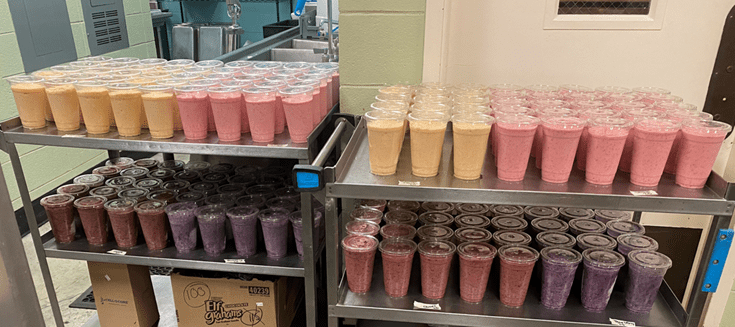 Midwest Dairy strives to reach youth where they are, including schools. By offering trendy beverage options showcasing dairy products, we can continue encouraging the next generation of consumers to enjoy dairy in unique ways.