On July 1, 2021, the NCAA approved a name, image, and likeness (NIL) policy that allows college athletes to earn money utilizing their influence as athletes. As a result, Midwest Dairy has partnered with an agency to pilot two small-scale NIL influencer campaigns. The most recent campaign concluded in February 2023 with positive results.
For this pilot specifically, Midwest Dairy would ask two athletes to complete two dairy-positive and educational Instagram reels. The athletes were vetted and selected based on several criteria, including their love for dairy and a significant peer following. As we searched for athletic partners, Luke Goode, a sophomore basketball player, and Luke Ford, a senior football player, both attending the University of Illinois, stood out to us. Each player completed an onboarding where they learned about Midwest Dairy's mission and the idea behind peer-to-peer marketing to Gen Z. After that, they were encouraged to engage with dairy authentically to build trust among their followers.
The first post from Luke Ford went live in late October 2022. He highlighted his love of using chocolate milk for post-workout fuel in a video that reached over 6,700 peers. Ford posted his second video on January 1, 2023, where he captured himself heading out for the day, saying, "on the go, on the run, fuel your fun!" which received over 4,400 viewers.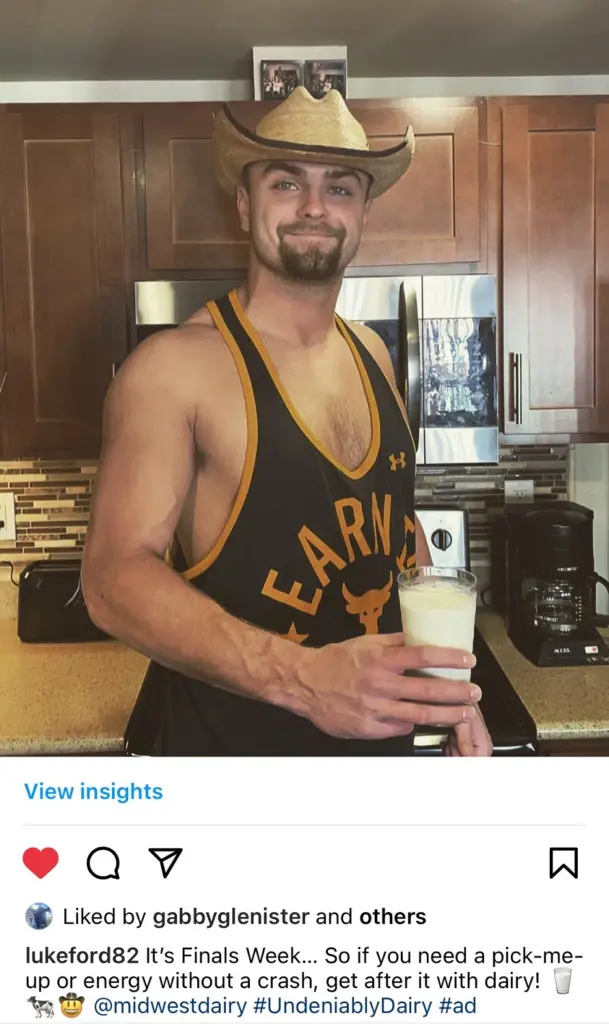 Luke Goode took a different approach for his reels. He first went live in November, when he took his followers into the kitchen and showed them how he likes to prepare smoothies. He is known as the team chef, so he was excited to showcase his culinary skills using an Undeniably Dairy recipe. That video reached over 20,000 of his peers. Unfortunately, Goode sustained an injury during the season. His second post went live on January 17, 2023, where over 17,000 viewers followed him through the day while he enjoyed dairy and discussed how dairy's nutrition was instrumental in his injury recovery. Although his team was eliminated, his recovery with dairy helped him perform well in the March Madness tournament.
The NIL work is proving to be an effective way to reach Gen Z, and Midwest Dairy will continue looking for ways to utilize athletes to build trust in dairy.