Virtual and on-farm tours are a great way to give someone a true peek into what happens on your farm every day. Dietitians, dairy buyers, and even school children can benefit from these farm experiences when trying to build trust in dairy and sell dairy products. Many state and regional checkoffs including national not only give tours but can offer support to any farmer who wants to set one up. Thinking about doing a tour of your own? Keep reading to see how positive these farm tours really can be!
Kansas City Chiefs kicker and Fuel Up to Play 60 Player Ambassador Harrison Butker took his first-ever dairy farm visit to Heins Family Farm. Given his engineering background, Butker was interested in seeing the farm and learning about all that goes into producing milk. Butker's visit allowed Midwest Dairy the opportunity to create a short video that is now being used to educate students and consumers about dairy farming in a fun and conversational way. Click here to view the five-minute video that includes dairy's nutritional benefits and highlights dairy sustainability practices.
Midwest Dairy and Missouri Beef Industry Council joined forces to provide a virtual farm tour experience for 36 Missouri dietetic interns on a virtual trip to Cornelius Farms located near Hamilton, Missouri. Interns learned where dairy foods come from, how dairy cows are cared for, as well as sustainability practices. Students were from Missouri State University, the University of Missouri, Cox College, Southeast Missouri State, and Fontbonne University. The recording of the tour was sent to all six programs and Saint Louis University interns. Pre- and post-surveys were given and showed an increase in trust of dairy farmers and that students felt comfortable in recommending dairy products for their future practices. One internship director also shared that the virtual dairy farm tour reinvigorated one of his intern's passions to become a dairy farmer himself!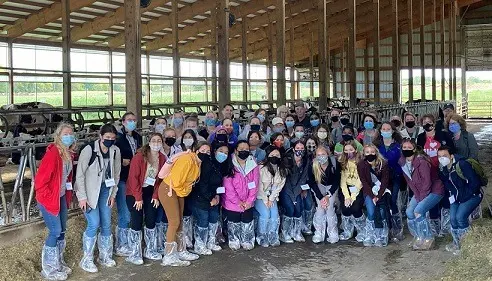 A group of 42 dietetic interns and program directors from the University of Minnesota Dietetic Internship program and the Coordinated Dietetic Internship and Master of Public Health program recently toured Autumnwood Farm in Forest Lake, Minnesota. The tour focused on the dairy farmers' commitment to animal care, sustainable practices, and the intricacies of a milk bottling operation.
Jennifer van de Ligt, Ph.D., director of the Integrated Food Systems Leadership program at the university, joined the tour and with her extensive background in animal feed and human food production, nutrition, safety, and regulations, van de Ligt added a great perspective as she facilitated a discussion with the dietetic students. From the results of the pre- and post-surveys, participants walked away with a positive experience and a better understanding of how milk is responsibly produced and locally driven.
Missouri Family Physicians and Illinois Family Physicians co-hosted the Rural Health Equity Summit to raise awareness of rural health challenges and identify resources to effectively meet those challenges. Among the speakers presenting at the Summit was Registered Dietitian Donna Webb. Webb's natural love and support of dairy combined with her expertise in these two disease states conveyed dairy's important role in health and wellness.