During the 2021 National Dairy Month, Midwest Dairy launched a consumer campaign focused exclusively on sustainability. The "What You Do, Dairy Does Too" campaign targeted adult Gen Z (adults ages 18-24) and parents of Gen Z across the 10-state region. With the goal of connecting with Gen Z consumers to build trust and drive demand, Midwest Dairy created this marketing campaign to help young consumers see that dairy farmers are just like them: people who care about the environment, their neighbors, and their communities. Although we've shared dairy's local, health, and net-zero messages before, this is the first campaign to focus exclusively on sustainability.
This consumer campaign included hiring three social media influencers to visit dairy farms Lenkaitis Holsteins (Illinois) and Cinnamon Ridge (Iowa) to share how consumers and dairy farmers do similar things to be environmentally responsible. This video, created by Chicago-based Jessica Lawson, (@bigdeliciouslife) received the most views and engagement. Other influencers were Xi Marquez (@sustainablyxi), also of Chicago, and Jen Cowan (@andHattiemakes3) of St. Louis. Overall results of the campaign have been gathered and Midwest Dairy is learning from them to continue pushing the campaign during 2022. Consumer impressions proved interesting insight and very telling information showing consumer impressions at 2,534,358 (at goal), engagement rate: 4% (average is 2%), sentiment: 85% positive, 12% neutral, and ad recall: 16.9% (average 6-10%).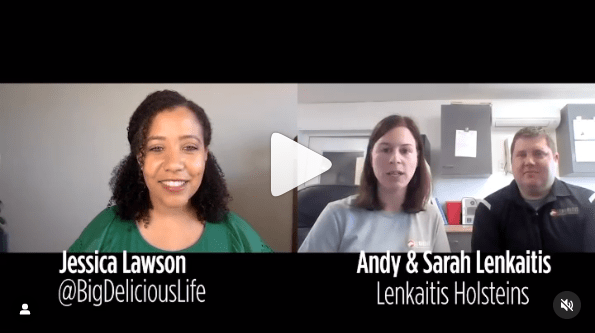 As mentioned above, gathering numbers like these is important because it better helps Midwest Dairy activate this same campaign during the 2022 year in a better than before way. Because sustainability is an important evergreen topic Midwest Dairy repeated the "What You Do, Dairy Does Too" theme during October of 2021 for National Farmers Day and will further utilize the assets and plans to push this messaging in 2022 for Earth Day and beyond.
The "What You Can do, Dairy Does Too" toolkit can be found on the Midwest Dairy resource page​​​​​​​.