Over 93 percent of milk sales are made in the retail and foodservice channels combined. Because of the opportunity retail and foodservice provide, Midwest Dairy focuses checkoff resources on these types of industry partnerships to drive demand for dairy sales. Our ongoing partnerships with retailers like convenience stores position us to provide category expertise, insights, and marketing support to boost sales in their stores. Midwest Dairy is proud to work with three major convenience store players across the Midwest; Casey's, Kum & Go, and Kwik Trip.
Casey's General Stores
Casey's General Stores is headquartered in Ankeny, Iowa, and has 2,365 locations across Iowa, Illinois, Minnesota, Missouri, Nebraska, South Dakota, and North Dakota. Casey's has been a significant partner for Midwest Dairy, targeting dairy sales by driving shoppers directly to dairy products sold in the refrigerator case and focusing on promoting milk of various sizes. Whether it be in-store or online, Casey's is frequently promoting dairy products in a variety of ways. This past fall, Midwest Dairy partnered with Casey's during a back-to-school campaign that was estimated to reach over 6 million consumers and 4.2 million Casey's rewards members. Starting in September, the back-to-school activation highlighted dairy as an essential must-have for breakfast, snacks, or any time of the day, allowing members to earn bonus points with purchases of different dairy products. Next, in November, the Burrito and Dairy Bundle activation was promoted. This bundle included milk in both pints and quarts, white and chocolate, plus a cheese burrito that could be enjoyed any time of the day. The duo was promoted across social media ads and an e-mail blast to reward members. The bundle purchase also drove dairy sales by offering 200 bonus points to members. Lastly, December celebrated the holidays with dairy. This consisted of 24 days of rewards, for example, celebrating national cookie day on December 4 with a free cookie when milk was purchased.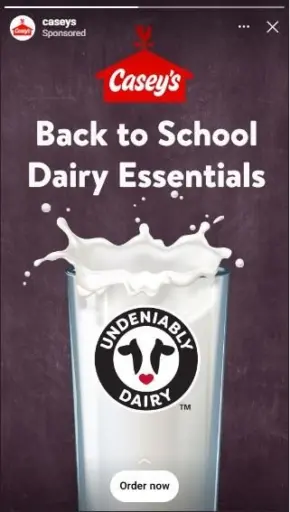 Other 2022 Casey's activation included a spring campaign promoting milk, cheese, and ice cream, as well as a campaign celebrating National Dairy Month promoting a pizza special. This is a large opportunity for cheese promotion, considering Caseys is in the top 10 in the country for pizza sales. 
Kum & Go
Kum & Go is also a convenience store Midwest Dairy partnered with throughout 2022. Currently, they have 440 stores in eighteen states across the United States, including Arkansas, Iowa, Minnesota, Missouri, Nebraska, North Dakota, South Dakota, and Oklahoma. Kum & Go was looking to target Generation Z (Gen Z) customers, so Midwest Dairy helped them launch a popular campaign we created that spoke to Gen Z looking for immunity (overall health), calm, energy, and digestive health products, all things dairy offers. Beginning in March, when shoppers purchased milk, they saved $2.00 when they also purchased Kum & Go's freshly made items such as sandwiches, salads, or snacking trays. Shoppers were targeted via in-app promotions, e-mail, social media, and in-store signage with Midwest Dairy wellness messages. This campaign drove dairy sales from March to April. Another 2022 Kum & Go activation included the "Fuel Your Adventure with Milk" campaign that ran in May.
Kwik Trip
Kwik Trip also focused on driving dairy sales by partnering with Midwest Dairy in 2022. Kwik Trip has over 800 locations and serves multiple states, including Illinois, Iowa, Minnesota, and South Dakota. Midwest Dairy partnered with Kwik Trip during the holiday season of 2022, focusing on November and December. The November activation drove dairy sales by offering $0.05 fuel discount when spending $5 on a milk item. This deal was promoted on social media and by coupons which resulted in 625,000 impressions and over 85,000 coupons clipped. The December activation again offered a $.05 fuel discount when spending $5 on milk, butter, or ice cream products. Partnerships like these allow Midwest Dairy to work behind the scenes by providing category expertise, insights, and marketing support to our partners so they can successfully promote dairy. It is important we listen to their needs and create deliverables or repurpose those already created because our partners truly look to Midwest Dairy as a valuable source of information. By partnering with three of the largest convenience stores of the Midwest Dairy region, dairy is reaching consumers where they are to drive demand.