Access to nutrient-rich foods is important for students and their entire community. Midwest Dairy is continuing to find avenues to introduce them to the unique nutritional characteristics of dairy by connecting with NFL athletes to help share our messaging. In addition, many of these NFL athletes we partner with are also highly passionate about nutrition and physical activity programs that encourage today's youth to lead healthier lives. Because these passions align well with Midwest Dairy's goals, these relationships have led to significant partnerships allowing everyone involved to bring the health benefits of dairy to today's youth.
As part of our Fuel Up to Play 60 contract, Midwest Dairy recently focused on ways to engage more in the social media space to showcase fun ways to incorporate dairy into the holiday season. This led us to The Viking Entertainment Network, which is always looking for creative ways to work with partners to showcase the players off the field, hoping to resonate better with fans of all ages.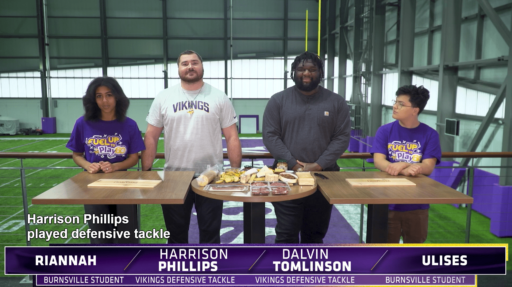 For this partnership, Midwest Dairy brought in two culinary students from Burnsville High School to join two defensive tackles, Dalvin Tomlinson and Harrison Phillips, in a charcuterie board challenge. Remi Famodu, the Viking's Dietitian, was also brought in as the judge. This contest was taped and then shared on social platforms. The video was released on Facebook and Twitter right before the Christmas holiday and reached over 127,000 fans, plus it acquired 471 engagements and just under 25,000 views between the two channels. In addition, Tomlinson retweeted on his Twitter page as well as the Burnsville School district.
This was a fun and authentic way to showcase player personalities and student culinary skills while promoting cheese's deliciousness and versatility.
Midwest Dairy also had the chance to partner with Kansas City Chiefs player JuJu Smith-Schuster through the My Cause My Cleats program. The program allows NFL players from across the league to reveal their passions beyond football by sharing and wearing their hearts on their feet. For example, during this season's campaign, Smith-Schuster transformed his cleats with a dairy cow pattern in support of Fuel Up to Play 60. Smith-Schuster shared that he has a long-standing relationship with Fuel Up to Play 60 and enjoys helping kids understand the importance of healthy eating and exercise habits early in life.
A total of six NFL players supported Fuel Up to Play 60 in this year's campaign. Those players include:
JuJu Smith-Schuster – Kansas City Chiefs
Justin Simmons – Denver Broncos
Matt Breida – New York Giants
James Washington – Dallas Cowboys
Amani Hooker – Tennessee Titans
Ross Matiscik – Jacksonville Jaguars
Click here to view the Facebook video reel highlighting their fun and creatively designed cleats supporting Fuel Up to Play 60.