Midwest Dairy capitalized on the holiday season by promoting dairy products consumers love to use when making celebratory meals or enjoying a snow day with friends. From butter to milk, many dairy products were highlighted through different partners to drive sales and trust in and for dairy as the holidays commenced.
Trust and sales partnerships can look vastly different, but both accomplish something good for dairy. These campaigns range from partnerships with retailers promoting a specific recipe whose ingredients can be added to the cart directly from their website to partnerships that may utilize a social media influencer talking to their dialed-in followers about a fun activity that includes dairy. Both types of partnerships can showcase dairy's nutritional benefits and its sustainably produced qualities. No matter what kind of partnership is being activated, the dairy farm family's investment in checkoff is serving them well, as checkoff continues to be laser-focused on building trust and increasing consumer demand.
Holidays are merry with dairy at Dierbergs (Sales)
Midwest Dairy and Dierbergs Markets, located in the St. Louis, MO, area, teamed up to celebrate the holiday season by promoting a creative and tasty butter board. Alaina, the creator of the popular Honest Grub Honest Foodie blog, put her creativity to the test and came up with a delicious "smashed potato butter board" featuring garlic herb butter surrounded by crispy smashed potatoes; this unique approach was a hit for Dierbergs customers.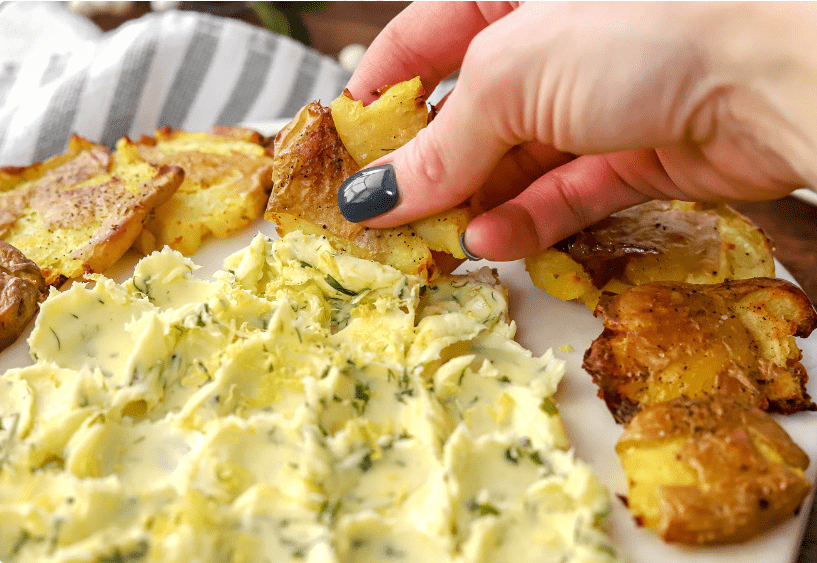 This recipe was featured in Dierbergs' digital holiday two-week ad beginning in early December, and a recipe video was created and shared through their social channels, website landing page, and on the Undeniably Dairy blog page. In addition, shoppers were also linked to the blog page from an email blast that went out on December 13th. Click here to view the Undeniably Dairy blog post.
Along with the butter board, Dierbergs worked with Midwest Dairy to create a cheddar and cranberry scone recipe and shared it through their social channels during the holiday season as well.
Nebraska influencer spreads holiday cheer with real dairy (Trust)  
Laura Nielsen, founder and face of the delicious creations at Lolo Home Kitchen, prides herself on sharing real, authentic, and homestyle recipes with over 6,000 followers on Instagram, Facebook, TikTok, YouTube, and Pinterest. Recently, Nielsen's TikTok following has surpassed her other social channels in popularity, garnering over 45.5 million views among her posts. As a Nebraska native, she understands the importance of agriculture and is sure to share her love for farm-to-table programs with her followers.
Midwest Dairy partnered with Nielsen to develop and share a classic hot chocolate recipe with customizable toppings this past holiday season. The accompanying blog post highlighted dairy messaging and why real dairy makes a difference in this recipe and others. Just two days after posting, the YouTube video reached over 2,800 views and was shared with over 130,000 followers throughout her platforms.
Working with influencers has shown positive results for Midwest Dairy because they have a large following who already trust them and sometimes mimic what they produce.