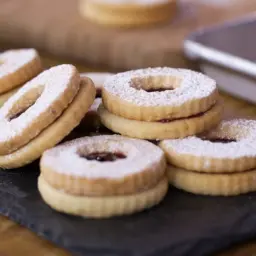 Cornmeal Raspberry Linzer Cookies
This year, expand your cookie repertoire with these pretty, festive cornmeal raspberry linzer cookies. They're a great go-to option since they use many ingredients you may already have in your pantry. If you're looking to make them extra special, purchase a linzer cookie cutter set, which can make cutting these cookies a snap. Who knows, they may become a new tradition!
Ingredients
3/4

cup

unsalted butter

Softened

3/4

cup

granulated sugar

1

large

egg

1 1/2

cup

all-purpose flour

1/2

cup

cornmeal

1/2

tsp

salt

1/2

cup

seedless raspberry jam

Powdered sugar for dusting
Instructions
Combine the butter and granulated sugar in a large mixing bowl. Beat with an electric mixer on medium‑high speed until light and fluffy, scraping down the sides of the bowl as necessary. Add the egg and beat until combined. Add the flour, cornmeal, and salt and mix thoroughly on low speed, scraping down the sides of the bowl several times if necessary.

Divide the dough in half. Pat each portion into a flattened round. Wrap each round in plastic wrap and chill in the refrigerator for 1 hour or until easy to handle.

Preheat the oven to 375°F. Remove one portion of the dough from the refrigerator and let it stand for 5 minutes. Roll out the dough on a lightly floured surface to 1/8- to 1/4-inch thickness. Using a 21/2‑inch cookie cutter, cut the dough into the desired shapes. Place the cutouts 1 inch apart on a large nonstick cookie sheet. Using a 3/4‑inch cookie cutter, cut shapes from centers of half the cookies. Reroll the scraps as necessary. Repeat with the remaining portion of dough. Bake in batches, if necessary.

Bake for 7 to 10 minutes or until the edges are light brown. Transfer the cookies to a wire rack to cool.

To assemble the cookies, spread a scant teaspoon of the raspberry jam on each cookie bottom (without cutouts). Top with the cookies with cutout centers. Serve within 2 hours. Right before serving, dust with powdered sugar.
Notes
This recipe is complements of Undeniably Dairy. For more recipes, please click here.