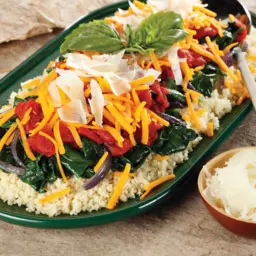 Couscous with Tomatoes, Sautéed Spinach and Two Cheeses
A flavorful side dish with spinach, tomatoes, onions and two cheeses is sure to please!
Ingredients
3 1/2

cups

packaged couscous, any flavor

1

cup

(8 ounces) canned Italian-style diced tomatoes

1/4

cup

sliced red onion rings

1

tbsp

minced garlic

1/2

tsp

olive oil

10

cups

fresh spinach (10 ounces)

1

tbsp

water

11/2

cups

shredded light Cheddar cheese

3

tbsp

grated Parmesan cheese

fresh basil to garnish
Instructions
Prepare couscous according to package directions. Heat tomatoes in small saucepan or microwave.

In large skillet, combine onions, garlic and oil; stir over medium heat until onions are heated and fragrant. Add spinach and water; stir until spinach is wilted and tender but still bright green, about 2 minutes.

On large platter, layer couscous, spinach and tomatoes. Sprinkle with Cheddar and Parmesan cheese and garnish with basil.