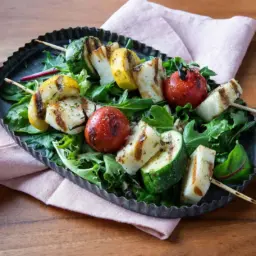 Grilled Halloumi and Veggie Skewers
Whether you call it grilling cheese or bread cheese, it makes for a heavenly addition to these vegetable skewers with Halloumi-style cheese. Placed on the grill, it takes on a delicious smoky flavor and its buttery texture softens, lending a touch of indulgence to this summery salad.
Ingredients
Marinade/Vinaigrette
1/4

cup

extra virgin olive oil

2

tbsp

red wine vinegar

1

tbsp

finely chopped shallot

1 1/2

tsp

dried Italian seasoning

1/4

tsp

kosher salt

pepper
Skewers
1

small

zucchini, cut crosswise into 1/2-inch-thick slices

1

small

yellow squash, cut crosswise into 1/2-inch-thick slices

8

cherry tomatoes

8

ounces

halloumi-style cheese, cut into 1-inch pieces

8

wooden skewers (10-inch), soaked

6

cups

mixed greens

salt and pepper
Instructions
For marinade/vinaigrette, whisk all ingredients in a small bowl until well blended.

For skewers, place zucchini, yellow squash and cherry tomatoes in a food-safe resealable plastic bag. Add 2 tablespoons of the marinade. Seal bag; turn several times to coat all the vegetables. Marinate at room temperature up to 1 hour.

Preheat grill to medium. Thread cheese onto skewers, alternating each piece with a piece of zucchini, yellow squash or tomato. To allow even cooking, do not pack the pieces tightly together.  Discard marinade.

Grill skewers, turning frequently, until vegetables are tender and cheese is softened, 10 to 14 minutes.

Toss greens with remaining vinaigrette. Season with salt and pepper. Serve skewers on top of greens.
Notes
Recipe courtesy of National Dairy Council. For more recipes, visit www.usdairy.com.