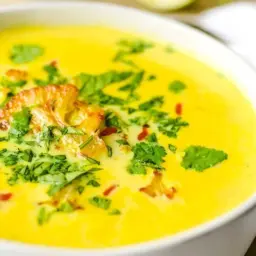 Indian-Inspired Curry Cauliflower Soup
Ingredients
1

tablespoon

coconut oil + 2 teaspoons for garnish

1

medium onion, diced

1

medium carrot, peeled and chopped

2

cloves garlic, minced

2

teaspoons

fresh ginger, grated

2

teaspoons

curry powder

3

teaspoons

ground cumin

1

teaspoon

ground turmeric

2.5

pounds

cauliflower florets, divided

4

cups

vegetable broth

4

cups

low-fat milk or fat level of choice

3

teaspoons

kosher salt or season to taste

Juice of 1 lime
Instructions
Preheat oven to 400. Place 2 teaspoons coconut oil on a small rimmed baking sheet and place in the oven until melted (about 5 minutes).

In a large heavy bottomed pot with a lid, melt remaining tablespoon of coconut oil over medium heat. Add onion and carrot to pot and cook until onion is translucent and carrot begins to soften, about 5 minutes. Add garlic, ginger, curry powder, cumin and turmeric and cook for 2 minutes more, until spices are fragrant.

 Add 2 pounds of cauliflower to the pot along with vegetable broth and bring to a boil.

Once boiling, reduce heat to low and add milk. Cover the pot and continue simmering over low heat for 30 minutes, stirring occasionally. Be sure to keep the heat below a boil throughout.

While soup is simmering, remove baking sheet from oven and toss remaining 1/2 pound of cauliflower florets in the melted coconut oil. Return to oven and roast, stirring once halfway, until cauliflower florets are golden, about 20 - 25 minutes. Reserve to use as garnish for the soup.

After simmering for 30 minutes, cauliflower florets will be soft and soup will be fragrant. Use and immersion blender to puree soup or puree soup in batches in a regular blender until very smooth.

Add lime juice and salt. Taste soup and adjust seasoning as needed. To serve, garnish soup with reserved roasted cauliflower, cilantro, lime wedges and Sriracha sauce as desired.
Notes
Recipe courtesy of National Dairy Council. For more recipes, visit www.usdairy.com.