College campuses have proven to be a great way to reach the Generation Z audience, and what better way to promote all things dairy by encouraging dairy industry enthusiasts to educate their peers. That is exactly what Midwest Dairy is doing by helping students in Minnesota, Iowa, and Illinois reach fellow students with Midwest Dairy-produced messaging.
In Minnesota and Iowa, Midwest Dairy has set out to reach Gen Z college students by partnering with three Sodexo Campus Dietitians at Drake University in Iowa, Mankato State University in Minnesota, and a District Dietitian also in Minnesota. These schools have not only shown support in dairy but are also interested in providing opportunities for students to learn more about dairy nutrition and sustainability. Midwest Dairy also provided customized posters using the "What You Do, Dairy Does Too" (WYDDDT) imagery with added QR codes for an additional layer of engagement, WYDDDT campaign social media messaging, plus fun Undeniably Dairy promotional items.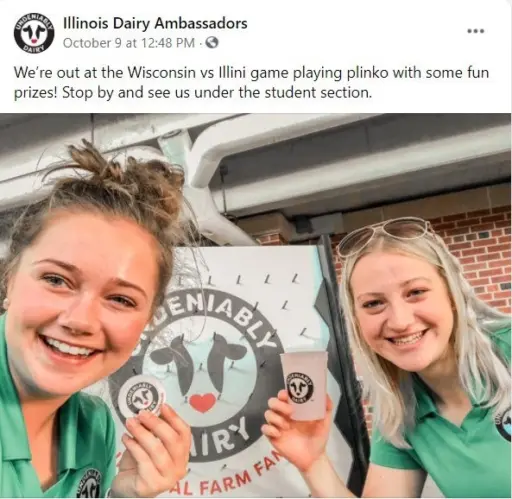 In addition, two student events occurred on National Farmers Day at both Mankato State Campus and Luther College. Lexi Cournoyer, RD, District Dietitian with Sodexo, partnered with Homestead Dairy to bring in multiple flavors of fresh curds for students to try while engaging them in conversation. About 150 students participated in the event and, after seeing such success, Homestead Dairy and Cournoyer plan to make this a yearly event. To top it off, Cournoyer will look for opportunities for other campuses she covers in Minnesota and North Dakota.
Midwest Dairy is also active on college campuses in Illinois as part of a recent partnership with the University of Illinois Athletic Department. During select football, women's volleyball, and men's basketball games, Illinois Dairy Ambassadors will be interacting with U of I students. These interactions include playing dairy trivia with sports attendees using a fun Plinko board. When attendees correctly answer trivia questions, they receive Undeniably Dairy swag, like lip balm or color-changing cups. To date, the Illinois Dairy Ambassadors have attended one football and one volleyball game where a combined nearly 43,000 fans attended the games. This is a fun way to build trust with the Gen Z audience as the college students get to see and learn about dairy in unexpected places.